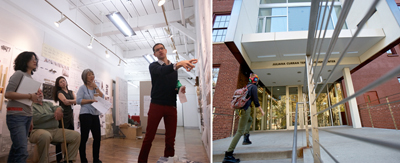 Pratt Institute's graduate interior design program was once again ranked number one in the country by U.S. News & World Report in its 2013 guide to America's Best Graduate Schools, published in March 2012. Pratt industrial design and communications design degree programs were ranked fifth and 12th, respectively.

"These rankings reflect the reputation of Pratt's programs in interior design, industrial design, and communications design and the high regard our peers have for these programs," said Thomas F. Schutte, president of Pratt Institute. "We take pride in the fact that our students come from around the world to pursue their studies at Pratt in these top-ranked programs, and that they go on to make positive contributions to society through their work," he added.

Pratt Provost Peter Barna said: "We are thrilled to again be recognized as having some of the best art and design programs in the nation. The U.S. News & World Report rankings reflect the skills of our talented students, many of whom go on to be leaders in their fields as graduates, and our inspired faculty members and departmental chairs, who provide our students with a wealth of professional knowledge and expertise."

Anita Cooney, chair of the Department of Interior Design, said that given the department's illustrious history as a pioneer of U.S. interior design education, it is fitting that the Institute continues to set the national standard for excellence in the field."The program has established a tradition of excellence that challenges students to create new approaches to design as demanded by the impact of modern technology and evolving societal issues," she said. "It continually graduates some of the most provocative, creative, and engaged designers in the nation," she added.


Among the Interior Design department's prominent alumni are Samuel Botero (B.F.A. '68), principal of Samuel Botero Associates in New York, New York; Joe D'Urso (B.F.A. '65), president of D'Urso Design, Inc. in Santa Monica, California; Laura Bohn (B.F.A. '76), principal of Bohn Design Associates, Inc. in New York, New York; and the late Naomi Leff (M.S. '73), who created elegant spaces for celebrities and retailers like Ralph Lauren, Farragamo, Gucci, and Giorgio Armani.

The mission of the School of Art and Design is to educate artists and designers as well as educators, therapists, and historians in cognate fields. Drawing on the intellectual, technological, and professional resources of fifteen departments, the school offers a Renaissance-style immersion in many related disciplines. Beyond enhancing their discipline-specific skills, students learn to be creative, responsible professionals willing and able to contribute to society in fundamental ways.

The U.S. News & World Report rankings were based solely on a survey of art school deans and other top academic administrators, two per school, at 230 master of fine arts programs in art and design nationwide.

For more information on the U.S. News & World Report rankings, please click here.

From left to right: A student presenting work in the Department of Interior Design and a student entering the Juliana Curran Terian Design Center on Pratt's Brooklyn Campus. The Design Center is home to Pratt's programs in communications design, fashion design, industrial design, and interior design. Photos: Bob Handelman.

MEDIA CONTACT:
Amy Aronoff at 718.636.3554 or aarono29@pratt.edu