Pratt graduate industrial design students David Kim and Mike Seto will exhibit easily transportable community space solutions for victims of natural or manmade disasters on Thursday, September 16 and Friday, September 17 in the 2nd floor Industrial Design Gallery Space in the Juliana Curran Terian Design Center on Pratt's Brooklyn Campus. The exhibition will be held in collaboration with National Park(ing) Day, which is an annual, worldwide event that inspires residents of cities to transform metered parking spots into temporary parks for the public good.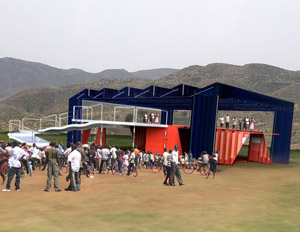 The opening reception will be held Thursday, September 16 from 6 to 10 p.m. Regular gallery hours are Thursday 6 to 10 p.m. and Friday 10 a.m. to 5 p.m.
The exhibition is the first of several that are planned as part of Kim and Seto's joint thesis project.