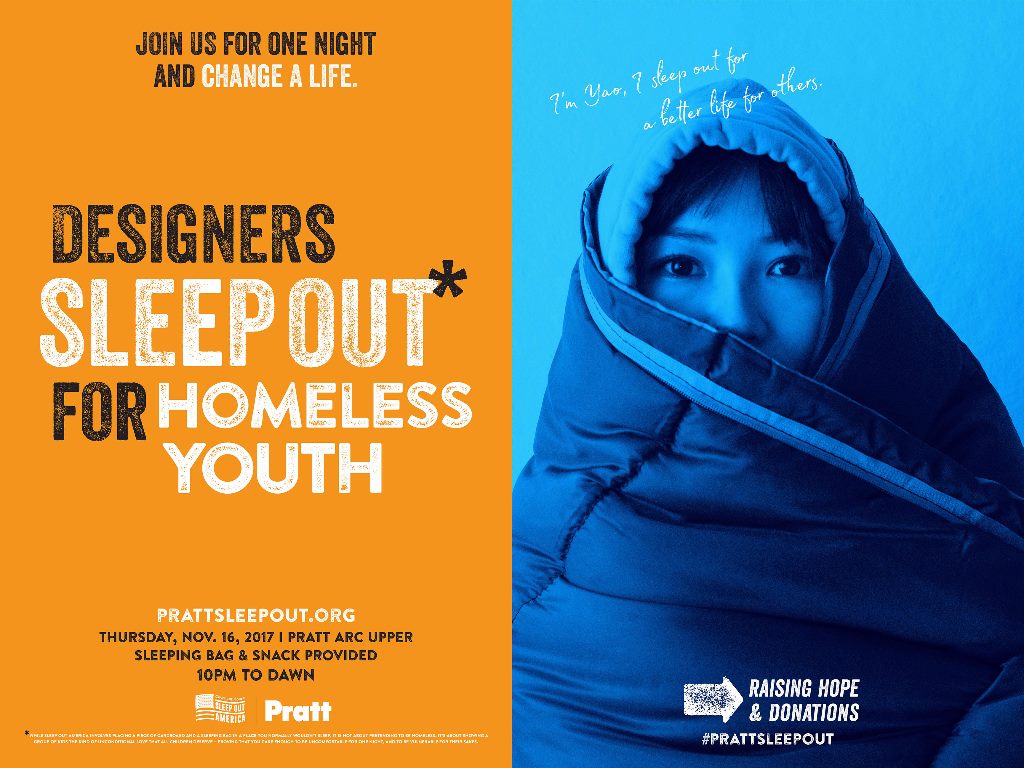 Ten Pratt graduate students in the School of Design recently employed their design skills to inform and inspire action in a multimedia campaign they created to raise awareness of homeless youth, who are estimated to number nearly two million across in the United States.
The campaign emerged from a graduate studio titled Transformation Design, which focuses on strategies that utilize design as a means for transformation. As part of the course, the students partnered with Covenant House NY, the nation's largest privately funded institution providing a complete array of services to homeless and runaway youth. Inspired by what they began to learn, the students focused their campaign around the organization's nationwide event Sleep Out America, which raises awareness and supports Covenant House in its mission to bring shelter to young people who are homeless.
The Pratt students' campaign, "Designers Sleep Out for Homeless Youth," was informed by case studies from Covenant House and several other organizations. The team met with Covenant House staff and leadership as well as homeless youth, hearing their stories and becoming personally and emotionally engaged in the initiative. Taking their cue from this direct engagement, the students opted to build their concept around upbeat personal photos and quotes. They developed all of the elements of a multifaceted effort involving social media, campus-based posters, visual display boxes of "take me" branded sleeping bags, a custom link to the national donor site, as well as e-mail blasts, telemarketing, and grass-roots face-to-face marketing with prospective donors.
The students didn't stop there. Motivated by what they learned in the course and their work developing the campaign, the class decided to participate in Sleep Out America themselves and raised more than $6,600, 110% above their goal, to support the services of Covenant House. Funds raised garnered the class the distinction of "Top Group" in the nation out of a total of nearly 100 groups and more than 1,300 participants.
The Pratt's team's final assignment was to document the work they produced for the "Designers Sleep Out" campaign along with key learnings that were provided to Covenant House to inform future fundraising and awareness building. They will also be shared with future classes.