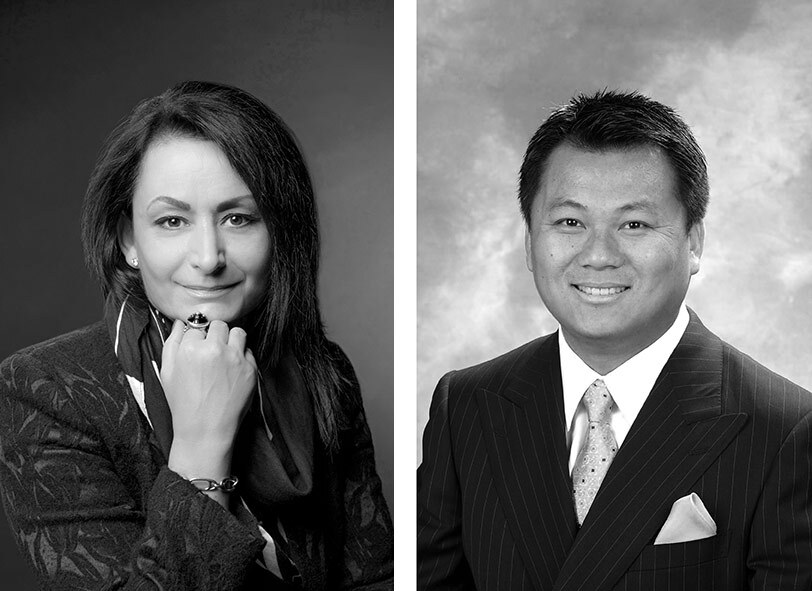 Pratt Institute's Board of Trustees elected two new members on March 10, 2021: Sharon Gauci, executive director—industrial design at General Motors, and David Kim, founder and CEO of IASG Hospitality, LLC.
Sharon Gauci has served as executive director—industrial design at General Motors since January 2018. Based in Warren, Michigan, she leads a creative team in many of GM's studios across the globe, including North America, Korea, Brazil, and China. In June 2020, Gauci joined GM's Sustainability Office as the leader for sustainability design and began to work across the organization with other functions to implement strategies supporting zero emissions.
In her creative design role, Gauci is responsible for supporting the visual expression of General Motors and its global brands through color and trim, product and component design, graphic design, experiential events, environment and architectural design, merchandise development, creative visualization, animation, and photography. Her recent work includes overseeing the redesign of the GM logo introduced globally in January 2021—only the fifth change in the history of the iconic brandmark.
Her team is also responsible for the Design Academy and outreach programs promoting the development of designers and encouraging youth K–12 toward art and design as careers.
Gauci, a native Australian, was the first recipient of Good Design Australia's inaugural Women in Design Award in 2019, first female keynote speaker at Wards Auto Interior Conference in 2018, and first female to be included as a core judge for the Australian Design Awards in 2005. Gauci graduated with a bachelor's degree in industrial design in 1993 from Swinburne University in Melbourne. She worked at both Ford Motor Company and BMW Australia before joining GM Holden in 2004.
Throughout her extensive design career, including regional roles and advanced design, Gauci has worked on many global vehicles, including trucks, performance cars, and mobility solutions such as the award-winning AriV e-bike and Cruise Origin. Most recent vehicles include the Cadillac Lyriq, GMC Hummer EV, Cadillac Escala, Buick Avista, and Avenir—which won the Eyes on Design Color and Trim Award.
David Kim is the founder and CEO of IASG Hospitality, LLC, a hospitality investment and advisory consulting firm. During his over two-decade career, he has played several senior leadership roles at industry-leading hospitality and related companies. He worked as chief performance officer at WoodSpring Hotels backed by Lindsay Goldberg, a New York-based investment firm, as well as executive vice president and chief performance officer of Invitation Homes, a multi-billion-dollar portfolio company of The Blackstone Group. He founded and led the firm's Performance Management Group, transitioning Invitation Homes from an acquisitions-focused company into a best-in-class single family rental company with a high-performance culture.
Prior to joining Invitation Homes, Kim also worked at HVM LLC, the management company that operated Extended Stay Hotels, as HVM's executive vice president and chief investment officer and created the Integrated Analysis Solutions Group, an innovative concept in the hospitality industry that combines diverse analytical and strategic functions. Kim and his team used quantitative research to support analytical work spanning the areas of corporate finance, project finance, and operations finance.
Kim also served as senior vice president of Investment Analysis for CNL Hotels & Resorts, supporting more than $4.5 billion in acquisitions and $2 billion in dispositions. In addition, he spearheaded CNL's strategic alternative process and played a key role in the company's $6.6 billion sale. Earlier in his career, Kim worked as senior director of Feasibility and Investment Analysis for InterContinental Hotels Group and as senior financial analyst for Remington Hotel Corporation after earning his Master of Management in Hospitality degree at Cornell University in 1997.
Prior to their election to Pratt's Board of Trustees, both Gauci and Kim were inaugural members of Pratt Institute's President's Task Force, which was formed in February 2020 and is composed of thought leaders from around the country who join Pratt President Frances Bronet in discussions around the Institute and its future plans.