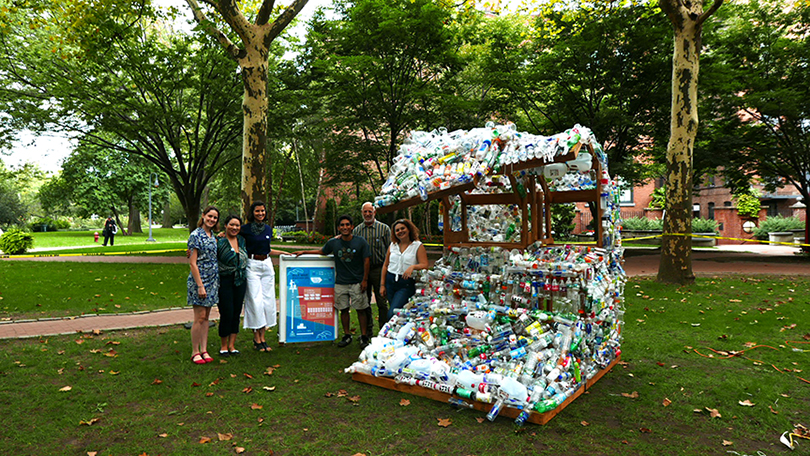 Water is at the center of some of today's most challenging global and local issues, whether it's waste and pollution or rising seas and climate change. Pratt Institute's fourth annual Blue Week brought together its largest audience of campus-wide community members, local officials, and subject experts this fall to focus on these issues and promote initiatives surrounding water, climate change, and zero waste. Held during the first week of October, programs including beach cleanups, a Water Expo, a panel on plastic pollution, and more showcased the resources that are available both on and off campus to address the pressing water issues of today.
Plastic pollution constitutes a large pressure on the global water supply, and this theme was central to many events throughout the week. At the Water Expo, held outdoors on the Brooklyn campus, members of the student organization Leaders of Environmental Advocacy at Pratt (LEAP) constructed "Blue Wave," a structure made entirely from one day's worth of plastic waste from campus buildings, as a scientific study of plastic waste at Pratt.
"In this day and age, creating sustainability and climate change awareness is of the utmost importance," said student Sam Pressman, MS Sustainable Environmental Systems '19, who served as LEAP's art director for the project. "LEAP's vision for the Pratt Blue Wave is to help enlighten students, of all ages, about the importance of zero waste and how one can help prevent plastics waste from entering the oceans."
Conversations around plastic consumption continued at "Changing the Tide on Plastic Pollution," a panel event that brought together New York City councilman, former Director of the Pratt Center for Community Development, and Pratt alumnus Brad Lander; writer and sociologist Rebecca Altman; and legal expert Jennie Romer. President Frances Bronet opened the panel, citing the importance of the discussion as it relates to larger social issues, noting that sustainability and social justice go hand in hand as we work together to find viable environmental solutions.
All three panelists brought extensive background research to the table regarding their professional experience with single-use plastics. The discussion ranged from an exploration of national and local policies aimed at regulation of the material to ways in which art and design can play a role in disrupting the increasing dependency on its use.
"I am pleased to have had such a diversity of views on campus speak about ways to reduce our plastic footprint," said Jennifer Telesca, Assistant Professor of Environmental Justice in the Department of Social Science and Cultural Studies. "Panels and events like these on campus showcase Pratt's emphasis on a more positive and inclusive environmental future."
Blue Week 2018 is an ever-expanding initiative, occurring each fall as a complement to the long-standing Green Week held in the spring. This year's programs and events were supported by the Pratt Sustainability Coalition, a group of Pratt faculty, administrators, and staff focused on integrating ecological practices throughout curricula, operations, and programs on campus. Participation and planning from student organizations including Leaders of Environmental Advocacy at Pratt (LEAP), Envirolutions, and more were also central to the week's success.
Image: Members of the Leaders of Environmental Advocacy at Pratt (LEAP) planning team next to "Blue Wave"