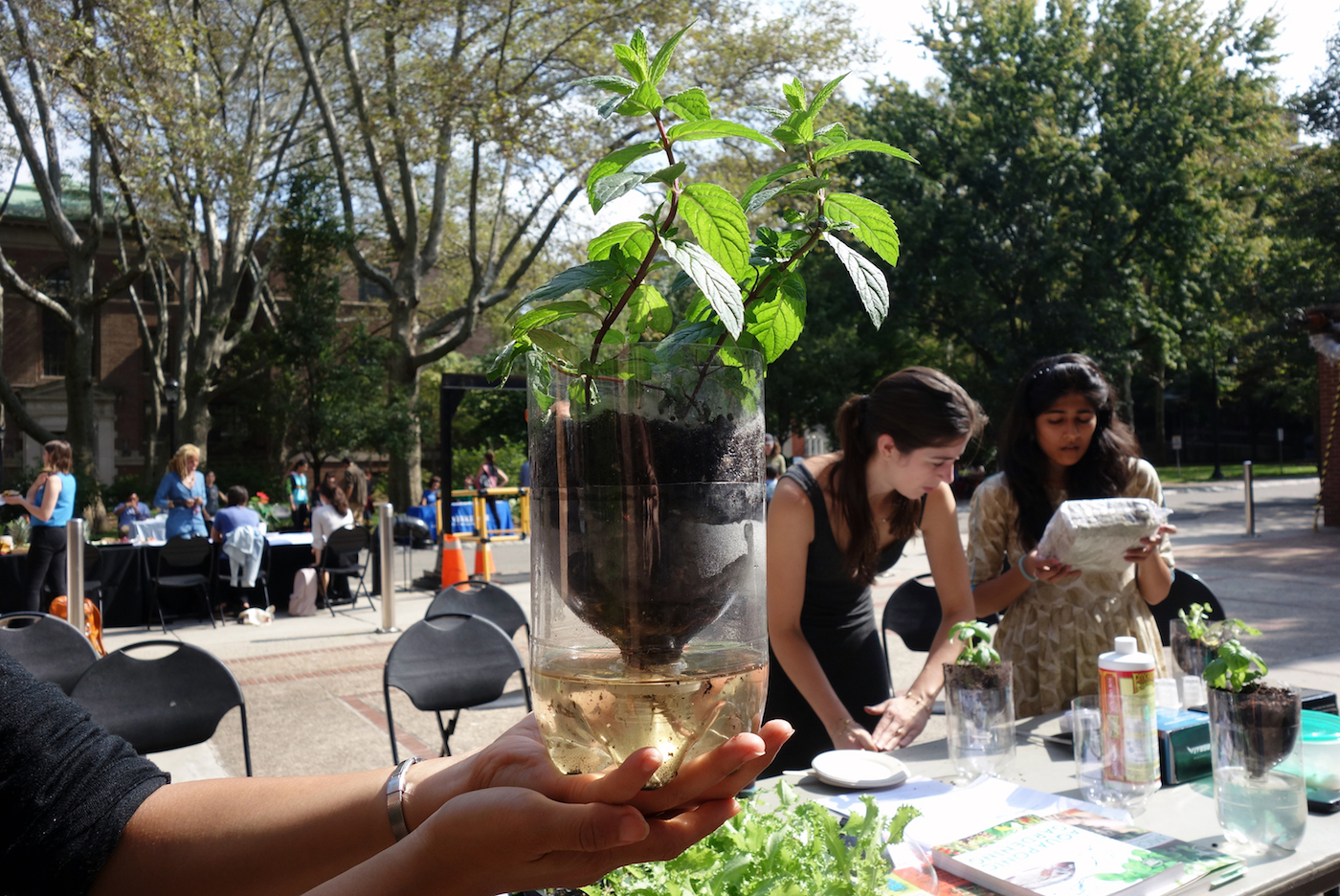 Now in its fifth year, Blue Week, presented by the Pratt Sustainability Coalition, celebrated the sustainability initiatives happening year-round on campus by engaging students, faculty, and staff from across departments in environmental awareness and action. Held from October 1 to 6, its programs ranged from a performance and a beach cleanup to discussions on ocean plastics and rising seas.
In a forest just north of New York City, a walk in the woods alongside the Hudson River led participants on a journey through climate change and resilience from the perspective of a human and a tree. Core of Me: A Hike-Play was developed in Pratt's STEAMplant residency to bring together performance and science in a dialogue on the relationship between humans and nature. Its debut performance on October 5 at the Lamont-Doherty Earth Observatory in Palisades, New York, was part of the 2019 Blue Week.
"The public now has an immense amount of access to—and increasingly a defter understanding of—the information surrounding our environmental and climate crises," said Jeremy Pickard, creator of A Hike-Play and a STEAMplant resident. "There is more visible and robust activism happening, with opportunities for everyone to take action in large, small, political, and social ways. What we still lack are spaces to come to terms with our personal, emotional, psychological, and existential relationship to these overwhelming problems, and to imagine radically different systems."
Pickard, who works with the eco-theater group Superhero Clubhouse, collaborated with Christopher Jensen, Acting Chairperson of Math and Science, and Jennifer Telesca, Assistant Professor of Social Science & Cultural Studies and a member of the Pratt Sustainability Coalition. Their interdisciplinary approach, which involved a performance structure for exploring the science of trees and climate, embodied the spirit of the annual Blue Week.
"Blue Week gets more and more relevant as threats to the ocean and freshwater systems become more and more apparent," Telesca said. "In late September, the UN's Intergovernmental Panel on Climate Change (IPCC) released a major report that documents just how extensive the problems related to the ocean and ice are, from the coast to the highest mountain peaks. What better place than an art and design school to think outside the box, to educate the community about ways forward, and to offer platforms for meaningful engagement?"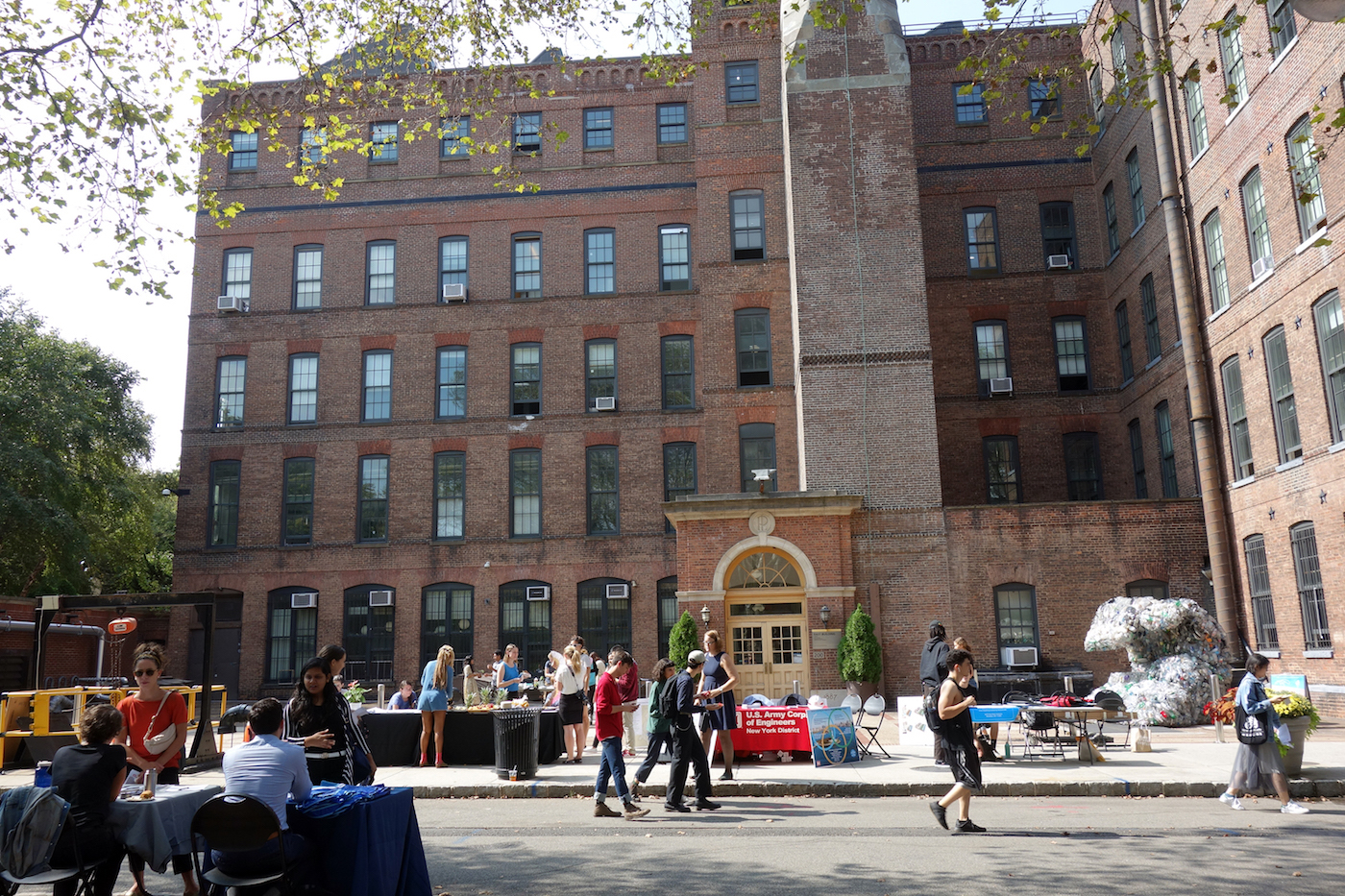 Blue Week's 2019 programming focused on the importance of water, from global oceans to local waterways. This included a shoreline cleanup at Marine Park in Brooklyn led by the Pratt Graduate Center for Planning and the Environment (GCPE) with New York State Beach Cleanup. At the Water Expo which kicked off Blue Week, activists, local organizations on water resiliency and planning, and campus environmental groups were joined by a hydroponic plant project in which participants could make planters from discarded plastic bottles.
"As Pratt implements more sustainable initiatives, it is important to involve the Pratt community to develop a deeper sense of environmental awareness campus-wide," said Haley Balcanoff, MS Sustainable Environmental Systems '20 and Co-Chair of Leaders in Environmental Advocacy at Pratt (LEAP). "This semester's Blue Week called on the Pratt community to reflect on the importance of the water and rising seas due to climate change."
These events encouraged an interdisciplinary conversation on ecological issues. A mini-conference responding to the IPCC report explored rising seas from the perspective of New York City. Hosted by the Department of Social Science and Cultural Studies, the Global South Center, LEAP, and the Sustainability Coalition, it included Ayana Elizabeth Johnson, marine biologist and policy expert; Michael Marrella, Visiting Assistant Professor of GCPE; and Ted Steinberg, author of Gotham Unbound: The Ecological History of Greater New York. The Fashion and Jewelry Departments organized a discussion with Reebok on the potential and limitations for reusing plastics which are currently being dumped in the oceans. Students, faculty, and staff were also able to join brainstorming sessions in a two-hour workshop called "Sustainable Pratt Chats: Water" that investigated water through the context of student life, community engagement, curriculum and research, and facilities and operations.
Other Blue Week events ranged from a screening of Albatross, a film on how seabirds are threatened by plastics, to water-inspired yoga and meditation. Blue Week is one of the year-round initiatives organized by the Pratt Sustainability Coalition, with its complement Green Week held in the spring.
Images: Hydroponic plant project at the 2019 Blue Week Water Expo; The Water Expo at the 2019 Blue Week