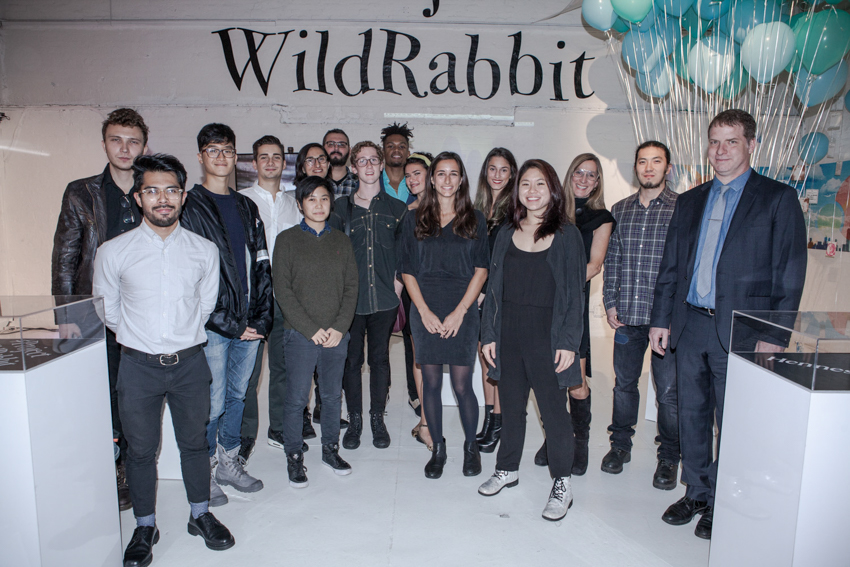 Christiana Theophanopolus (M.F.A. Communications Design '16) was named the winner of the fourth annual Pratt Institute/Hennessy V.S competition for her work entitled, "Meraki." As part of an ongoing collaboration between Pratt Institute and leading cognac brand Hennessy V.S, 15 students from a variety of disciplines were recently challenged to create artwork inspired by the brand's "Wild Rabbit" campaign and its mantra of "Never stop, Never settle." Pratt Adjunct Associate Professor of Graduate Communications Design Eric O'Toole led the students through the completion of their works, which were judged by a panel of industry experts. Artwork by the finalists was displayed in a 24-hour pop-up art gallery, Project Wild Rabbit: Gallery 24, at OPENHOUSE NYC Gallery in Soho in Manhattan. Theophanopolus was announced as the winner at the opening of the exhibition on November 4.
The opening was attended by members of the judging panel, including renowned artists Futura and Ryan McGinness. Theophanopolus explained how "Meraki" expressed her "Wild Rabbit"—the Hennessy brand icon that symbolizes a constant pursuit of one's potential. "'Meraki' is a Greek word, and it literally translates to 'little things,'" she said. "My thought is to be 100 percent confident in my work—that's my inner drive. My 'wild rabbit' is the meraki I put into cultivating truly unique work." As the winner, Theophanopolus will receive an award to help jump-start her artistic career.
The students represent six disciplines—Communications Design, Creative Arts Therapy, Fine Arts, Information, Interior Design, and Photography—and were selected for the competition by Pratt faculty to create artwork in any medium for the competition.
Jacqueline Long, director of communications at Moët Hennessy USA, said upon announcing the winner, "All of this artwork blew my mind. It's absolutely beautiful and stunning. All of you wild rabbits, we are so proud."
Image: (L-R) Participating students Paul Gisbrecht, Arturo Olmos, Dillon Chen, Niko DeBono, Sophie Erb, Kiran Puri, Steven Spavento, Christopher Ursini, Kemar Swaby, Rosa Booth, Christiana Theophanopoulos, Gina Bruno, Vicky Mo, Tracy Dockray, Isaac Kim, Eric O'Toole, Adjunct Associate Professor of Graduate Communications Design