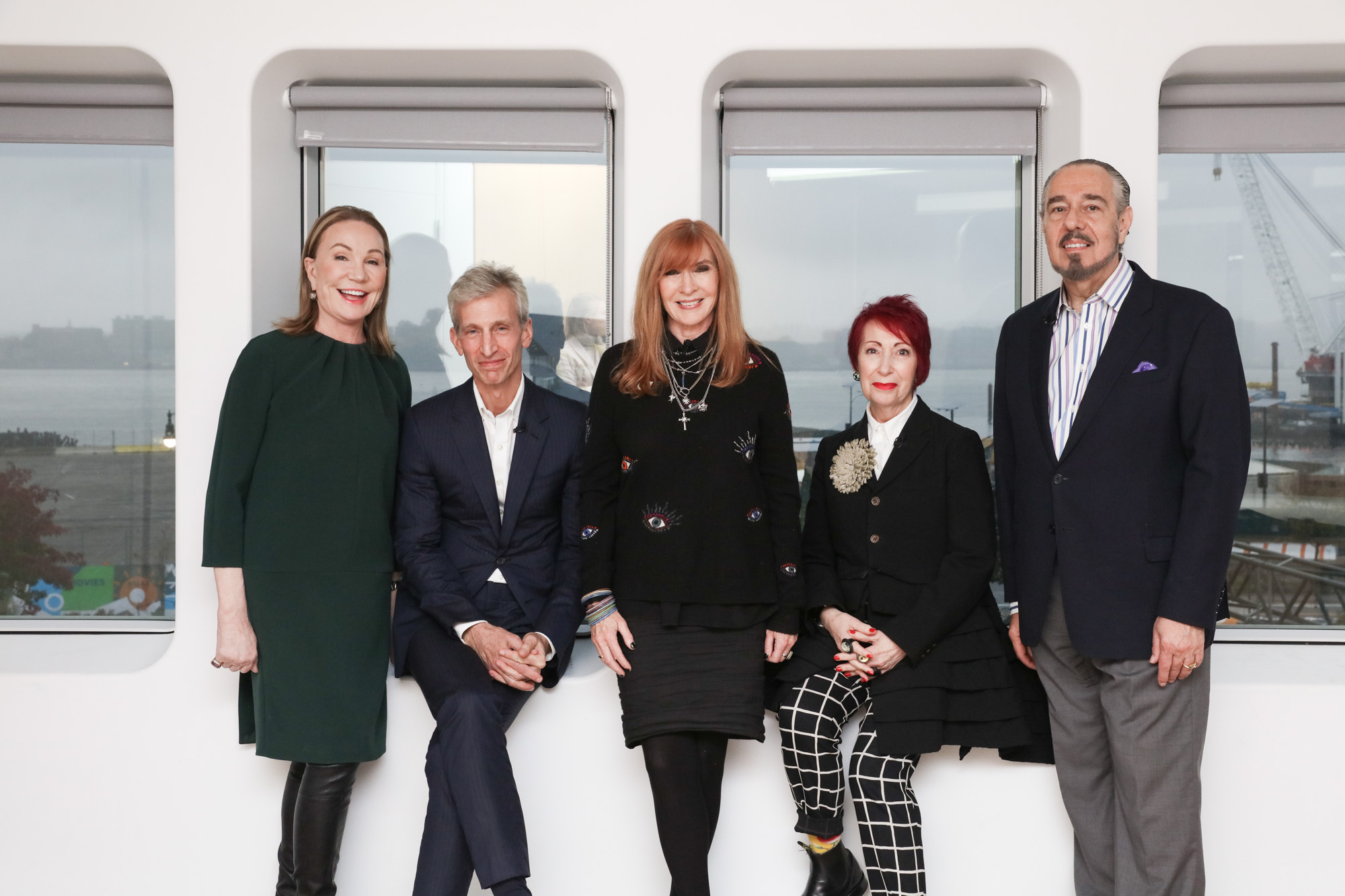 The Whitney Museum of American Art's Hess Family Theater and Gallery was filled with design enthusiasts on October 29 for Pratt's Fourth Annual Design Symposium, which focused on the theme, "Designing for the New Normal."
A distinguished panel of design and marketing experts gathered together to examine how brands are innovating for today's global marketplace. Award-winning luxury and cosmetics packaging designer Marc Rosen, Pratt Institute Trustee Emeritus and Professor of Packaging Design, moderated the discussion. The panelists included internationally-renowned interior designer Sandra Nunnerley; American fashion designer and businesswoman Nicole Miller; Anthony Barzilay Freund, editorial director at 1stdibs; and Wendy Liebmann, CEO of WSL Strategic Retail.
The panelists each explored how designers and businesses today have to work in a way that is generational, sustainable, and inspirational. Freund stated that at 1stdibs, a leading online marketplace for luxury items, it is believed that the internet will reinvent every industry—including luxury—which he believes is the final frontier. In his presentation, Design, Luxury, and Storytelling in the Digital Age, he explained that taboos about buying high-priced items online are being disproven every day with architects and interior designers shifting their purchasing to e-commerce. A global product catalog, such as 1stdibs, saves designers time and money and can be done from a desk—for better or worse.
In her presentation about the shifting retail landscape and changing consumer behavior, Miller spoke about the differences she has noticed in the fashion industry since starting her brand in 1982. She shared that although anyone today—from influencers and actors to socialites—can be a designer, product is still key and a business must be multifaceted. She closed her portion of the program by sharing four key points to weather the ever-changing landscape: Be confident in your brand DNA, identify your core values, engage with your customers on a real level, and tell a story.
Liebmann's presentation, titled Designing for the New "Retail" Normal, focused on how we understand today's shopper. She referenced a survey done by WSL, which found that shopping, whether online or in-store, is grounded in the belief that it will make an individual happy. According to this study, people today believe that in order to be happy they must be financially stable, live a less stressful life, and have a greater sense of wellbeing for themselves, their family, and community. This new set of values, according to Liebmann, has drastically changed the way we approach design.
Nunnerley spoke about numerous examples of her interior design work, with projects spanning from Houston to Hong Kong. She brought an interesting perspective to the challenge of merging luxury, or what is unique, with the everyday through her work with clients around the globe.
The discussion ended with a short Q&A session. Rosen prompted the group by asking "Is design generational?" Freund answered that with access to information and images there is so much to choose from. In the old days, he said, there were arbiters of taste. Today, in a way, it's anything goes and it is hard for older materials to find an audience. He said as an editor, he finds it his job to shed light on deserving design of the past and ended by saying, "A well-made piece of furniture is sustainable. Good design is sustainable."
The event was sponsored by the Marc Rosen Education Fund with additional funding by Juliana Terian, The Terian Foundation.
Image: [L-R] Sandra Nunnerley, Anthony Barzilay Freund, Nicole Miller, Wendy Liebmann, Marc Rosen (photo by Rebecca Smeyne)