On a recent spring weekend, Pratt Institute students transformed Myrtle Avenue Plaza just outside the Brooklyn campus into a public showcase of sculpture, video, performance, fashion, photography, and more. The ongoing Foundation Expanded: Myrtle Ave Public Projects (MAPP) initiative is a collaboration between the Foundation department and the Myrtle Avenue Brooklyn Partnership (MABP) to involve first-year students in community-engaged works.
Foundation is a year-long experience for incoming students in both the School of Art and School of Design. Foundation Expanded started in 2019 with a focus on civic engagement beyond the studio and classroom. It is led by the Foundation Faculty Mentor Team which includes Corinne Ulmann, Juan Jofre, Natalie Moore, Sandra Erbacher, Jackie Hoving, Sizhu Li, and Andrea Merkx.
"Foundation Expanded is a truly innovative part of the first-year experience at Pratt," said Leslie Mutchler, chairperson of Foundation. "It's the one opportunity that ties together our department outcomes to result in a unique, public experience that our students can take part in early within their academic careers."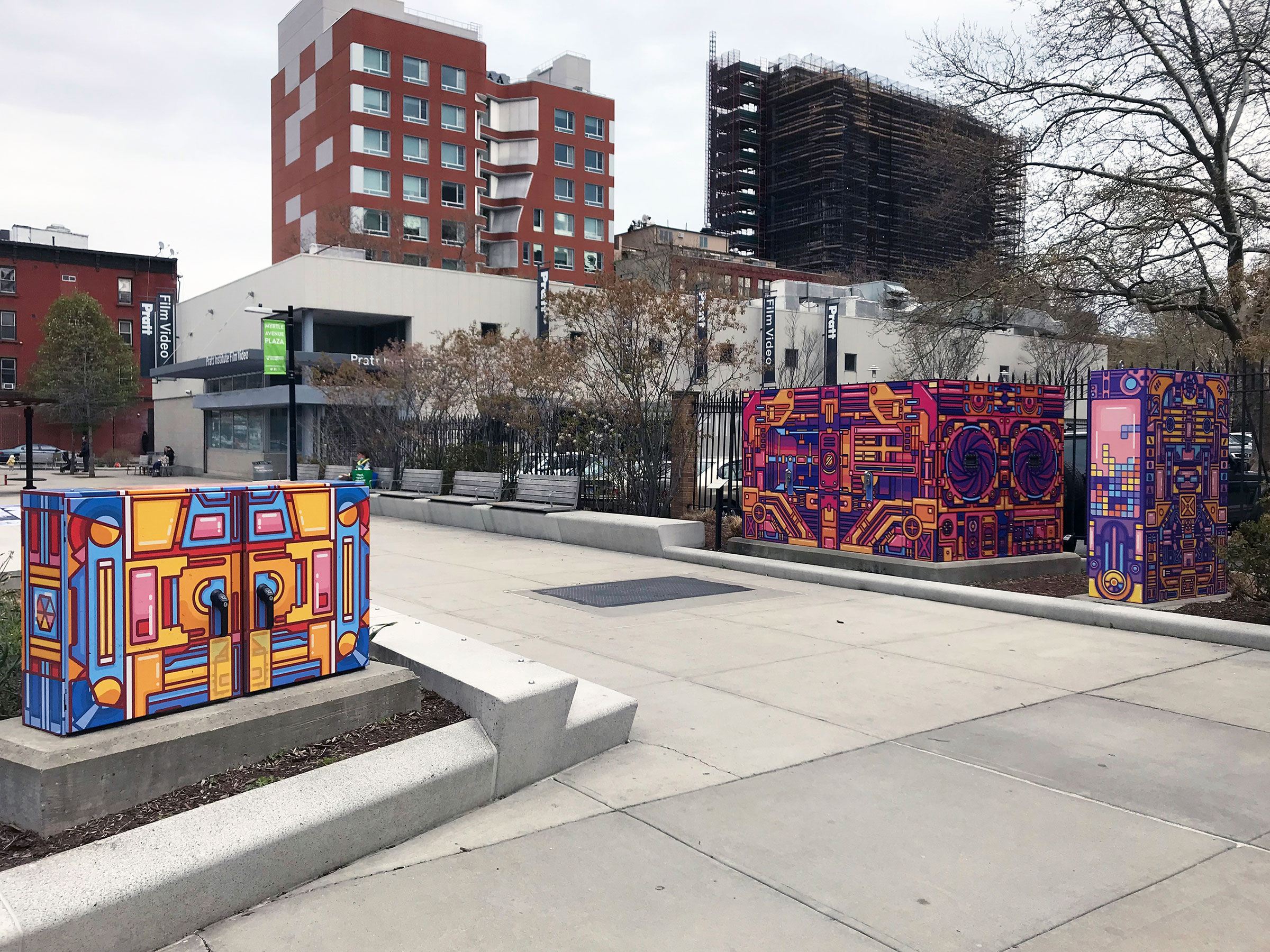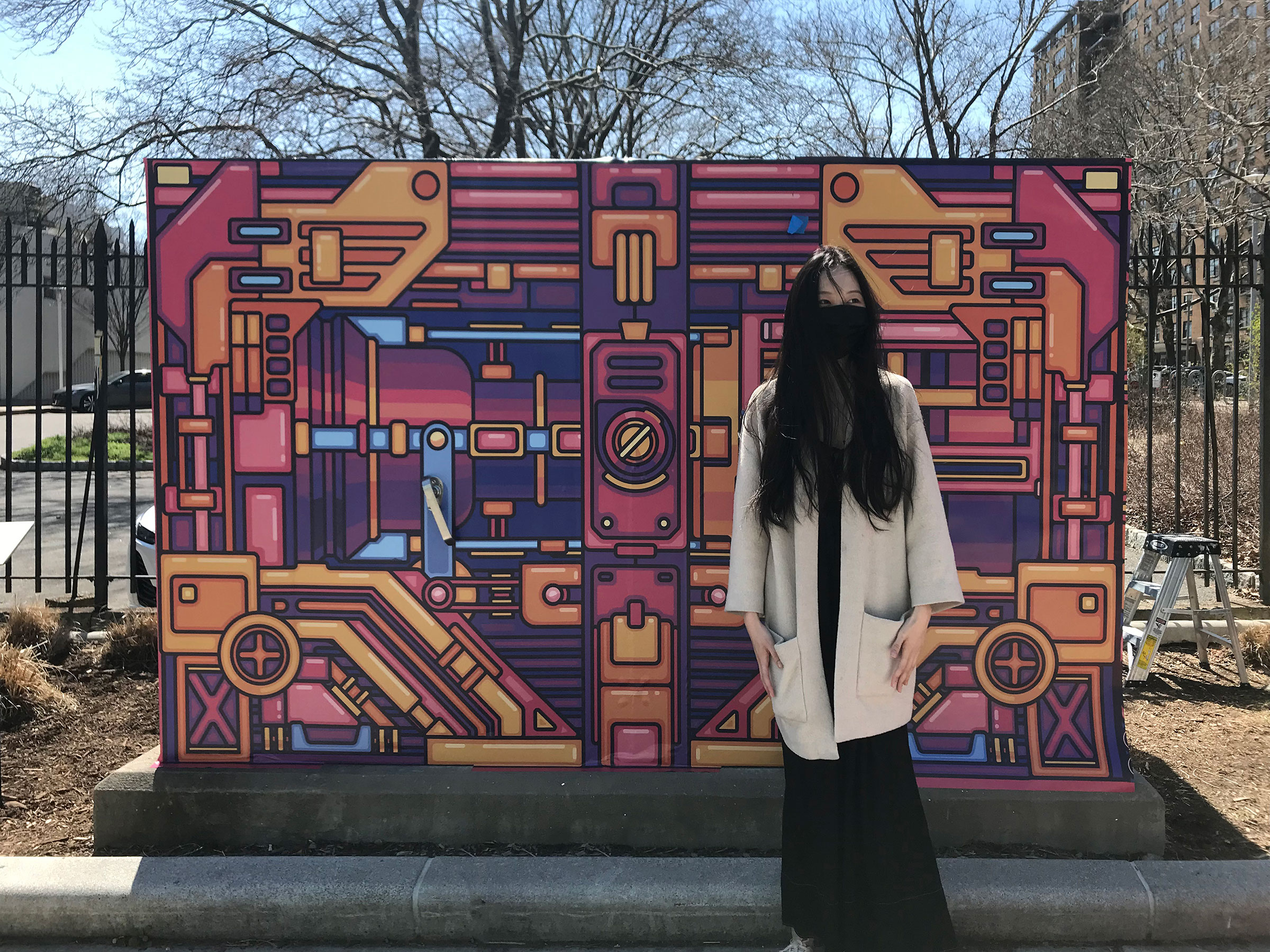 A long-term installation each year involves wrapping three utility boxes in Myrtle Avenue Plaza with vinyl art. This year, Violet Zhang, BArch '26, created "Full Battery" which uses machine-like forms to give the mechanical boxes a colorful exterior that hints at the functional interior.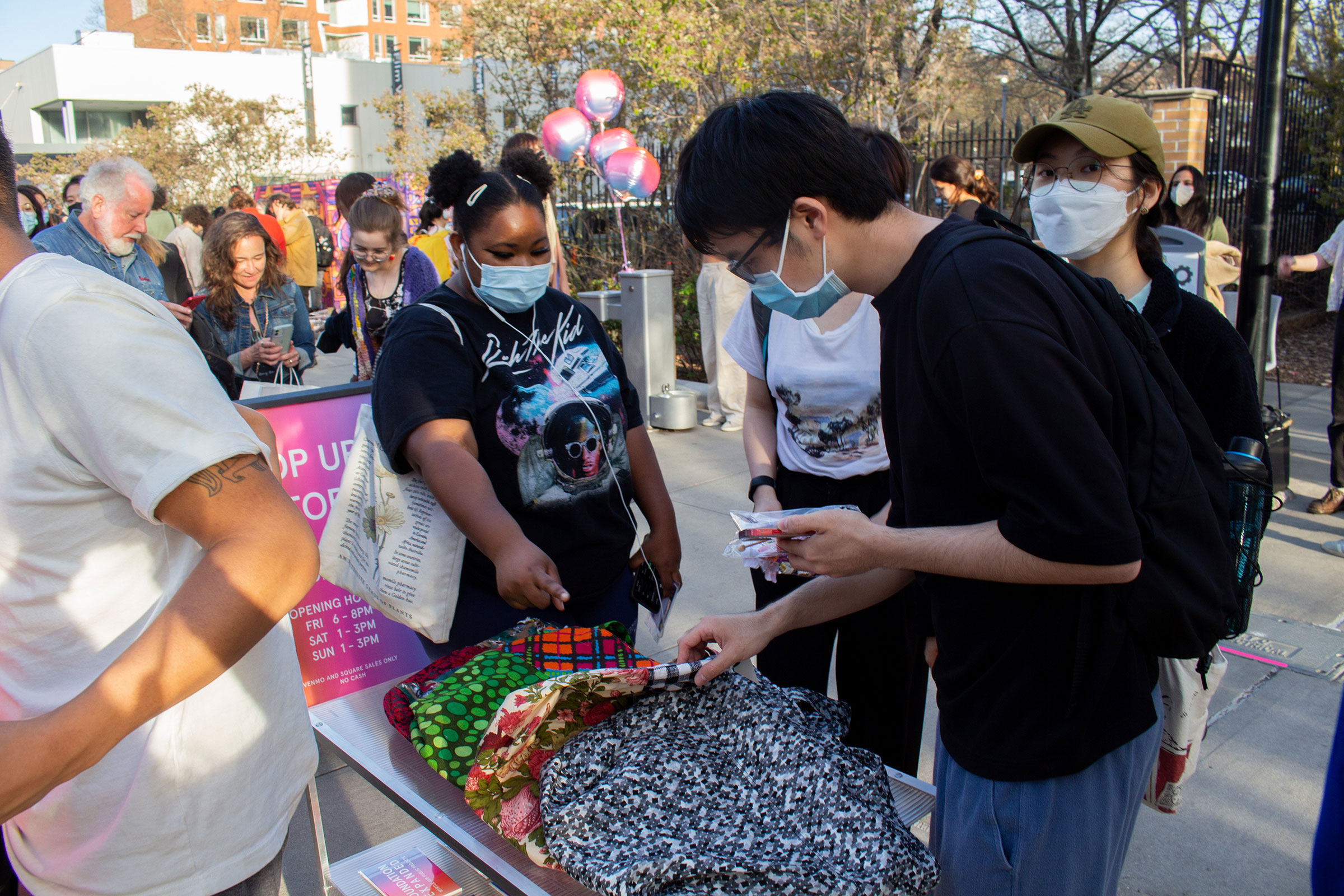 The opening weekend of the 2022 edition of Foundation Expanded, held from April 22 to 24 at Myrtle Avenue Plaza, featured a pop-up store, art installations, and a first-year fashion show. Pratt President Frances Bronet and Corinne Ulmann, associate professor in Foundation and director of Foundation Expanded, kicked off the event with welcome remarks.
"Strengthening connections within Pratt and beyond, Foundation Expanded not only enlivens the plaza each year by showcasing the creativity and excellence of our students, but also inspires and equips students to build collaboration and community engagement into their creative practice from the first year forward," Ulmann said.
The pop-up store featuring student-designed products was housed in a structure with a concept designed by Andi Kausch, BFA Communications Design (Illustration) '24. Called "Unpacking," it was made of translucent materials and modules of drawers and shelves, all developed and fabricated by students Sophia Han, Cesar Hidalgo, Peter Lim, and Dwight Wu, working with Juan Jofre, assistant professor in Foundation.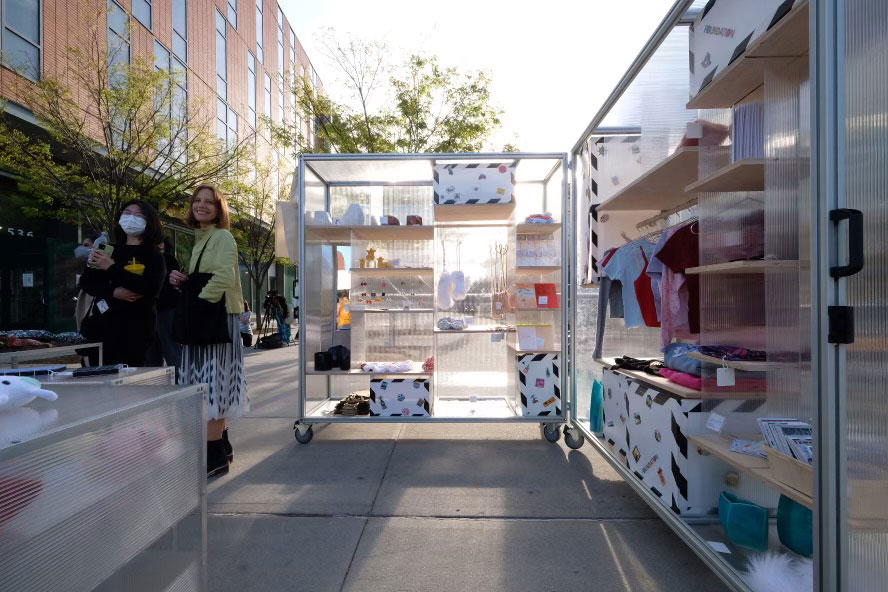 A large XOXO sidewalk mural installed by a team working with Jackie Hoving, adjunct assistant professor in Foundation, had a walkable grid of student artwork in black and white. In the windows of the Film/Video Building in Myrtle Avenue Plaza, students Reghan Bayne, Sophie Choi, Theo Hall, Jack-Henry Lee, and Lucas O'Malley exhibited a series of time-based projections, installed by Andrea Merkx, adjunct assistant professor in Foundation. Concurrently, Pratt's Preserving Activism initiative was displayed in the windows of seven Myrtle Avenue storefronts and featured photography of 1970s youth education programs at the Institute. Stills and footage from the Preserving Activism archive were also displayed in the Film/Video Building windows, as were videos submitted by Fashion Design students working remotely.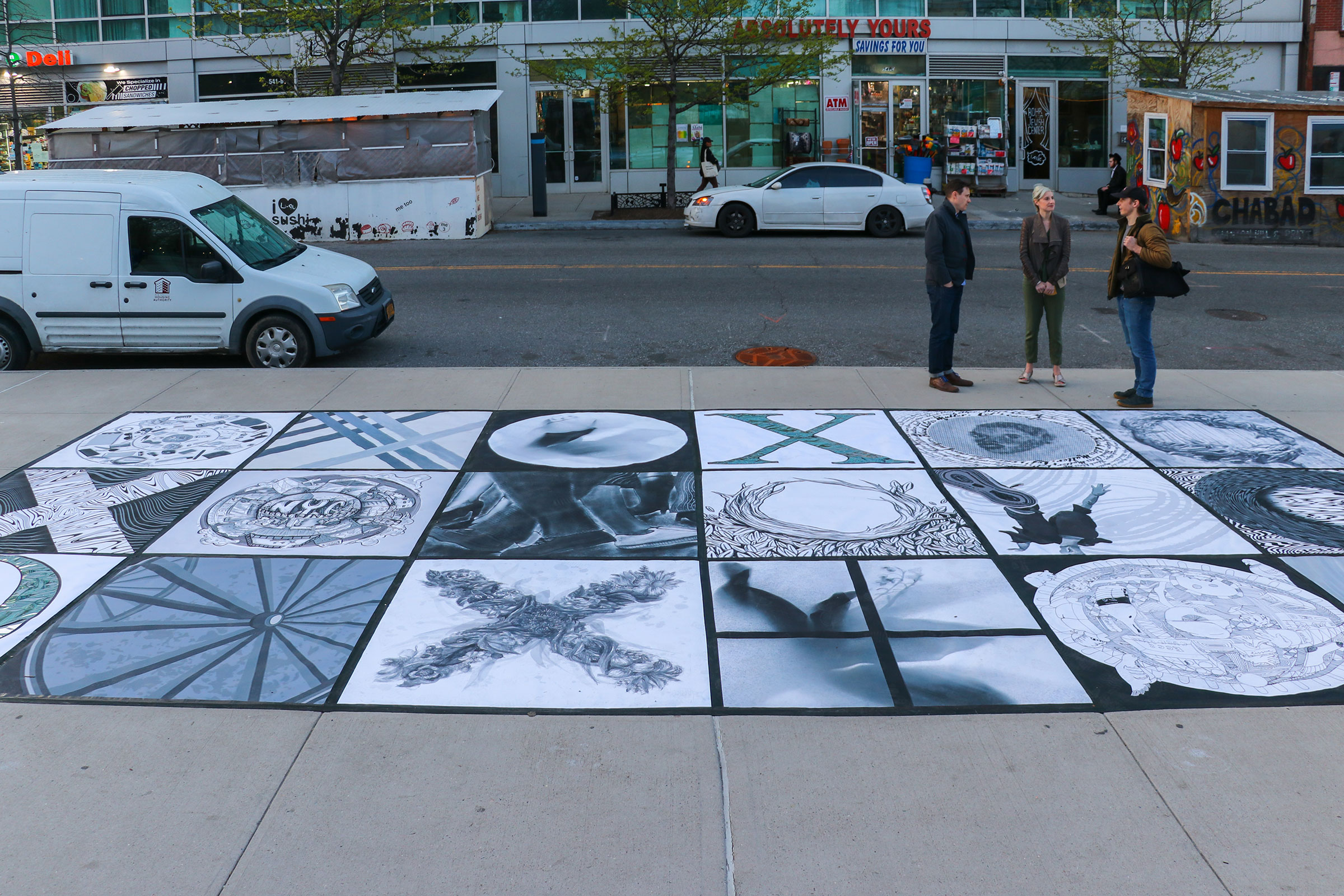 The first-year fashion show featured vibrant and innovative garments from subtraction cutting and responsible fashion student projects, with the supporting Fashion faculty team including Gabby Galvan, Jacqueline Lamont, Kerry Ryan, Melanie Schmidt, and Karin Yngvesdotter.
Foundation Expanded also continued its collaboration with Industrial Design, working with Amanda Huynh, assistant professor of industrial design, and Jeffrey Chung, MID '24 to offer edible delights inspired by the student art. Art and design education students Lauren Jonaitis, Mikayla Lafleur, and Morgan Lake from the Art, Community and Social Justice class taught by Visiting Assistant Professor Patrick Rowe led interactive workshops. The weekend also included poetry readings from Josie Joy, BFA Writing '25, and members of the MABP senior writing group, a performance from the student Aura Dance Crew, and music from Tahlia Amanson, BFA Writing '25, all bringing the creativity of campus into the vibrant Myrtle Avenue corridor.
See additional photographs below and visit the @PrattFoundation Instagram for more.