Pratt Institute students rolled out a colossal welcome mat for the kickoff weekend of the fall 2021 Foundation Expanded, an ongoing initiative to bring public art to Myrtle Avenue. With "Keep Going!" spelled out in large letters, the 15- by 30-foot "Mulch Mural"—created by students Averey Balcazar, Hector Brignone, Chloe Chun, Jennifer Kim, Aylin Kiriscioglu, Rose Moon, Sarah Schneider, and Haesung Hwang—greeted visitors and passersby with a message of endurance. It was one of several installations, a pop-up shop, performances, and other happenings that shared the creativity of Pratt students with the community.
Some of the installations created by teams of students and faculty that debuted at the opening celebration, held from September 24 to 26, were ephemeral like the "Mulch Mural," while others are on long-term view. Foundation Expanded is a collaboration between the Myrtle Avenue Brooklyn Partnership (MARP) and Pratt Foundation department to connect first-year Pratt students to civic engagement. Foundation is a year-long experience for incoming students in the School of Art and School of Design, and Foundation Expanded engages these students in working creatively and collaboratively outside the classroom and studio. It is led by the Foundation Faculty Mentor Team which includes Aaron Davidson, Jackie Hoving, Juan Jofre, Andrea Merkx, Jonathan Peck, Corinne Ulmann, and Beth Warshafsky.
"Foundation Expanded helped me start to think about new applications and possibilities of the art I was making, and how they could be applied to larger installation projects," said Sarah Schneider, BFA Communications Design (Graphic Design) '23. "It was a really nice experience working collaboratively with my peers to come up with a proposal, and it was really cool to see it finally be completed."
Averey Balcazar, BFA Digital Arts (3D Animation) '24, who also worked on the "Mulch Mural," agreed that seeing how the project evolved as they came together as a team was a valuable experience. "Our group's concept went through many iterations and was influenced by everyone's unique ideas and it was really cool to see firsthand where we started versus the final result," Balcazar said.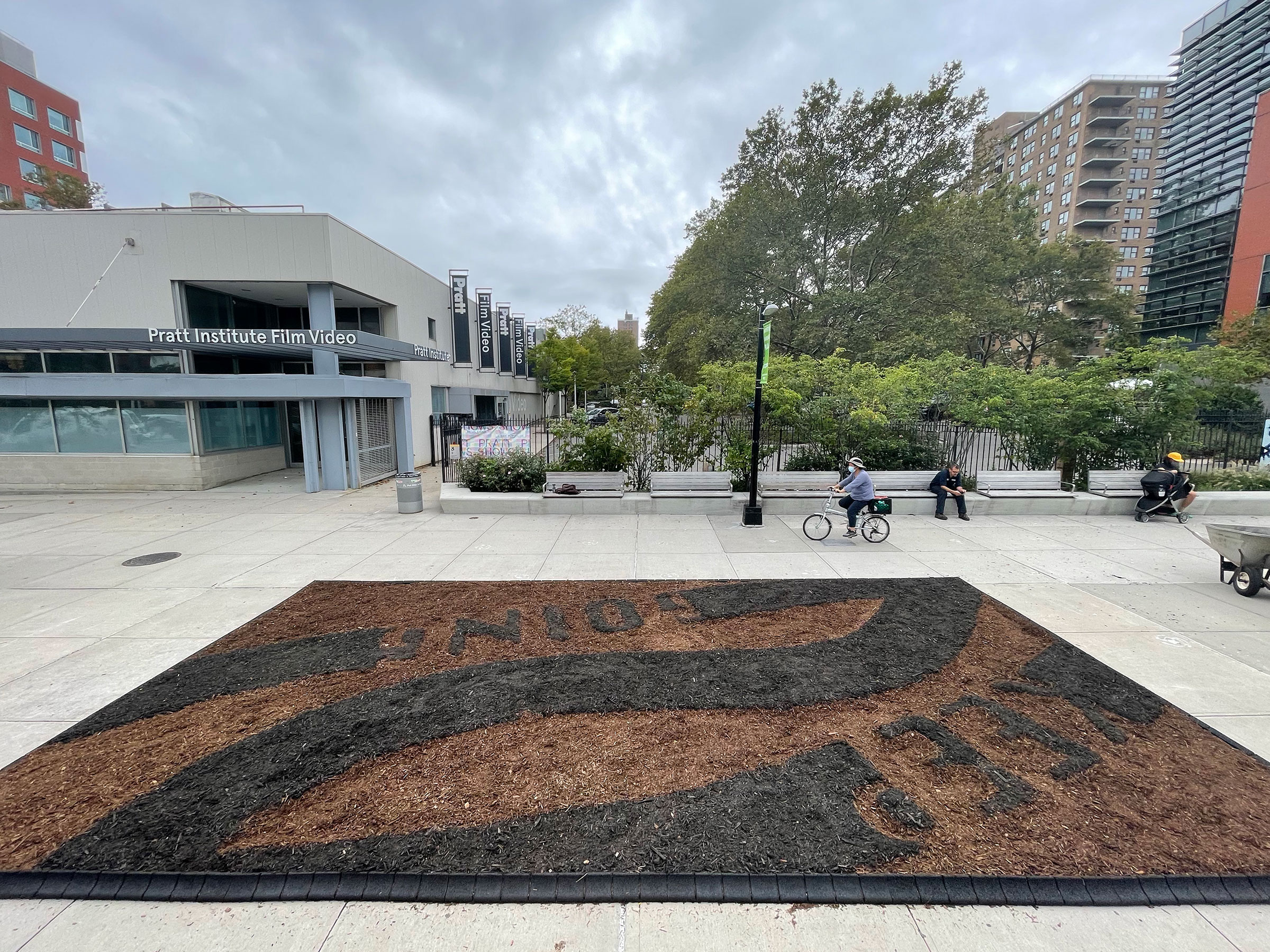 Located next to the Film/Video Building at Pratt's Brooklyn campus, Myrtle Avenue Plaza is a dynamic neighborhood corridor where the student art adds to its vibrant atmosphere and enhances the public space. Foundation Expanded started in 2019 with Elodia Wei, BFA Interior Design '22, covering the utility boxes in Myrtle Avenue Plaza with kaleidoscopic patterns.
"What began as a pilot project to beautify these mechanical boxes with artwork has grown into a multidisciplinary program with four sites along the plaza, engaging all four of our Foundation courses, and creating connections across departments and schools within Pratt and beyond," Corinne Ulmann, associate professor in foundation and the founding director of Foundation Expanded, said in her opening remarks. "These connections transform our lives, our schools, our practices, our professions, and our future."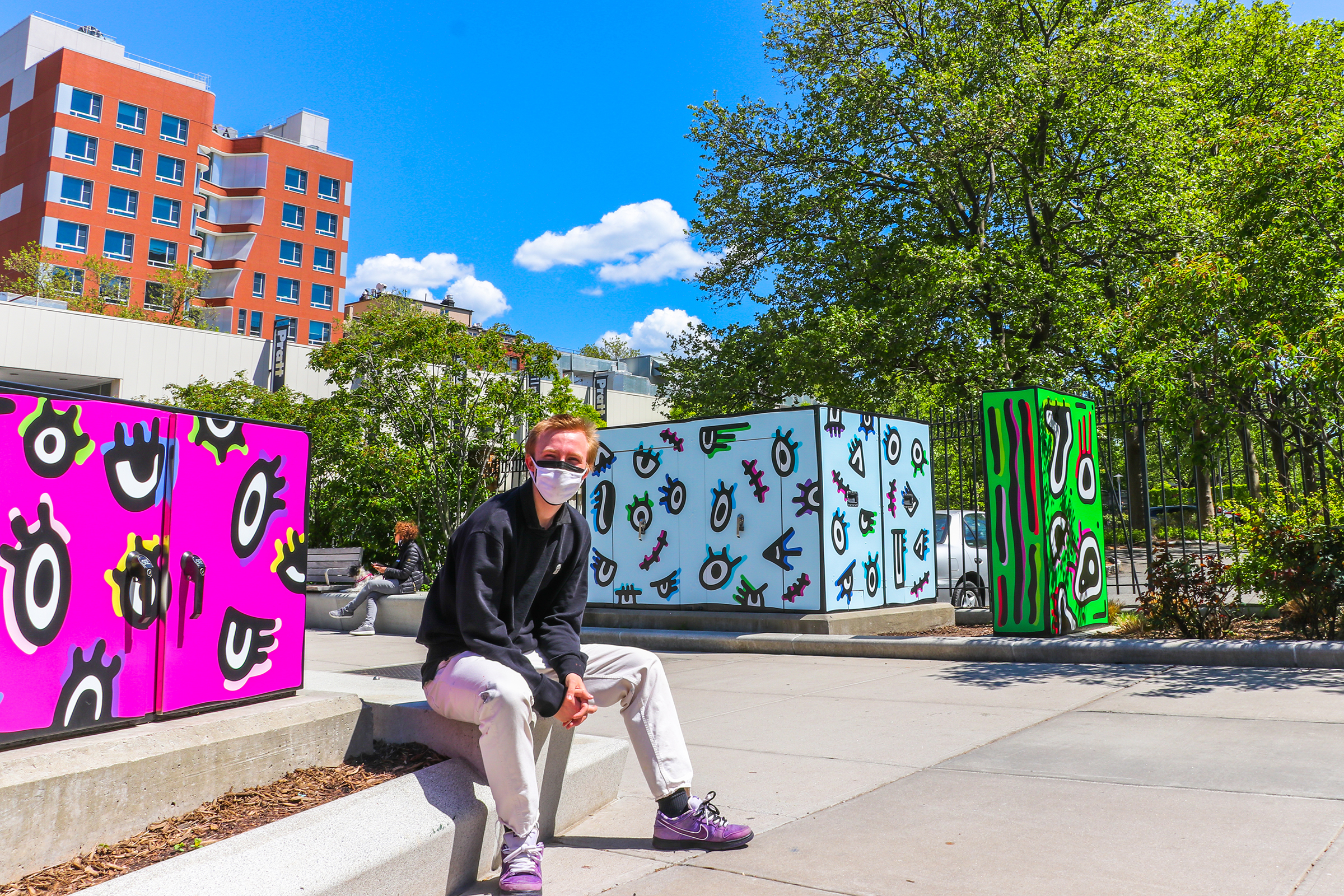 This year, Jack Ketteler, BFA Communications Design (Illustration) '23, has adorned the three utility boxes with illustrations of eyes in contrasting colors. He was influenced by the bold style of street art and the simplicity of graffiti for a playful design called "Watching" that would stand out in its environment.
"When thinking about the project, the first thing that ran through my mind was, 'how can I make something typically seen as an eyesore a destination?'" Ketteler said. "Creating the design for the boxes forced me to think about surroundings and intention in a way I've never thought of before."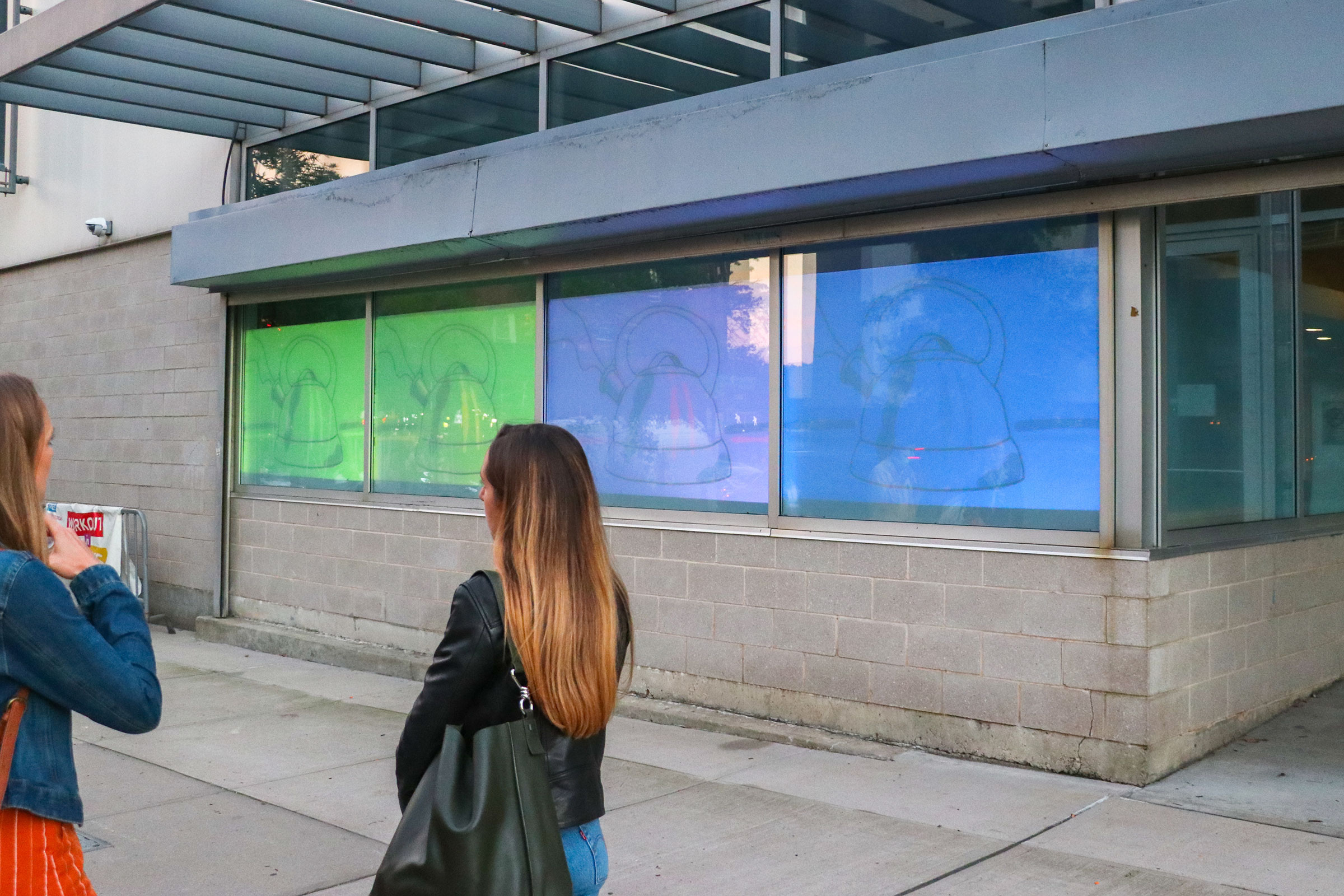 Nearby, time-based projections are filling the windows of the Film/Video Building. The works were made by students over the past academic year as they adapted their practices to the pandemic and responded to its challenges. "The Portals" created in a class led by Deborah Johnson, associate professor of foundation, each offer a view into a different universe formed from household materials including soap, food coloring, ink, and water. "Tea Time" by Amelia Johnson, BFA Digital Arts (2D Animation) '23, experiments with rotoscope animation to reflect on the endless cycle of routine during the pandemic, while "Drowning Metaphorically" by Idil Cinaroglu, BFA Communications Design (Illustration) '23, employs animation to examine the desire to escape reality. "Are We Existing or Living?" by Tanvi Kumar, BFA Communications Design (Graphic Design) '23, uses motion design animation and text to convey motivational messages, and "Anyone?" by Haesung Hwang, BFA Communications Design (Illustration) '23, involves video montage to represent the sense of disconnection in a time of COVID-19.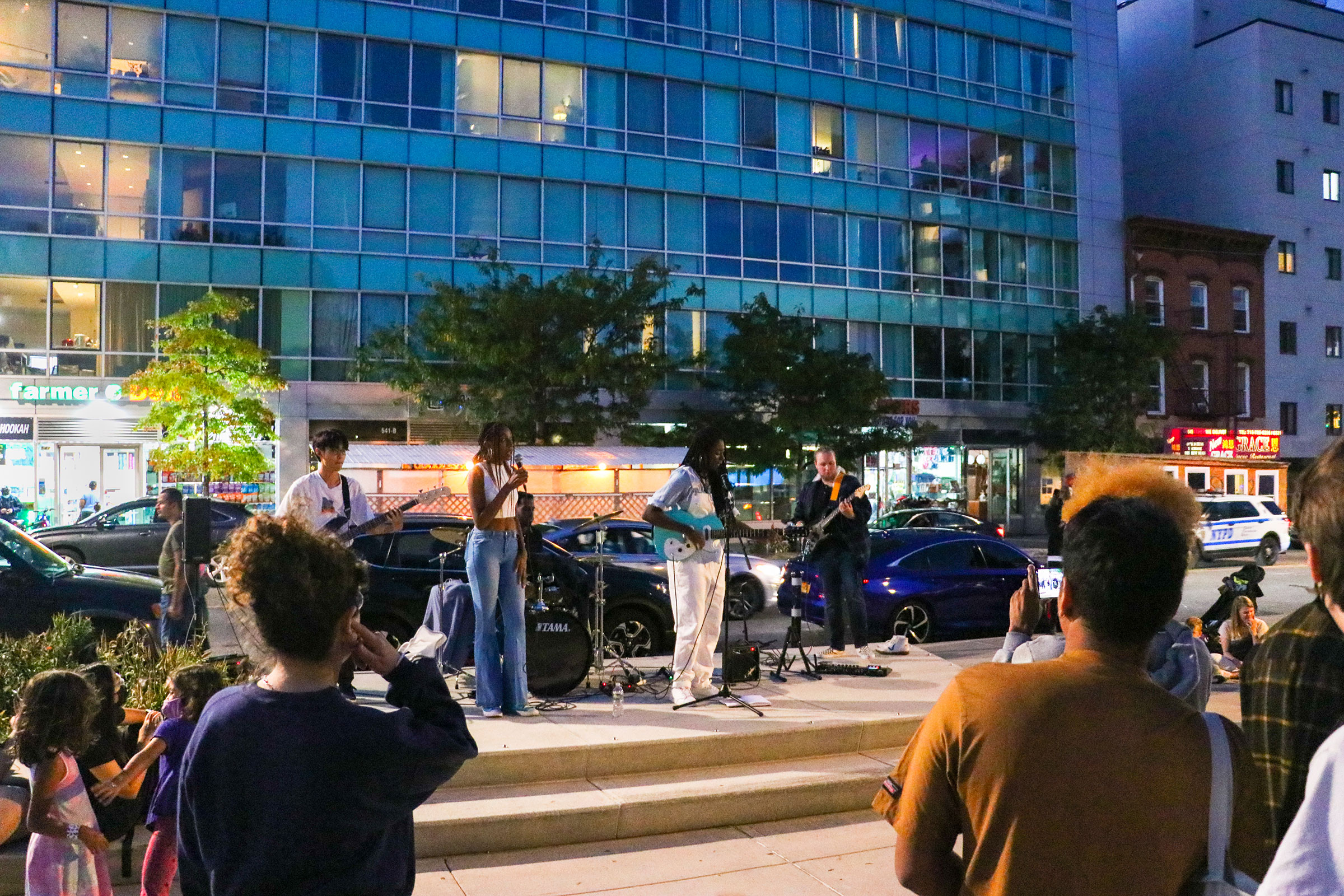 The opening weekend also featured live performances, such as music from Amouri Edwards, BFA Digital Arts (2D Animation) '24, and poetry readings from students in the Writing Program, as well as the Social Practice Kitchen, a mobile kitchen developed by Amanda Huynh, assistant professor of industrial design, which offered edible delights inspired by the student art. A pop-up shop with student-designed products was presented in an installation concept designed by student Shucheng Liu, and developed and fabricated with students Hector Brignone, Chloe Chun, and Aylin Kiriscioglu. Called "Joy," it used a lattice of colorful strings to connect the shelves of eclectic work.
"As an interior designer, we learn about materials, designs, softwares, client, and site analysis, however, I have never had the experience of actually creating and fabricating my designs in full scale," said Aylin Kiriscioglu, BFA Interior Design '23. "I was able to design using different softwares with the help of my supervisor, brainstorm as a group, fabricate our designs in the Pratt design shops, face challenges, solve those problems as a group, and finally present our work to the Pratt and Myrtle Avenue community."
Hector Brignone, MID '22, added that it was a rewarding experience to create the installations while working with students, staff, and faculty from across disciplines: "We all learned a lot from each other and were able to experience many new forms of production, design challenges, and installation art that came together to form what was displayed for Foundation Expanded."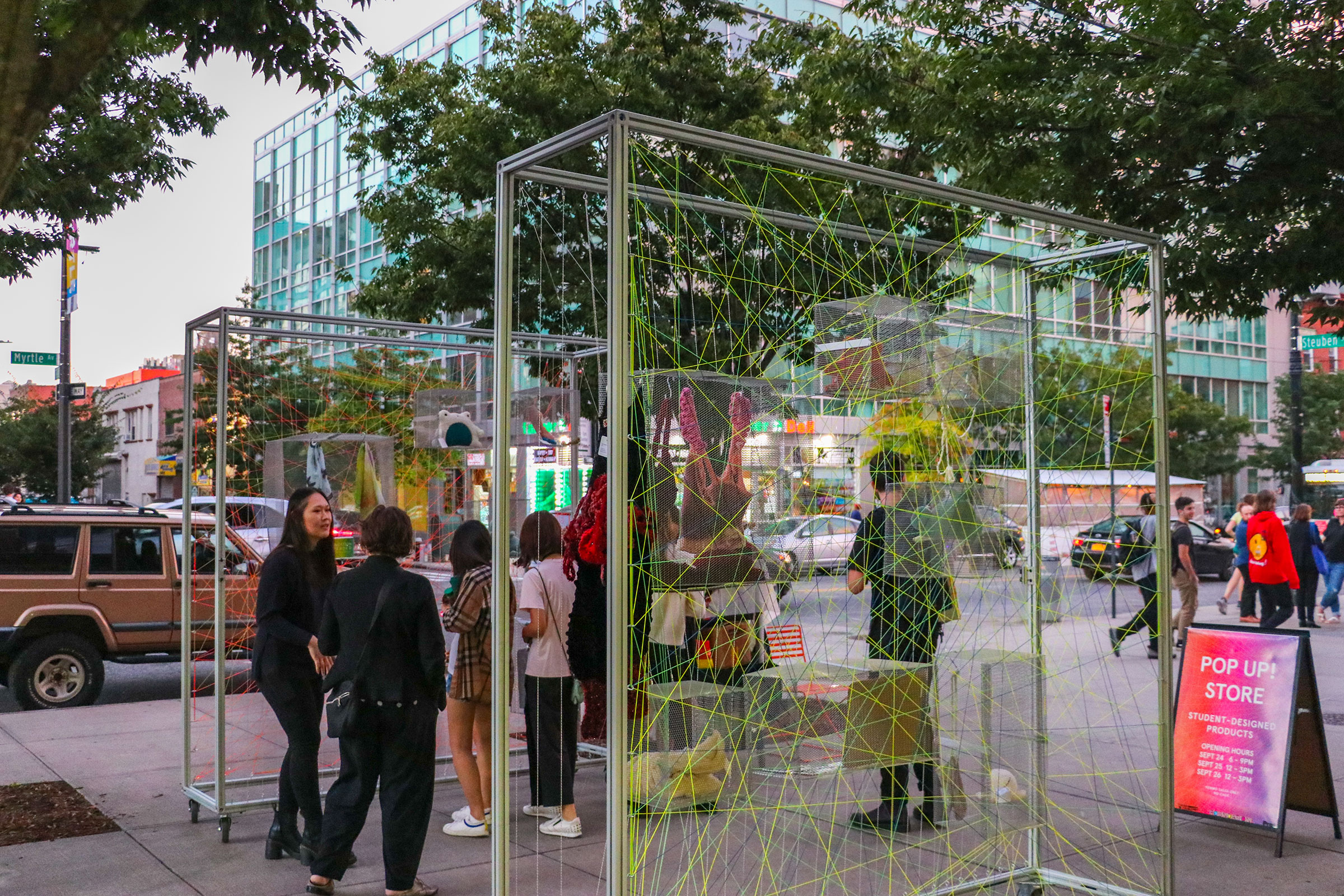 With Foundation Expanded evolving over the coming academic year, visitors to Myrtle Avenue Plaza can continue to encounter the innovative art of Pratt students which is adding beauty and wonder to the street, while students are learning how their work can engage viewers, even in an unexpected place like a utility box or sidewalk mulch.