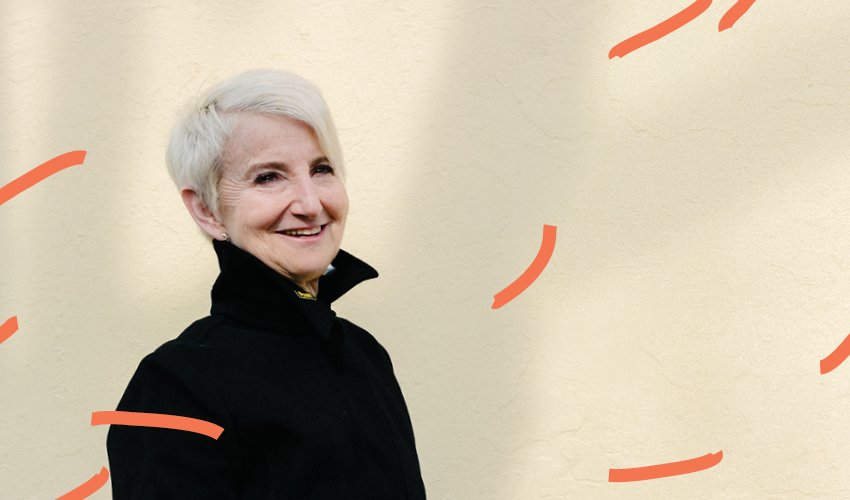 Dawn is just breaking over Brooklyn and Frances Bronet is already hard at work.
But she's not an insomniac, nor has she pulled an all-nighter—she's just an exceptionally early riser. She has no need for an alarm clock. Each morning before the rest of the world stirs, she takes her first cup of coffee and then climbs aboard her elliptical machine to begin taking care of emails, reading articles on higher education, and preparing for the day's meetings with colleagues and mentees. As often as possible, she is out before 7 AM, getting in a walk or run with a friend or collaborator, or taking calls if she is alone. "Once I'm up, I'm up," Bronet says.
Bronet is already closing in on her first semester as Pratt's new president, the 12th person and first woman in the role—and one of only a historic few architectural educators to hold the post of college president. She is uniquely qualified to helm Pratt, especially at a time of increasing cross-disciplinarity, both because of her résumé—she is an architect and engineer as well as a skilled academic administrator and educator—and because of her focus on fostering innovation and exploration.
"I like seeing what evolves when different people join to­gether, and I like designing teams where the unexpected can unfold," she says.
Over a 30-year academic career, forging those sorts of collaborations has become a Bronet trademark. The first wa­tershed moment for her multidisciplinary efforts was a project funded by the National Science Foundation called "Design as a Creative Model for Technical Education" that Bronet co-led in 1998 while on the faculty of Rensselaer Polytechnic Institute. She continued to push for new partnerships at the University of Oregon, where she was acting provost after serving as dean of the School of Architecture and Allied Arts from 2005 to 2014, and then at Illinois Institute of Technology (Illinois Tech), where she was provost from 2015 until the end of last year. Her passion for inventive collaborations extends to her own creative work, which includes multiple live-performance pieces blend­ing action art and architecture. Bronet designed physical large-scale constructions, which iteratively interacted and transformed as the dance informed the environment. In var­ious productions she has built, dancers alternately navigated and manipulated Bronet's installation to demonstrate the relationship between space and movement.
"Frances is a tireless advocate for cross-disciplinary work, and frankly one of the great attractions about working with her is that she's always thinking about ways to draw other skill sets and talents into the mix," says Richard Lariviere, who was president of the University of Oregon during Bronet's time as dean.
Many schools and leaders extol a multidisciplinary ap­proach, but such partnerships are more difficult to execute than to conceive. Bronet has made a career out of identifying and negotiating the structural and cultural barriers that inhibit successful collaborations.
"The real issue, if you want to have faculty and students work together [across disciplines], is they have to be respectful of the other disciplines and the investigative systems that the different fields have," says Bronet. "You can't dismiss the other domain. We have to create an ecology of practices that allows people to have different modes of inquiry."
It helps that Bronet excels at modeling the empathy and attention required to build that mutual understanding.
"She's very good at bringing groups together, because she's very interactive and also listens well," says Illinois Tech pres­ident Alan Cramb. "She likes to get everyone into consensus—not necessarily total agreement, but at least consensus, before she moves ahead."
As Bronet builds partnerships, her decisive resources are careful listening and active encouragement. It's proven to be a potent formula, and one that presents inspiring potential for her presidency at Pratt.
"Philanthropists like to give to big ideas, and Frances is very good at finding those ideas and building upon them—es­pecially when she's pushing people to form partnerships across campus that have never existed before," says Betsy Hughes, the Vice President for Advancement at Illinois Tech. "She is always looking for those opportunities, and that angle is going to be exciting for philanthropists and alumni."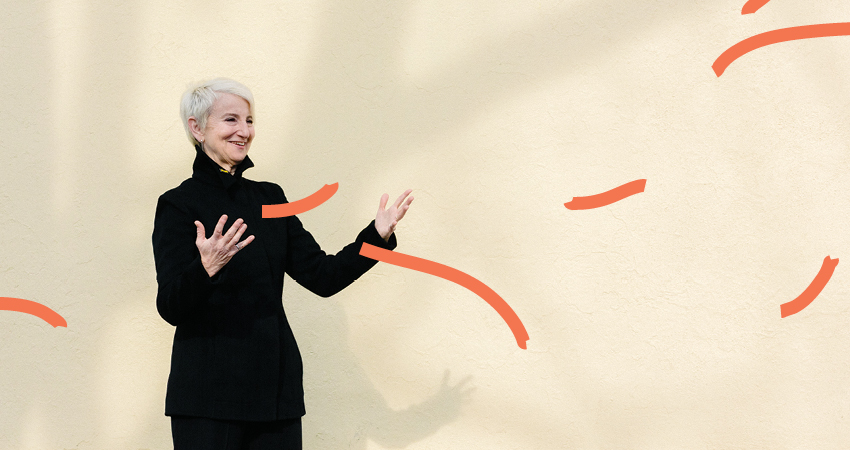 'An extreme extrovert'
Bronet spent her childhood in Montreal in what she describes as a neighborhood full of Holocaust survivors. Her father, for one, was raised in Warsaw, Poland, and spent World War II in a Siberian work camp. Bronet's grandmother and aunt both were imprisoned at Auschwitz; her grandmother died there.
That community of survivors was committed to family, neighborhood, and work, with Bronet's father making purses and her mother a salesperson at a department store. Bronet didn't spend much time at home, instead meeting friends on the school playground across from her apartment or frequent­ing a community center where kids gathered to dance to songs on the jukebox. Others would drift in and out of the scene, but Bronet was a constant—an early manifestation of one of her defining traits.
"I'm an extreme extrovert," Bronet acknowledges. "I am not a homebody. I'm always out, and I like to be always out."
Bronet studied architecture and engineering as an under­graduate at McGill University, then worked as a Montreal ar­chitect before leaving Canada to attend graduate school at Columbia University in New York City. After a few of her Columbia housemates—three fellow architects—traveled upstate to Troy to successfully interview for open faculty jobs at Rensselaer Polytechnic Institute (RPI), she got an interview herself and was offered a tenure-track position teaching design and structures.
It was at RPI that Bronet took the next step in her academic career, when she was named associate dean of architecture in 1994. RPI is also where she started her family. She met engineer Jeffrey Paules at a party and the two married soon after. Like Bronet, Paules was veering toward a career in academia—he later coordinated precollege science-education programming at the University of Oregon and directed trans­fer and high school programs in engineering at Illinois Tech, where he was also involved in robotics initiatives. Bronet and Paules have two children, a daughter in her 20s, now a New York City–based writer, and a college-age son who is studying math and economics.
Oregon is the institution where Bronet honed her ambi­tious, action-oriented approach to academic leadership.
"Pratt is about to see a level of energy in their leadership that is going to be dazzling," Lariviere said just before Bronet assumed the presidency. "She's capable of getting people to invest huge amounts of work to get a job done quickly. She's not patient with unnecessary delay. She wants to get it done now, and she drives no one harder than herself to do it."
Bronet's always-on, hard-charging leadership style is tempered by her humor and her upbeat demeanor.
"Frances is an energetic rocket booster," says Illinois Tech's Hughes. "She came in and learned what was best about this institution, and then she became the single biggest cheerleader for excellence our school has ever seen. She's such a confi­dence booster, the one who would always encourage us and say, 'You guys are extraordinary.'"
Bronet also is careful to make sure her demands are real­istic. She understands that a commitment to collaboration across disciplines requires making space to accommodate it, especially when the participants are faculty members and students whose schedules already are stretched thin.
"My job is to figure out a way to liberate that space so that people are incentivized, or motivated, or interested in giving up some of their other attentions in order to do this," she says. "I do think big, but I'm also somebody who understands that a vision framework has to have an implementation strategy with it."
A new chapter
Bronet is approaching her tenure at Pratt with the energy and enthusiasm you'd expect from someone who thrives on op­portunity: "It's so perfect," she says, "a school that's concep­tual and theoretical, aesthetically rooted and pragmatic, and anchored in social justice. Pratt is a vibrant community, a place that's always been a hive of creativity, and my job is to extend and support that powerful energy."
From Pratt's perspective, Bronet's unique mix of schol­arship, leadership, and life experience makes her an ideal leader. "Her background was one that excited me and that I felt went beyond what we were hoping to find," says Associate Professor of Writing Ellery Washington, a faculty trustee and member of the presidential search committee. "It was clear she was someone capable of creating a vision and taking us forward."
From day one, Bronet has emphasized her view of a Pratt connected, collaborative, and contextualized within the fluctuations of the society and culture—"a robust ecosystem of learning modalities," as she puts it, responsive to the opportunities of a changing world. "We don't know what the jobs of the future will be," she says, "but what will not go away is a creative and critical model of inquiry. That means we need to continue developing students and faculty to navigate these uncertainties through informed investi­gations and designs."
While Bronet's vision for Pratt has been taking shape, she has hit the ground asking significant questions, such as how best to position Pratt's students to realize their ambitions, and how to transform Pratt's far-flung alumni base into a more cohesive network. She's on the lookout for big ideas and for ways to translate the Pratt community's expertise into global leadership.
She has already focused on specific initiatives that will define the start of her presidency. At the same time that she launched her "listening tour" with members of Pratt's inter­nal community, she also began forging new relationships with academic, civic, creative, and technology-centered communities in New York. Furthermore, within her first month of taking office, she launched the process for a new strategic plan for Pratt, building upon the plan adopted in 2012. "It is not a task that I can accomplish alone," Bronet noted in a letter to the Pratt community. "Together we will develop a vision and plan for Pratt that will set the priorities for the coming decades."
"Frances not only seeks collaboration, but reveres it," says Alison Snyder, who chairs the Interior Design Department at Pratt and previously worked under Bronet as director of in­terior architecture at Oregon while Bronet was dean there. Snyder says Bronet's knack for fostering partnerships relies on nuanced insight. "She's able to really synthesize all of the kinds of interdisciplinary relationships and can help make [collaborations] work because she's a great listener, a fast and facile thinker, and caring at the same time."
Now, in the first months of Bronet's presidency, she is setting about the work of identifying and illuminating spaces where groundbreaking ideas and work can evolve. "There's a saying, 'Go where there is light.' It's about looking for the opening, anticipating the space that's going to open—and then that space unfolds because of how people occupy it," she says.
For Bronet, that process starts with listening, connecting with faculty, students, trustees, and local leaders and making visits to alumni in network cities. "I rely on other people—there are always people who want to help to lead, to teach, to give Pratt a voice in the world. Pratt is about you, and this is our journey. Let's walk it together."
Article by Steve Hendershot
This article appears in Prattfolio (Spring/Summer 2018), arriving in print mid-May.