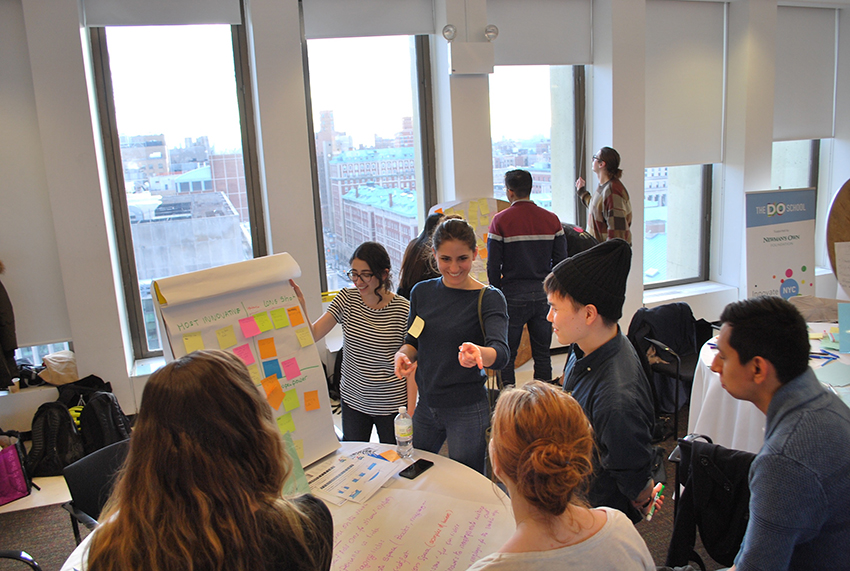 Five undergraduate and graduate Pratt Institute students have been selected to participate in the Community Mobility Challenge as part of the 2017 Innovate NYC program, which provides students with the opportunity to learn valuable entrepreneurial skills and tackle real-life challenges. Innovate NYC is one of the signature programs of the DO School, an organization that creates distinctive experiential learning programs. Pratt has joined forces with the DO School as one of 11 higher education institutions in New York City to participate in the 2017 Innovate NYC program.
The program attracted strong interest among Pratt students across a range of disciplines, and five of the 20 students selected for this year's Innovate NYC cohort attend Pratt. The students are Aamir Ansari (M.S. Urban Placemaking and Management '18), Vania Arevalo (M.P.S. Design Management '17), Isidora Concha (M.Arch '18), Jonathan Marable (M.S. City and Regional Planning '17), and Maryam Turkey (B.I.D. '17).
The 2017 Innovate NYC program centers on innovation in mobility, challenging participating students to create a low-cost, environmentally friendly citywide ride-sharing solution that enables employees to reach the Brooklyn Navy Yard. Students in the program participated in two days of workshops in April, and will attend daily workshops in June that will serve as the capstone experience. At the end of the program, participants will deliver their plans to the City of New York.
Read more about the Community Mobility Challenge.
Image: Students participating in the 2017 DOathon at the Brooklyn Navy Yard