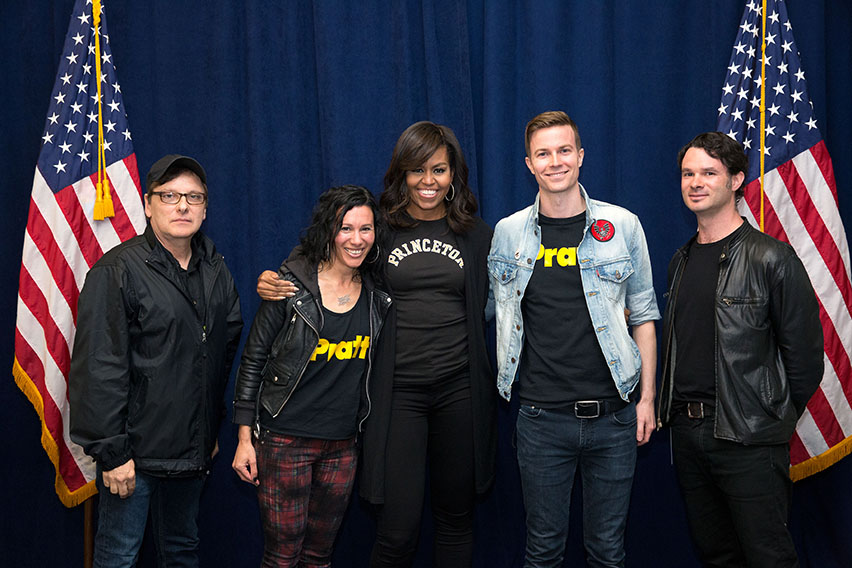 Pratt Institute alumni Matt Johnson (B.F.A. Film '04) and Kim Schifino (B.F.A. Illustration '02) of the indie pop band Matt and Kim were guests of First Lady Michelle Obama at a National College Signing Day event held at New York City's Harlem Armory on April 26. The event was part of Mrs. Obama's Reach Higher initiative, which aims to inspire students to stay in school and enroll in college. Along with remarks by the First Lady, the program featured a number of actors, musicians, and sports icons to help celebrate high school seniors who are choosing to pursue higher education. The event was live-streamed by MTV online and received coverage in a host of major national media outlets.
Wearing Pratt T-shirts, the pop duo showcased their Pratt pride and spoke at the National College Signing Day rally in front of 4,000 high schoolers to celebrate the students' commitment to pursuing higher education. Johnson and Schifino met while they were students at Pratt and formed the band Matt and Kim in 2004. Speaking to the cheering crowd, Johnson said that attending Pratt "is one of the best things I ever did." The two were joined onstage by New York City high school student Kira Keith, who said that she wanted to attend Pratt because it was "the best school of the best." An aspiring photographer, she mentioned the Institute's "awesome photography program."
The First Lady addressed the audience later in the program. "We all know that completing your education past high school is the most important thing you can do to reach your dreams—that's why we're here," Mrs. Obama told the students. "So while you all might be in awe of us, let me tell you, we are in awe of you."
Also joining the First Lady in celebrating the students at the Armory were Carmelo Anthony, Robert De Niro, Allan Houston, Julianna Margulies, Melissa McCarthy, Jay Pharoah, and other celebrities.
A video of the full event may be viewed here (Johnson, Schifino, and Keith appear at the 15-minute mark).
Image: (L-R) Kevin Patrick, manager, Matt and Kim; Kim Schifino (B.F.A. Illustration '02); First Lady Michelle Obama; Matt Johnson (B.F.A. Film '04); and Tom Pambrun (tour manager, Matt and Kim) at the College Signing Day event (photo: courtesy of the White House)