Three Pratt Institute fashion design students were named winners in a semester-long sportswear design competition sponsored by the Importer Support Program of The Cotton Board and managed by Cotton Incorporated. The winning designs were on display as part of the annual Pratt Institute Fashion Show, which took place on April 27 at The Metropolitan Pavilion at 125 West 18th Street. Funding for the Pratt Fashion Show was awarded in part through a competitive grant presented to Pratt Institute by the Importer Support Program of the Cotton Board and Cotton Incorporated.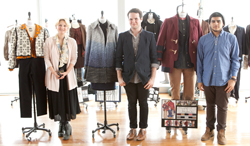 A total of 34 junior fashion design students participated in the competition, which required them to design outstanding sportswear designs using 98 percent cotton fabrics.

First-place winner Juan Pozo of Ocala, Fla. was recognized for a design that was inspired by the American college prep aesthetic and that was fabricated using a combination of brushed cotton twills, cotton sateen, cotton shirting, and cotton chambrays and denim.

Second-place winner Matthew Bruch of Henrico County, Va. was recognized for a design that was envisioned for a modern-day Jackie Kennedy. His look consisted of a blue ombre tweed swing coat and a men's button-up blouse of cotton voile with the option of a blue waffle-weave skirt or wide-leg black twill trouser.

Third-place winner Theresa Deckner of Germany was recognized for a design that was inspired by bold colors and an unexpected combination of prints. Her look included a reversible jacket, a cotton ikat blouse, and a bustier with the option of high-waisted jeans or a full skirt.

The jurors who selected the winners included Lauren Deatherage, Senior Product Trend Analyst, Cotton Incorporated; Linda DeFranco, Director, Product Trend Analysis, Cotton Incorporated; Elizabeth King, Vice President, Importer Services, Cotton Board; Marjorie Kuhn, spouse of Pratt Trustee James Kuhn; Angel Sanchez, Fashion Director, Angel Sanchez USA; Joan Sherman, Artist, Sculptor, and Furniture Designer, Joan Sherman Arts; Alejo Vietti, Costume Designer; and Bifen Xu, Fashion Editor, New York Magazine.

Over the past five years, the Cotton Board and Cotton Incorporated have played an essential role in furthering the careers of Pratt's graduating Fashion Design students by supporting the presentation of their work to the industry and community. Through the Cotton Incorporated/Pratt Institute competition, they have also given aspiring fashion designers at Pratt the opportunity to more fully explore one of the world's most versatile and sustainable materials.

Cotton Incorporated, funded by U.S. growers of upland cotton and importers of cotton and cotton textile products, is the research and marketing company representing upland cotton. The Importer Support Program is designed and operated to improve the demand for and profitability of cotton.