Pratt fashion design juniors Dana Hurwitz and Angel Ho were awarded the top prizes for their design and illustration work as part of an annual competition held between Pratt Institute's Department of Fashion Design and Goldsmith, a premier designer and manufacturer of mannequins, to design looks for Goldsmith mannequins. Hurwitz received a $1,000 prize for her cocktail dress and Ho received a $500 prize for her fashion illustration. The competition, which is in its fifth year, represents the first time that students work with a critic from the industry.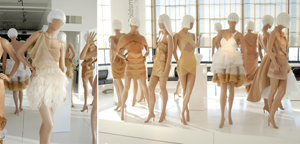 Hurwitz and Ho were among the twelve finalists selected by Dan Evans, President and Creative Director, Goldsmith, to have their garments and illustrations displayed at the Goldsmith mannequin showroom at 601 West 26th Street in Manhattan. All finalists were students in the fashion department's Cocktail and Special Occasion studio class led by Adjunct Professor Linda Sands and were challenged to create an architectural look or a dressy romantic look using a color palate of camel and/or white. Each of the finalists received a Goldsmith mannequin shipped to his or her home.

Goldsmith clients including visual merchandisers and buyers from stores all over the country voted on the competition winners during market week in December 2010. The three top prizewinners for dress design were Hurwitz, Ho, and Kate Wilkoff. Hurwitz's cocktail dress features combination silk bodice and a hand-sewn ostrich skirt with an asymmetrical sheer drape that can be worn over one shoulder or left loose over one side of the skirt. She is a native of Chappaqua, N.Y. Ho's design incorporated three shades of woven and hand-sewn golden sand ribbons that capture the iridescent beauty of koi fish scales. She is a native of Hong Kong. Wilkoff's design entailed a one-shouldered, hand-sewn embroidered strap with hand-fluted white bodice and a layered white to camel organza knee-length skirt. She is a native of Cabin John, Md.

Ho and Wilkoff also took first and second place, respectively, in the illustration part of the competition. Juan Pozo, of Ocala, Fla., was awarded third place for his illustration that accentuated the geometric angles of his dress design and left the figure blank in reference to the classic Goldsmith mannequin.

Designs from the annual competition will be on view to the public from 10 a.m. to 5 p.m., Monday through Friday at the Goldsmith mannequin showroom at 601 West 26th Street through September 5, 2011.
From left to right: Dana Hurwitz's winning design and a view of work by competition finalists as displayed in the Goldsmith showroom; Angel Ho and Kate Wilkoff's second and third place dress designs are center left and right, respectively.
Image Credit : D. Oscar Horner