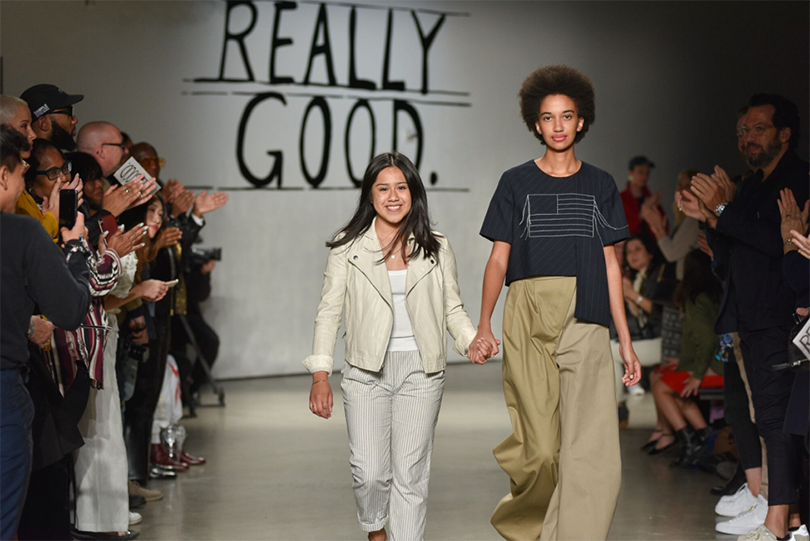 Pratt Institute presented its 120th annual runway show on May 9 at Spring Studios in Manhattan as part of Pratt Shows, the Institute's curated showcase by the 2019 graduating class. The show, titled "Really Good," spotlighted the extraordinary work of 17 selected students to an audience of more than 400 guests. It received media coverage and praise in top-tier fashion outlets including New York Magazine's The Cut, WWD, and Fashionista.
This year, Pratt honored Kerby Jean-Raymond, the Brooklyn-born designer of the label Pyer Moss, with the 2019 Pratt Fashion Visionary Award. Iconic Harlem fashion designer Dapper Dan presented the award to Jean-Raymond, who was recognized for his work which strives to be a voice for social change and inclusion. Founded in 2013, Pyer Moss redefines itself every season with collections and runway shows that combine storytelling, activism, debate, theater, and social commentary, all while using collaboration with artists and brands as a medium to further the dialogue around seasonal themes.
In his remarks, Jean-Raymond encouraged the graduating Pratt designers to embrace challenges, or boot camps as he referred to them, as learning opportunities. "I truly believe that your purpose in life determines what kind of boot camp you're going to go through, and if your calling in life is to be extraordinary, then your boot camp is going to be equally as extraordinary and painful," he said.
After the awards presentation, each student presented a runway collection composed of eight-to-15 complete looks, including accessories. The designers who presented their collections were Elie Romero, June Woo, El Quesada, Tori Pachiano, Jamie Lee Funk, Xarea Lockhart, Kyra Feng (Jingyi), Cristina Tompkins, Alanna Josephine Beneroff, Buse Ozler, Kara Wright Emig, Shea Stiebler, Morgan Howell, Fisayo Quadri, Katie Jiang, Ruojing Wang, and Fiona Conlon.
At the close of the show, Fashion Chair Jennifer Minniti announced that Elie Romero, BFA Fashion Design '19, was the winner of the Christopher Hunte "On Point" award, a $10,000 scholarship.
Visit our Facebook album to see the full looks from Pratt Shows: Fashion "Really Good."
Read about seven Class of 2019 Pratt Fashion graduates spotlighted in a round-up on Vogue.com, sharing their concepts for their senior thesis collections and discussing what issues matter most to them.
Image: Graduating senior Elle Romero walks the runway with a model wearing one of her looks at Pratt Shows: Fashion | Really Good (photo by Fernando Colon)
Updated: May 24, 2019