Sheryl Kasak, a visiting associate professor and coordinator of the first-year design studio in Pratt Institute's Department of Interior Design, recently received a 2011 Innovative Interior Design Education merit award from the Council for Interior Design Accreditation (CIDA) for her entry, titled, "Retail: Changing Room–a collaborative exploration of materials and occupancy at full scale." The awards recognize and celebrate innovative teaching and program-related practices that advance the cause of excellence in interior design education.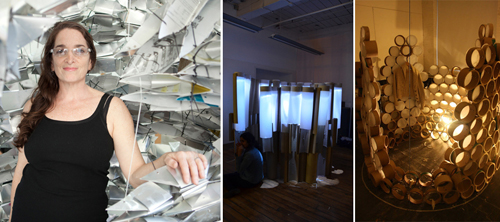 Kasak's entry was based upon results from a studio project she authored that was designed to help first-year interior design students grasp spatial relations in a physical way. By using their own bodies as instruments of measure, students recorded their movement inside dressing rooms at different retailers, and built their own full-scale changing room space out of recycled materials based upon their movement in a limited space. The process was intended to amplify the experience of designing and occupying space in ways other than the traditional making of drawings and scale models. It also encouraged students to experience a team approach to design solutions, develop an understanding of body ergonomics, look at interior design as a conveyor of information, conceptualize and develop a construction system, develop and test a material and construction detail at 1:1 scale, and develop an understanding and consideration of sustainability. The entry included images from Visiting Assistant Professor Claudia Hernandez-Feiks, Visiting Professor Aki Ishida, and Kasak's studio course.

In addition to her work at Pratt, Kasak is founder of INTERIM Design, a full-service architectural and interior design practice based in Manhattan. The practice is inspired by her 1994 thesis, entitled "An Interim Architecture," which addressed the 15 Year War in Lebanon and the proceeding redevelopment of the center of Beirut. INTERIM Design focuses on the communication of information through spatial design and the notion that we are all living in an interim state. Projects have included offices, loft conversions, apartment combinations and renovations, suburban house additions, and restaurant interiors in New York, Long Island, and Connecticut.

Kasak has taught in Pratt's Interior Design department since 2006 (serving as coordinator of first-year design studio since 2009) and in Columbia University's Graduate School of Architecture Planning and Preservation's Introduction to Architecture Program since 2011. She holds a masters of science degree in Advanced Architectural Design from Columbia University Graduate School of Architecture, Planning, and Preservation, and bachelor of architecture and bachelor of fine arts degrees from The Rhode Island School of Design. She lives in Manhattan.

Pratt's design programs have been consistently ranked among the top 10 in the nation by monthly architecture and design journal DesignIntelligence, with its graduate interior design program ranked first in the nation from 2009-2011 and its undergraduate interior design program ranked second in the nation from 2008-2011. U.S. News & World Report ranked Pratt's interior design program first in the nation in its most recent Guide to America's Best Graduate Schools, while the Industrial Design and Communications/Package Design degree programs were ranked 5th and 12th, respectively. Pratt is also one of the country's most environmentally responsible colleges according to The Princeton Review.

CIDA, an independent, non-profit accrediting organization for interior design education programs at colleges and universities in the United States and Canada, introduced its Innovative Interior Design Education Competition in 2010. The annual competition is open to faculty members from CIDA-accredited interior design programs; this year, 20 projects were submitted for consideration, with one first-place winner and two runners-up awarded.

For more than 35 years, CIDA has been committed to the ongoing enrichment of the interior design profession through identifying, developing, and promoting quality standards for the education of entry-level interior designers, and then encouraging, accrediting, and supporting educational programs to aspire to those standards. CIDA is recognized as a reliable authority on interior design education by the Council for Higher Education Accreditation (CHEA).
Left to right: Sheryl Kasak in front of a changing room space from this year's studio, which was assembled by students from Claudia Hernandez-Feiks' class using discarded aluminum printing plates from the offset printing industry; and final constructions from Kasak's and Hernandez-Feiks' studios from 2011. Photos: Jonathan Weitz and courtesy of Sheryl Kasak.

MEDIA CONTACT:

Amy Aronoff at 718-636-3554 or aarono29@pratt.edu