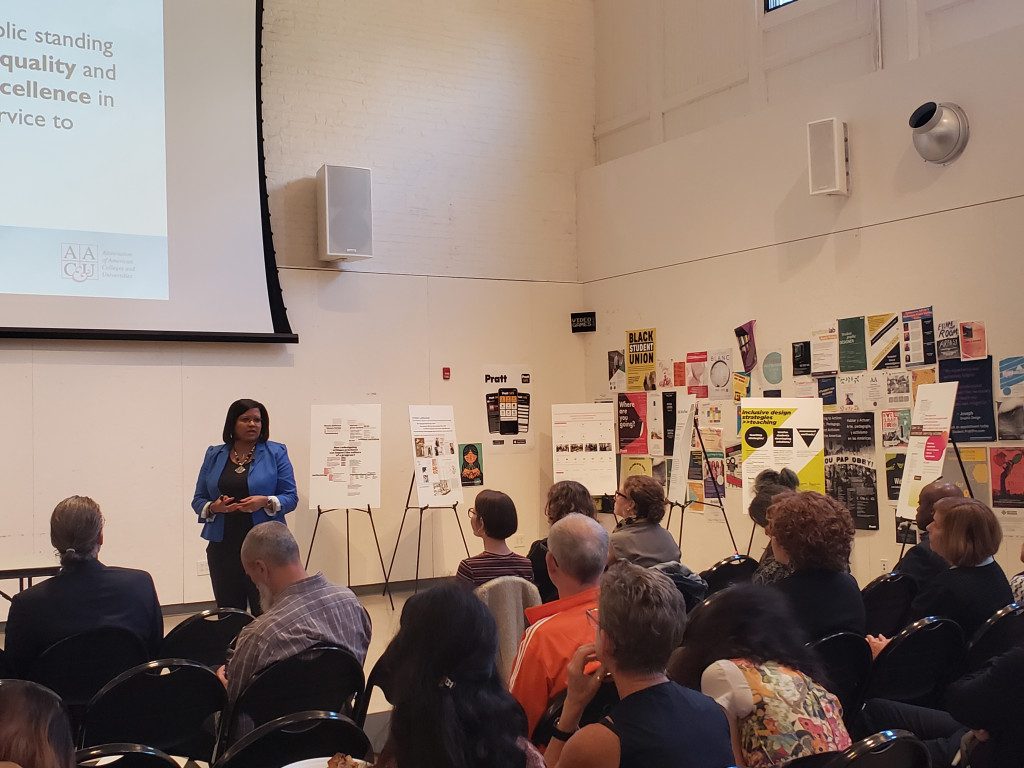 Collaboration across Pratt Institute—bringing together departments, divisions, and individuals—is essential to ensuring that all students are provided with the opportunities and support that they need to succeed. A recent gathering of faculty and staff strengthened this essential work. "Frameworks for Equity and Inclusion" was the theme of the 2019 Fall Forum on Teaching and Learning, jointly sponsored by the Office of the Provost, the Center for Teaching and Learning (CTL), and the Office of Diversity, Equity and Inclusion (DEI). All Pratt faculty and staff were invited to attend the discussions, sessions, and panels on how to support a diverse student body.
This was the second annual edition of the forum and the event featured a keynote presentation by Dr. Tia Brown McNair, the Vice President in the Office of Diversity, Equity, and Student Success and Executive Director for the Truth, Racial Healing & Transformation (TRHT) Campus Centers at the Association of American Colleges and Universities (AAC&U) in Washington, DC. She is the project director for several AAC&U initiatives including "Truth, Racial Healing and Transformation Campus Centers," "Strengthening Guided Pathways and Career Success by Ensuring Students are Learning," and "Purposeful Pathways: Faculty Planning and Curricular Coherence."
"The keynote by Dr. Tia McNair and the presentations provided attendees with various ways to create and maintain a sense of belonging within the classroom far beyond pedagogy," said Jazmin A. Peralta, Director of DEI at Pratt. "It provided techniques to implement within a classroom dynamic to ensure an inclusive environment of equity, understanding, and overall success."
The forum's program was designed by a planning committee convened by Judit Török, the Director of Pratt's CTL, with members drawn from the School of Art, School of Design, School of Liberal Arts and Sciences, and School of Architecture. All of the visual materials for the forum were designed by Beilin Xu, BFA Drawing '22, who worked under the guidance of the planning committee.
"It was wonderful to see this rich and thoughtful program take shape," said Török. "There were panels, presentations, and poster sessions involving over 20 of our faculty members. Collectively, they explored an impressively wide range of approaches to shaping learning environments that support diverse learners, thinking deeply about questions of race, ethnicity, and socio-economic status; about first-generation students, LGBTQIA students, and international students; and about students' varied abilities and ways of learning (neuro-diversity)."
The forum concluded with an interactive session with Visiting Artist Shaun Leonardo whose participatory practice explores ideas around achievement, collective identity, and experience of failure.
Each aspect of the forum contributed to an ongoing campus dialogue aimed at deepening thinking about diversity. As emphasized by the panels and discussions, this growth can only be realized through working across academic departments, in a wide range of Pratt offices, and the community. CTL's 2019-20 programming this year expands on the forum's focus. Among its many offerings are an art critique with ESL students, workshops for faculty on how to promote culturally responsive and inclusive pedagogies, a reading circle on "Integrating Mindfulness into Anti-Oppression Pedagogy," and a new Faculty Learning Community (FLC) concentrated on engaging in and researching inclusive strategies throughout the 2019-20 academic year.
Image: The 2019 Fall Forum on Teaching and Learning (photo by Brett Reynolds)