Finding ways to be with others has been a challenge throughout this period of pandemic isolation and social distancing, and an important reminder of the value that individuals and communities place on being together. How do we overcome not only physical obstacles but also cultural, linguistic, and other barriers that keep people apart? Is it possible to be both separate and together? How do we find empathy and connection?
A group of graduate communications design students from Pratt and Design School Kolding (DSKD) in Denmark recently considered these and other questions in a month-long project in which they were invited to explore the theme of togetherness through design during this transitional pandemic time, looking at the virtual and physical as we ultimately move toward being together in person again. An additional optional prompt was to explore how the idea of a magazine might be reimagined in the context of the togetherness theme.
This was the fourth iteration of an international collaborative program between Pratt's Graduate Communications Design Department and DSKD that was initiated in 2019 by Tom Klinkowstein, Pratt adjunct professor-CCE of graduate communications design, and Barnabas Wetton, leader of international innovation and an associate professor at Design School Kolding, to enhance learning and increase students' mutual understanding across different cultures and backgrounds. The fall 2020 collaboration was also facilitated by Lars Hoff-Lund, assistant professor, DSKD. During fall 2021, Lorenzo Bigatti, a designer in London and former DSKD student, was an external critic.

Each semester, students elect to participate in the program, developing projects with their international peers. During the fall 2020 and spring 2021 semesters a companion lecture series with speakers on timely topics such as trend forecasting and decolonizing design was also offered. The initiative began as an exchange featuring an in-person component, with Pratt students visiting Denmark in 2019 and DSKD students coming to Pratt in early 2020. The program has since been held online due to the pandemic.
"This experiment has been a powerful affirmation of design as a deeply connective thread between students from two institutions on two continents on mutually selected topics of critical importance in a truly extraordinary time," said Professor Klinkowstein.
Together and …
Working in mixed teams that paired Pratt and DSKD students, participants this fall spent 15-20 hours researching and working on projects that explored the "Together and …" theme before presenting them to the full group of their peers and faculty advisors via Zoom at the end of the program.
The Together While Apart project (Brynn Anderson, Pratt; Emily Fromhage; DSKD; Maia Ronan; DSKD) used snail mail and email to create a layered, mixed media newsletter, with visual and written content added sequentially by each team member as they received the piece in progress and built on the contributions of the others. The final contributor served as the ultimate "editor" of the piece.
Recalling the intimacy of traditional letter writing, the process was devised as a counterweight to screen fatigue and the hectic pace of contemporary life, and created a safe space for deeper conversations and topics. The two pieces they created focused on togetherness and longing. The letter exchange approach could potentially be expanded to people all over the world through a website that would house content on different themes. Individuals could submit their letter exchanges to the site, a further reimagining of the magazine considering letters as the content.
Seeing the Unseen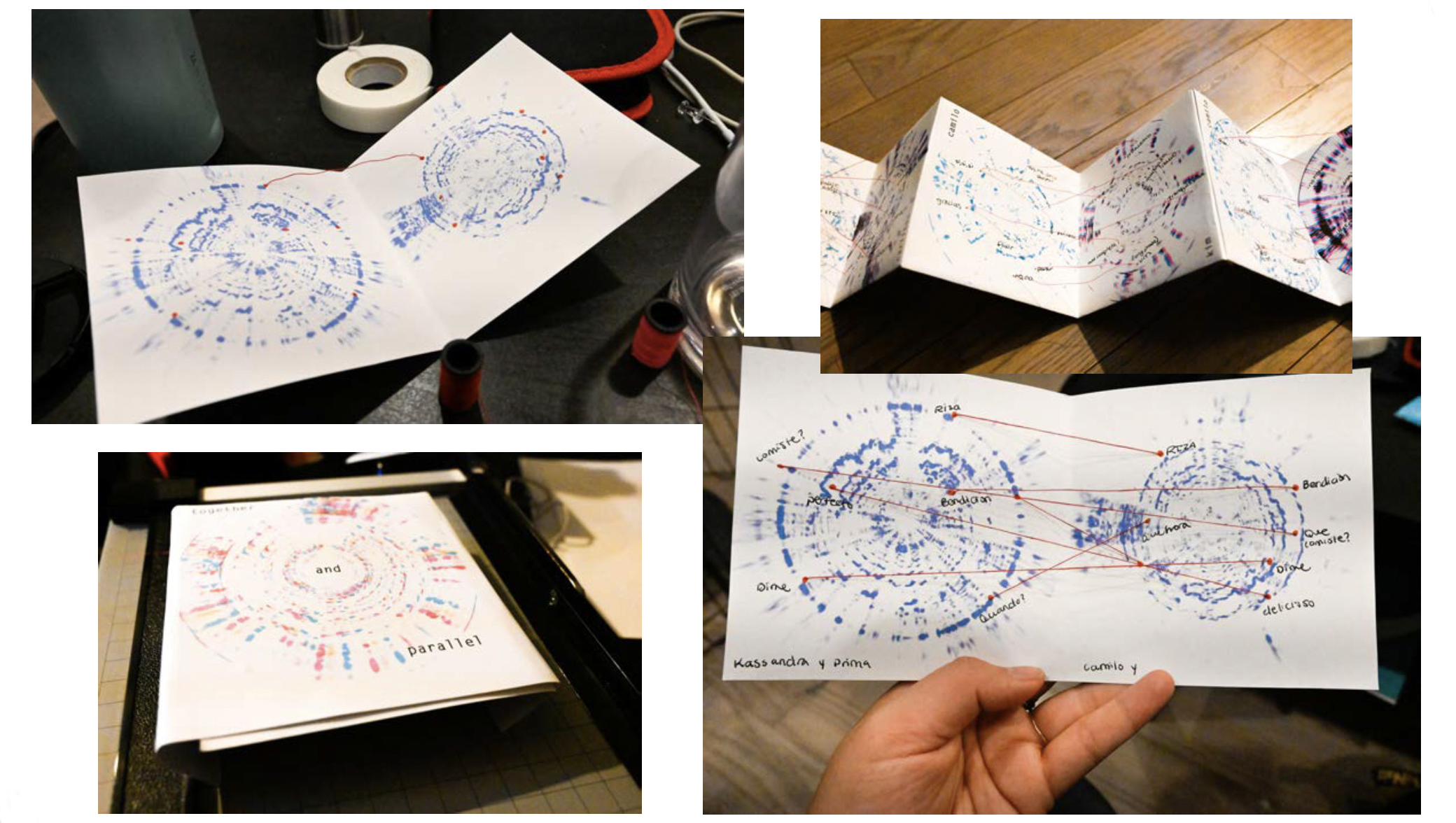 Two other projects probed hidden connections in everyday life. Together and Parallel (Kassandra Ruiz (Kassie), Pratt; Camilo Andres Rodriguez Casas, DSKD) used sound mapping to explore cultural parallels by comparing daily sounds from cities in different countries and by finding common ground through conversational patterns.
In Together and Litter Watching (Mariam Elasser, Pratt; Nadia Henrique, DSKD), chronicling and comparing litter in New York and Denmark told the story of different communities through what they leave behind. The team focused not only on the composition of litter, such as tobacco or alcohol-related items, but also on its volume, noting the increase in the cities studied at a time in the pandemic when they reopened to tourists. The work was presented in a zine that could also be the basis for further editions focused on other cities and themes.
Transcending Linguistic and Other Barriers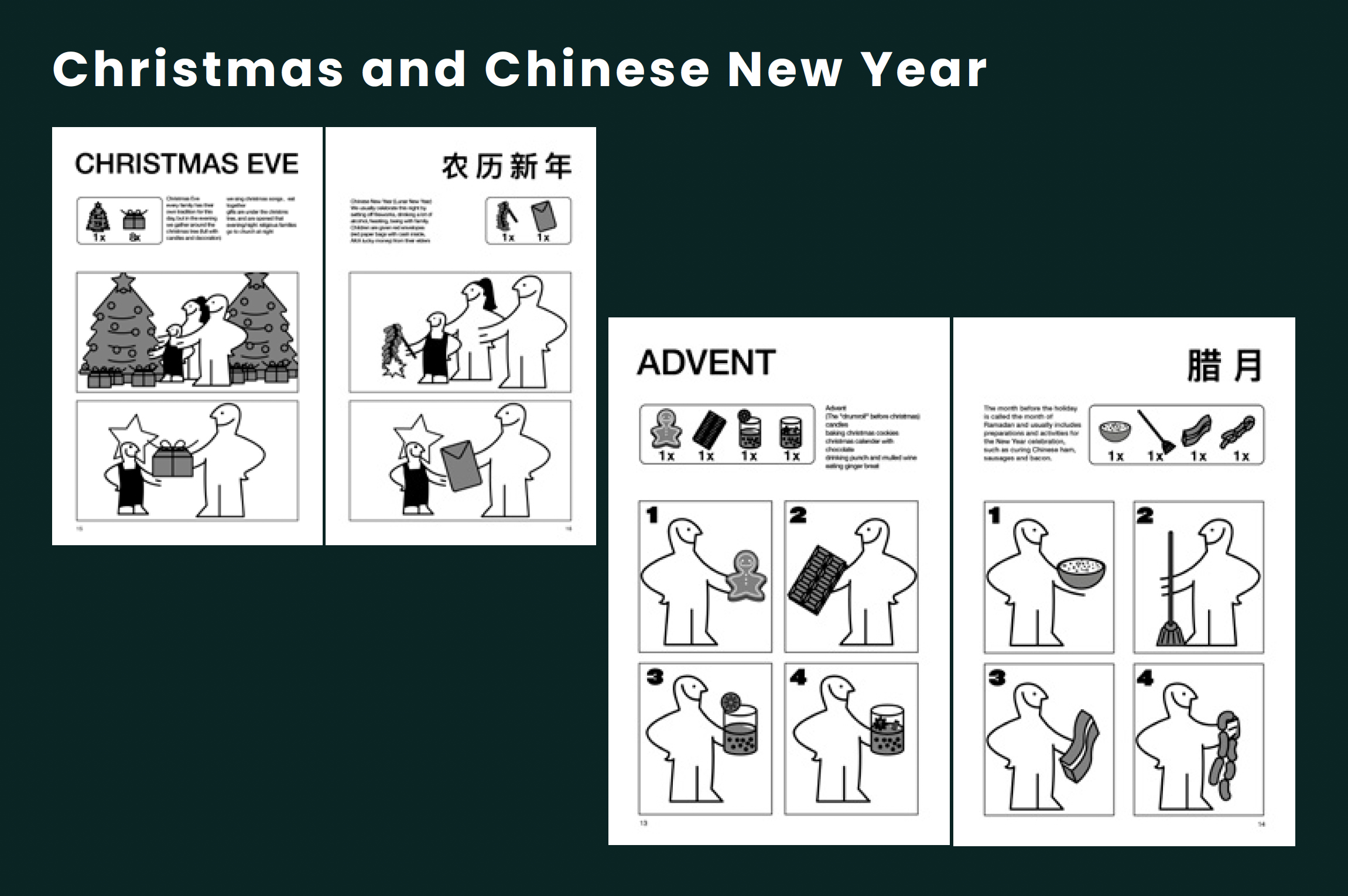 Another team, with students from Austria and China, used comparisons between their two cultures as a springboard for their project, Together (Marie-Therese Schleich, DSKD; Xun Zuo (Hins), Pratt). With inspirations that ranged from emojis to IKEA and beyond, the pair created an image-based user guide with cross-cultural scenarios—such as the similarities between Chinese New Year and Christmas, or Austrian and Chinese food traditions—to bring about greater empathy and better understanding. The visually driven guide transcends languages and can readily be adapted to different themes.
The Together and (Enemies to Lovers) project (Jorge Villar Blanco, DSKD; Qinyan Liu (Doris), Pratt) also explored breaking down barriers, with a question-and-answer based website/app that would serve as a safe space where strangers could become friends or where those on opposing sides could move toward alliance.
Answering questions such as "How would you like your funeral to be?" or "If you could change anything about the way you were raised, what would it be?" facilitate the process as participants move from "Unknown" to "Trusted," and ultimately have the opportunity to continue their journey outside the platform.
"One of the important points of our project is to save us from the dreadful isolation both mentally and physically since the pandemic and prepare us for reunion in the real world some day in the future," said Liu. "Every individual matters on our platform."
Alone, Together
Allowing for moments of solitude even in a public space, the Alone, Together collaboration (Antonio Tharp, DSKD; Abby Shuster, Pratt) drew on the ability of music and light to express and influence mood to create immersive installations with participants brought into the sensory experience individually, while also sharing it with other people nearby. When entering an experience, participants are able to use their mood to create what the ambience will be. Via Bluetooth connectivity, someone getting on a subway car could join the experience along with others in the car, and leave it when exiting. Outdoor locations in parks or on the sides of buildings would be a canvas for light projections, with an augmented reality element where people could use the camera on their phone to explore different light patterns.
Expanding the concept by aggregating the light patterns into an interactive web app and extending the experience around the world would make it possible to use the globe as a map to dive into the moodscapes of different cities and explore how people are feeling at a given time in various locations.
"As we imagine our world moving from pandemic to endemic, I think that it's important to notice the dissonance that's happening between this intense craving to be fully together again, but also this residual kind of fear and danger of being alone, which varies in degree based upon location," said Shuster. "We thought that this experience was something that could really straddle both of those fears, both physical and virtual."
New Editorial Perspectives
With a range of approaches, content, materials, and technologies, the collaborations open up new pathways of connection and offer fresh perspectives on what the idea of "editorial" can be.
"All of these projects give a way of creating a kind of editorial access, for instance by going from the hyperlocal to the global, from what single letters or single punctuations might be all the way over to how we can understand the world, or by allowing us to see something like litter that is invisible for us," said Wetton. "I think in that space there is a new way of making a value creation that allows us to include a lot of different kinds of voices."
The fall 2021 projects will be added to the growing archive of the collaboration, which already features work from fall 2019 through spring 2021. The program will be held again in the spring.