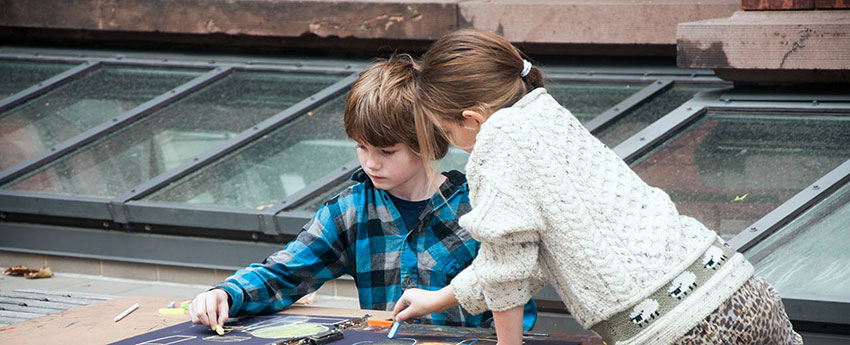 Pratt is celebrating the act of drawing with two special public events this October, "Drawing Democracies" and "Drawings Along Myrtle."
On October 25, "Drawing Democracies" will provide the public with the opportunity to engage in a range of drawing-related activities on and around Pratt Institute's Brooklyn campus at no cost. Participants of all skill levels are invited to join in and celebrate drawing through interactive conversations, figure drawing sessions, hands-on workshops, film screenings, and more.
"Drawing Democracies" was first held in October 2013, drawing crowds of students, faculty, and local families to campus to participate in sketching-related activities. The interdisciplinary collaborative project is spearheaded by Pratt Institute's Fine Arts, Foundation, and Art and Design Education Departments with participation from departments, clubs, and offices across campus. It is presented in collaboration with ART21, a nonprofit organization that chronicles contemporary art through television and film documentaries, and FiftyThree, a software company that designs digital tools for creative people.
Starting earlier this month, Pratt Institute and the local business improvement organization Myrtle Avenue Brooklyn Partnership (the Partnership) have brought the community "Drawings Along Myrtle," an exciting art exhibition that is being displayed in stores and restaurants along Myrtle Avenue. The project, which is curated by current students and recent graduates, features works by more than 20 Pratt students, alumni, and members of the local community in ten businesses along the avenue from October 4–25.
A self-guided art walk on October 4 offered the opportunity for visitors to meet the featured artists and exhibition curators.
"The hardest thing about art is getting people to see it," said local artist Maria Dimanshtein, who showcased new collage work at Corkscrew Brooklyn (489 Myrtle Avenue). "At an event like this, the art becomes more than a visual experience. It is also a reason for people to come together," she added.
The initiative was coordinated by Pratt's Fine Arts and Foundation Departments and the Partnership.
Image: Drawing Democracies, October 2013 (photo: Nika Decarlo)