Pratt Manhattan Gallery presents "We Are Grammar," a large-scale exhibition of 2D, sculptural, installation, and video works by over 40 contemporary artists who have been working with text from the past decade. "We Are Grammar" is on view now through May 7, 2011 and is free and open to the public. The exhibition is guest-curated by Dave Beech and Paul O'Neill.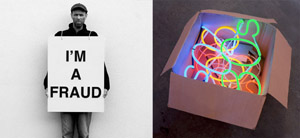 "We Are Grammar" features a new mode of text art that has emerged over the past decade. According to the curators, this mode claims neither to have inaugurated contemporary art's linguistic turn nor to have treated the use of language within art as something historical. Though not considered extraordinary, text art has yet to be completely incorporated into institutions of art. The value and potential of this form is acknowledged by a wide spectrum of contemporary artists who freely combine the use of text with performance, installation, video, photography, drawing, painting, sculpture, and printmaking.

The exhibition examines the third generation of artists working in text art. The first iteration of this practice came in the 1960s, when text established itself as a legitimate tool for the creation of visual art. A second generation of text art began during the 1980s and 1990s, as postmodernists combined text with other mediums. The text art produced by the third generation of artists is characterized by a shared structure within linguistic practices; is dependent on linguistic forms; and is mediated by linguistic exchange that engages with the processes of nomination, documentation, and rule-following. In many cases text is no longer the 'face' of the artwork but rather part of its background.

"Contemporary text art finds itself located at the intersection of philosophy, current thinking on art, and contemporary theories of language," said Beech. "By virtue of the properties of language it is an art that draws us into questions about how we think, live, judge, feel, and differ," O'Neill added.

Artists exhibiting work in "We Are Grammar" include:

Can Altay/ Simon Bedwell/ Bik Van der Pol/ David Blamey/ Pavel Büchler/ Declan Clarke/ The Complaints Choir (Tellervo Kalleinen and Oliver Kochta-Kalleinen)/ Goran Djordjevic/ Ben Fitton/ Freee Art Collective (Dave Beech, Andy Hewitt, and Mel Jordan)/ Jaime Gili & Luis Romero/ Liam Gillick/ Anthony Gross/ Lucy Gunning/ Matthew Higgs/ Karl Holmqvist/ Toby Huddlestone/ Mark Hutchinson/ Matt Keegan/ Annette Krauss/ Pierre Leguillon/ Gareth Long/ Nanna Lysholt-Hansen/ Ronan McCrea/ Jonathan Monk/ Simon Morris/ Tone O Nielsen/ Graham Parker/ Sarah Pierce/ Falke Pisano/ Plastique Fantastique (David Burrows and Simon O'Sullivan)/ Elizabeth Price/ Savage/ Nedko Solakov/ Nick Thurston/ Jeanne van Heeswijk/ Ian Whittlesea/ Mick Wilson/ Carey Young

Beech is an artist, writer, and lecturer. He is a member of the Freee art collective, teaches at Chelsea College of Art and Design, London, and writes regularly for Art Monthly. He is the Vice Chair of Ixia, the national think tank on public art, UK. Beech has also taught at institutions including the Royal College of Art, Central Saint Martins College of Art and Design, and Slade School of Fine Art; has lectured at institutions including the Tate Modern, The British Museum, and the Institute of Contemporary Arts, London; and has exhibited work at cultural institutions around the US, UK, and China. He has also written and presented an educational television program for the BBC/Open University on video art and has co-authored the Verso book The Philistine Controversy with John Roberts (2002), edited the MIT/Whitechapel anthology Beauty (2009), and edited a special issue of Third Text ('Art, Politics and Resistance?' Vol 16, Issue 4, No.6). He studied Fine Art at Leicester Polytechnic and received an MA in Cultural Theory from the Royal College of Art.
O'Neill is a curator, artist, and writer based in Bristol, UK. He has curated or co-curated more than fifty exhibition projects throughout Europe and is regular contributor to Art Monthly. He has a Ph.D. from Middlesex University, UK, where he lectured for many years, and remains a visiting lecturer on curating at De Appel — Curatorial Program and at Goldsmiths College, London. O'Neill is reviews editor for Art and the Public Sphere Journal and on the editorial board of The Exhibitionist and The Journal of Curatorial Studies. He is editor of the curatorial anthology, Curating Subjects (2007), and co-editor of Curating and the Educational Turn with Mick Wilson (2010), both published by de Appel and Open Editions. He will soon publish Locating the Producers: Durational Approaches to Public Art with Valiz, Amsterdam, in April 2011, and is working on authoring a book with MIT Press titled The Culture of Curating, Curating Culture(s) to be published in 2012.
For more information on "We Are Grammar" and upcoming Pratt Manhattan Gallery exhibitions, please call 212-647-7778, email exhibits@pratt.edu, or visit www.pratt.edu/exhibitions. Add Pratt Manhattan Gallery on Facebook by searching "Pratt Manhattan Gallery" and follow Pratt Exhibitions on Twitter at "PrattGallery."
"We Are Grammar"
February 25 – May 7, 2011
Pratt Manhattan Gallery
144 West 14th Street, 2nd Floor
Gallery Hours: Tuesday-Saturday 11 a.m. to 6 p.m.
(Left) Savage, I'm a Fraud, 2010, Lambda digital photographic print, 15 ¾ x 15 ¾ inches, courtesy of the artist; (Right) Ronan McCrea, Everything (multi-coloured neon version) Boxed, 2000, neon and cardboard box, 16 1/2 x 15 ¾ x 15 ¾, courtesy of the artist and Green on Red Gallery, Dublin. Exhibition design: Anthony Gross.