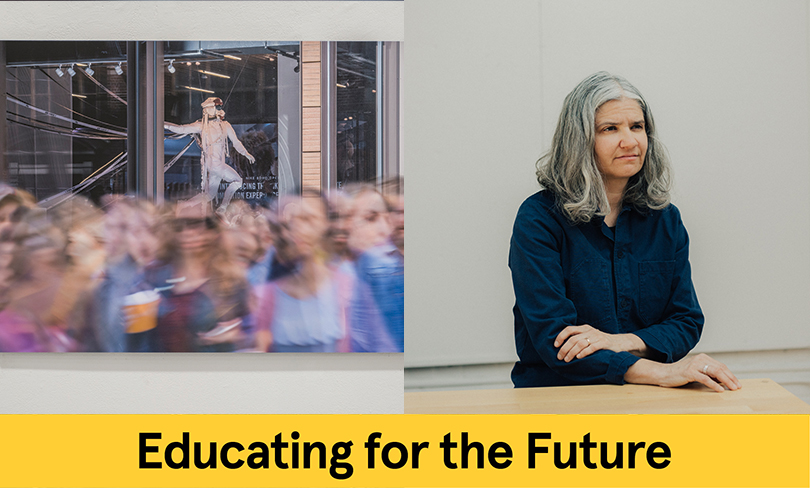 Exploring new models for education is one of the pillars of President Frances Bronet's inauguration and an important area of discussion in academia. We live during a time of dramatic change, where the landscape is quickly shifting. How is Pratt preparing its students for careers and technologies that aren't here yet?
In this new weekly series, "Educating for the Future," educators across Pratt's disciplines share their vision as to how they are educating students for a world that is quickly evolving—and reflect on what is needed to prepare the next generation for an environment that is rapidly changing.
This column is by Shannon Ebner, Chair of the Photography Department in Pratt's School of Art.
As Photography chair, when I think of responding to this question of how to prepare students as the next generation of image makers, I must begin by asking a series of questions: What does it mean for students to make images in the 21st century? What does it mean to practice this activity every day and what will it mean tomorrow? The medium of photography, by its nature, has only ever been unstable at best. What does it mean that cameras are portable, wearable devices, lightweight, and able to transmit electronically across screens, platforms, continents, and outlets—from gallery and museum walls in our metropolitan centers to international platforms within globalized spheres to social media platforms that operate within affective economies aggregating consensus-based likes and dislikes—from affirmations to condemnations?
And finally, how do we educate students to be critical readers of images, especially when images at this moment actually run the risk of replacing language altogether?
Here at Pratt, within my discipline of photography, I am interested in formulating new ways of approaching curriculum development around the polyvalent practice of image making. I am committed to imagining new ways for faculty and students to work together to slow the flow of images and break the patterns of circulation: Imagine hallways filled with the sound of falling images—these would be the sounds of gravity-bound images, images with weight, weight carrying meaning.
Within this "photographic universe," how images are weighed and what they measure has everything to do with context. I see my time at Pratt as being one in which the faculty develops new models for pedagogy that complicates the narratives around the formulation of images and image cultures. How do artists self-define self-expression within the context of post-colonial histories, within the context of issues surrounding representations of identity and race, within the context of mass dislocation and dispossession, within the context of theoretical models generated by practitioners, generated by artists? How do we create the conditions to have these conversations with our students, to prepare them for a world of images, a world of assumptions, a world of competing literacies? I am invested in a pedagogy that lets us—as artists, thinkers, and makers—lead the charge to think together and develop active classroom environments that help our students be better prepared for the challenges of our time.
Find all of the "Educating for the Future" features and learn more about how Pratt's educators from across the Institute are addressing what the future of education will bring to their field.