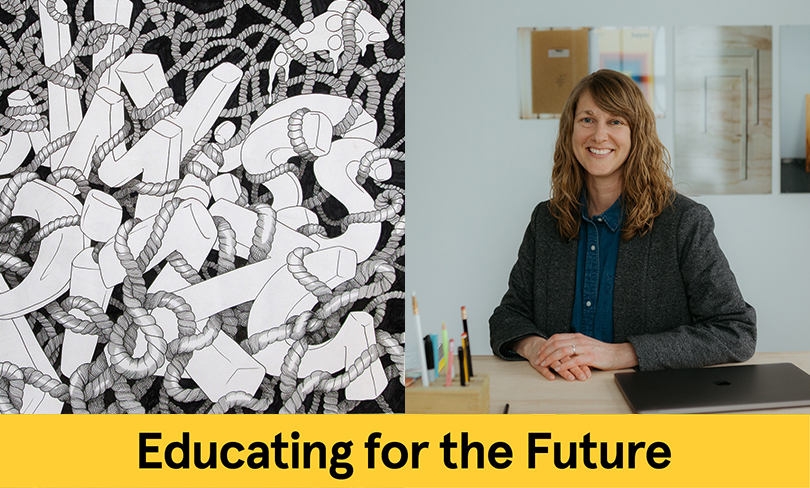 Exploring new models for education is one of the pillars of President Frances Bronet's inauguration and an important area of discussion in academia. We live during a time of dramatic change, where the landscape is quickly shifting. How is Pratt preparing its students for careers and technologies that aren't here yet?
In this weekly series, "Educating for the Future," educators across Pratt's disciplines share their vision as to how they are educating students for a world that is quickly evolving—and reflect on what is needed to prepare the next generation for an environment that is rapidly changing.
This column is by Leslie Mutchler, Chair of Foundation in Pratt's School of Art and School of Design
A liminal moment in a student's time at Pratt, the foundation year in the School of Art and School of Design has always been a bridge from a student's pre-college past to her future major. In the one hundred years since the Bauhaus, we've learned that while formal and technical skills are important, to be prepared for an uncertain future, equally important are conceptual, contextual, and social ingenuity.
With this in mind, Pratt Foundation looks forward to students' careers as makers and visual thinkers, serving a critical role of introducing the core concepts of creative practice while building community habits and relationships that will endure well beyond the first-year experience. Foundation encourages students to work collaboratively, pooling abilities, ideas, and talents to synthesize technology and tradition into innovative, creative outcomes. First-year students learn to rely not only on their faculty, but also each other, for critical feedback and support as they collectively strengthen their abilities to enter into their chosen disciplines. And when they do arrive at their major field of study, they will have an interdisciplinary cohort of peers from their foundation year with whom they can share their discoveries.
Whether first-year students go on to study interior design or filmmaking, sculpture or interactive design, they develop analog and digital skills through a well-rounded series of independently driven projects in their Foundation classes. Students research, test, plan, and precisely execute their ideas for prompts that are designed to be open-ended and full of self-discovery. Students learn that concepts are developed in many ways, such as through visual organization (diagramming and mapping), interpretation, research, analytical process, and the generative process. The end results are innovative solutions and a clearer understanding of what it will take to be a successful artist or designer in their future careers.
Find all of the "Educating for the Future" features and learn more about how Pratt's educators from across the Institute are addressing what the future of education will bring to their field.