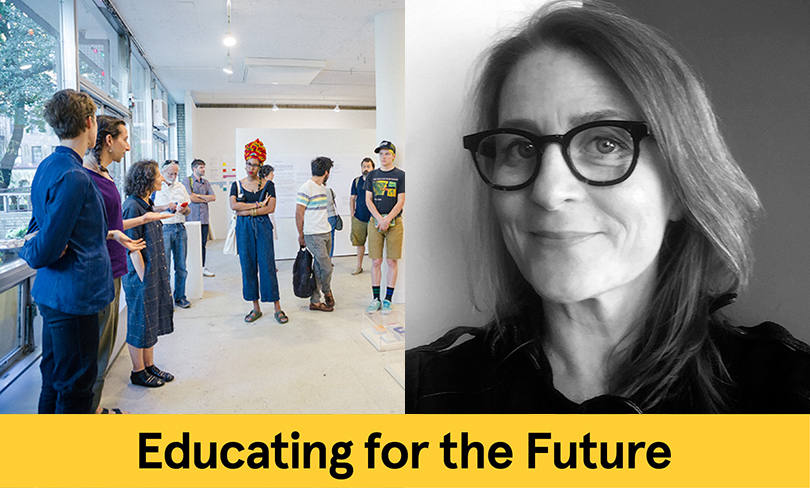 Exploring new models for education is one of the pillars of President Frances Bronet's inauguration and an important area of discussion in academia. We live during a time of dramatic change, where the landscape is quickly shifting. How is Pratt preparing its students for careers and technologies that aren't here yet?
In this new weekly series, "Educating for the Future," educators across Pratt's disciplines share their vision as to how they are educating students for a world that is quickly evolving—and reflect on what is needed to prepare the next generation for an environment that is rapidly changing.
This column is by Jane South, Chair of the Fine Arts Department in Pratt's School of Art.
One of the challenges that fine arts education in the 21st century faces is to acknowledge the importance of disciplinary education whilst creating the conditions for interdisciplinary exploration and instigating compelling dialogue around the historical, cultural, and contemporary contexts in which we live. We need to be responsive to new modes of contemporary cultural production, to participate in their innovation, and to ensure that artists are visible not as the producers of commodities, but as creative thought leaders whose capacity for critical reflection and inquiry are central to the cultural value of artistic expression.
Pratt Fine Arts has solid foundations to build upon. Looking to the future, we are in an excellent position to actively investigate new models of integrated learning, including those that align with social practice initiatives. One of the ways in which we have begun to do this is by inviting collaborative groups into our community for residencies with the aim of supporting them in their own work and aligning our curriculum to create points of connection with faculty and students across the Institute. These "embedded practitioners" enable us to construct sustainable and impactful connections to the communities beyond our gates and to expose our students to the multifarious ways and means of becoming artist citizens.
As a department, we are dedicated to providing a fine arts education that is second to none, to being part of the global cultural conversation, and to offering tangible support to the artists, communities, and collaborative groups who share our commitment to inclusion, experimentation, and innovation, and to building a more socially responsible world.
Find all of the "Educating for the Future" features and learn more about how Pratt's educators from across the Institute are addressing what the future of education will bring to their field.