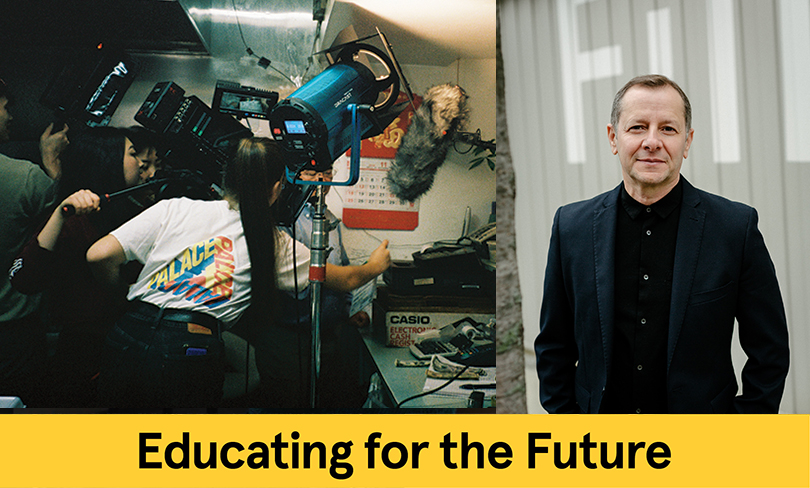 Exploring new models for education is one of the pillars of President Frances Bronet's inauguration and an important area of discussion in academia. We live during a time of dramatic change, where the landscape is quickly shifting. How is Pratt preparing its students for careers and technologies that aren't here yet?
In this new weekly series, "Educating for the Future," educators across Pratt's disciplines share their vision as to how they are educating students for a world that is quickly evolving—and reflect on what is needed to prepare the next generation for an environment that is rapidly changing.
This column is by Jorge Oliver, Chair of the Film/Video Department in Pratt's School of Art.
Filmmaking has been evolving since its inception, but the recent digital revolution has sent it into a tailspin making it hard to discern its direction, but, at the same time, foregrounding a world of possibilities. New technology is released on a regular basis, smartphones can shoot and edit files, and new platforms for distribution appear on a yearly basis. How do you prepare the filmmakers of today to be nimble for what's to come?
In our BFA in Film program, our first aim is to develop our students' creative thinking and artistic vision. Those are enduring skills, which will be valuable in navigating the inevitable changes in the industry. We also feel it's best to expose our students to all the different ways in which the cinematic language can be used to explore an expression. All students work on projects in fiction, non-fiction, and expanded cinema, better preparing them to work on diverse projects and also allowing them to consider how these modes intersect in service to new ideations.
We teach our students to be lifelong learners and to delve into new technology, such as virtual reality or how cinema can be applied to emerging platforms. Ultimately, our aim is to develop artists who can adapt or come up with new ways of using the cinematic language in preparation for what's to come and, in keeping with Pratt's mission, for them to be able to make valuable contributions to their field.
Find all of the "Educating for the Future" features and learn more about how Pratt's educators from across the Institute are addressing what the future of education will bring to their field.