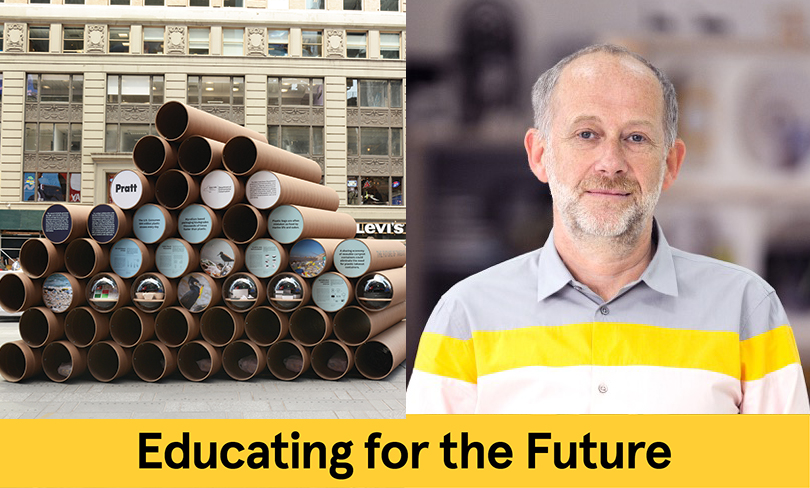 Exploring new models for education is one of the pillars of President Frances Bronet's inauguration and an important area of discussion in academia. We live during a time of dramatic change, where the landscape is quickly shifting. How is Pratt preparing its students for careers and technologies that aren't here yet?
In this new weekly series, "Educating for the Future," educators across Pratt's disciplines share their vision as to how they are educating students for a world that is quickly evolving—and reflect on what is needed to prepare the next generation for an environment that is rapidly changing.
This column is by Constantin Boym, Chair of the Industrial Design Department in Pratt's School of Design.
In the last few years, the field of industrial design has gone through dramatic changes.
We have seen the revolution in digital technology, which allowed billions of people around the globe to connect, communicate, and share information. We have witnessed a wave of mass creativity, which started to erase the old distinction between designers, producers, and consumers. We have observed the convergence of industrial design with scientific research—from biology and genetics to artificial intelligence and robotics—allowing things from the realm of science fiction to take shape in real life. We have at last begun to address problems of the "other 90%" of the world, trying to solve problems of poverty, hunger, energy, health, and other troubling issues. We have come to realize our responsibility for the planet's climate and limited resources, and for our handling of the environment.
To become industry leaders, students must be able to tackle the complexity of design problems in a systemic and integrated way. We teach our students to view objects not as isolated artifacts but as parts of interconnected systems. Products are understood as tools responsible for producing relationships, thoughts, ideas, and ways of being.
We see our mission as creation of better quality of life. The notion of quality of life ranges from basic physical needs to the most intangible dimensions of the human condition. Our students pursue this complex goal through a program of very different course offerings, from perfecting beauty of 3D form to embracing socially conscious design projects.
Find all of the "Educating for the Future" features and learn more about how Pratt's educators from across the Institute are addressing what the future of education will bring to their field.