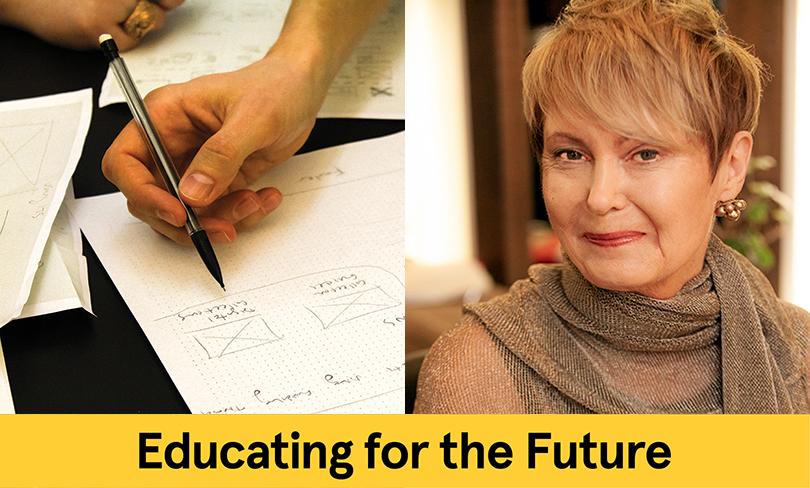 Exploring new models for education is one of the pillars of President Frances Bronet's inauguration and an important area of discussion in academia. We live during a time of dramatic change, where the landscape is quickly shifting. How is Pratt preparing its students for careers and technologies that aren't here yet?
In this weekly series, "Educating for the Future," educators across Pratt's disciplines share their vision as to how they are educating students for a world that is quickly evolving—and reflect on what is needed to prepare the next generation for an environment that is rapidly changing.
This column is by Mary McBride Ph.D., Chair of the Creative Enterprise Leadership International Graduate programs in Arts and Cultural Management and Design Management in Pratt's School of Art.
Our world is changing. Organizations are attempting to adapt and to innovate by hiring creative people who can lead and manage change, but leading and managing are not necessarily skills that creative people develop unless they enter a program like ours. Pratt's Arts and Cultural Management and Design Management programs provide the tools, cultivate the skills, and catalyze the confidence necessary to lead and manage in organizations. Our program participants learn how to master the arts of reflection, collaboration, and strategy as well as the methodologies for marketing, operations, and finance. They learn to design organizational policies and processes as well as products, services, and experiences. More broadly, they learn to shape futures for themselves, their communities and organizations, and our shared world.
We provide a business education with a creative core informed by the United Nations Sustainable Development Goals (UNSDG). Our program participants come from across the world and across sectors with a common interest in innovating with impact. They learn by doing, and practice making and shaping strategies that can benefit their organizations and our world. They learn to lead as if life matters and to create organizational cultures where values inform decision making. A brand promise is after all, a promise. Our program participants learn how to make the decisions and take the actions necessary to deliver on their brand promise. They learn to develop brand fans, followers, and friends, and to use the power of engaged users and audiences to create business advantage and positive change.
Enterprise strategists characterize our current operating environment as VUCA—Volatile, Uncertain, Complex, and Ambiguous. Creative imagination will be required. Courage and confidence will be necessary. And the capacity to collaborate to create new possibilities will be essential. Our programs provide the best practice field for those seeking to lead and thrive in a world where change is a given and agility is imperative.
Find all of the "Educating for the Future" features and learn more about how Pratt's educators from across the Institute are addressing what the future of education will bring to their field.