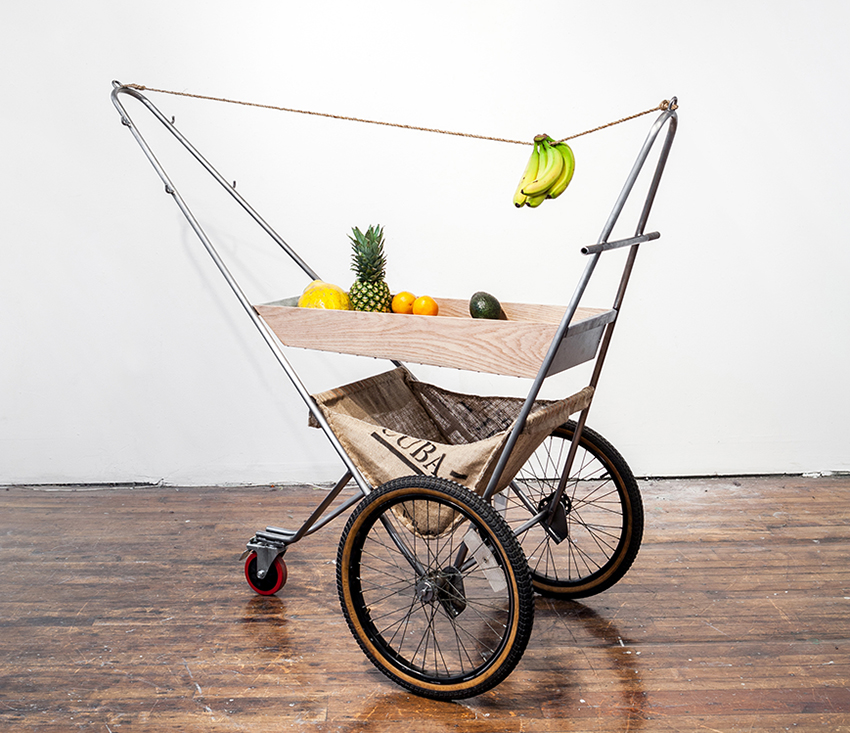 The second annual Dubai Design Week, an event held in Dubai from October 24-29, featured designs from Pratt students and recent graduates for its Global Grad Show, the world's largest gathering of student innovators. The Global Grad Show is an exhibition of groundbreaking work from design schools around the world, and Pratt also participated in last year's first annual event. This year's show included 145 projects from 50 leading universities in 30 countries and was curated by writer and designer Brendan McGetrick.
School of Design Dean Anita Cooney attended the show along with four of the Pratt students, viewing their work on display in this prominent international setting. Cooney and the students "guest posted" to Pratt's Instagram account during the week and shared their experiences and insights from Dubai with Pratt's followers.
Pratt students Aaron Nesser (M.I.D. '17), Lynn Linn (M.I.D. '17), and Jonathan Roberts (M.I.D. '17) presented "Organicart," a pair of prototypes for a foldable, portable cart for street fruit vendors. The project was a result of collaboration with students from the Higher Institute of Industrial Design in Havana, Cuba.
Dawn Moses (M.I.D. '16) presented "Nema," a low-cost, disposable home testing device for anemia that expands the accessibility of anemia testing to resource-poor communities. Isis Shiffer (M.I.D. '16) presented "The Erro Collection," three items designed to facilitate urban commuting: a foldable, recyclable helmet, which won an International James Dyson Foundation Award; a pocket scooter that folds to the size of a laptop; and a modular system for ventilating and cooling clothes or bags.
Dubai Design Week is a diverse six-day program of exhibitions, speeches, panel discussions, public performances, and educational workshops to engage visitors with design. Participants and attendees include local start-ups, artists, designers, entrepreneurs, and educational institutions from around the world.
Learn more about the Global Grad Show.
Image: Organicart by Aaron Nesser (M.I.D. '17), Lynn Linn (M.I.D. '17), and Jonathan Roberts (M.I.D. '17)