Using circuit boards, coding, and stories from fairy tales and fantasy, Pratt Institute undergraduate industrial design students recently engaged middle school students in robotics through STEM learning kits. One by Thyan Zou, BID '22, references Hans Christian Andersen's "Little Ida's Flowers"—where a young girl witnesses flowers dancing before they are buried in a garden to grow again—with a box of robotic dancing flowers that doubles as a night light. Another by Summer Yang, BID '22, responds to the 16th-century Chinese novel Journey to the West as well as artist Theo Jansen's Strandbeest kinetic sculptures for a robot that roves around on animal-like legs.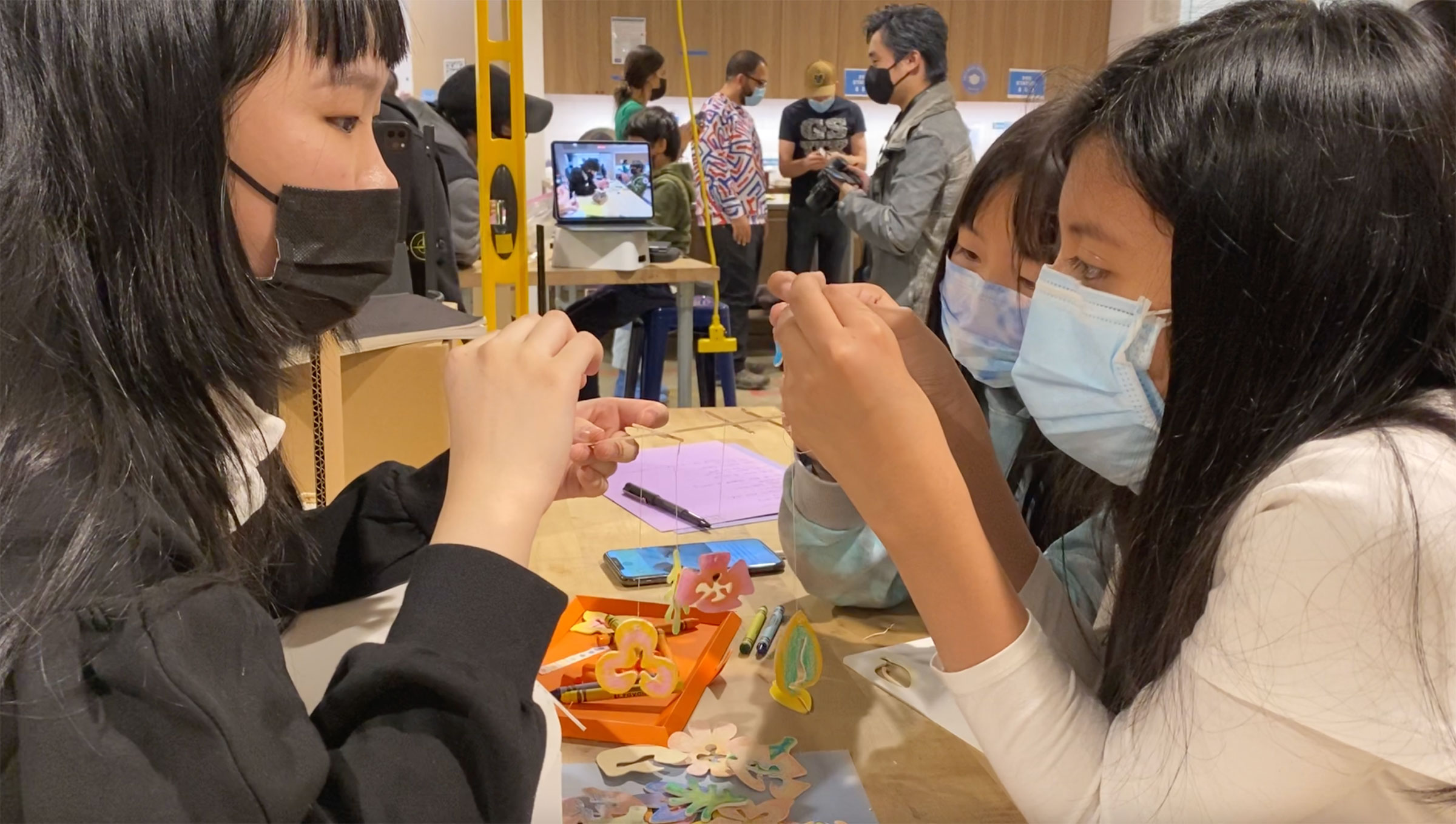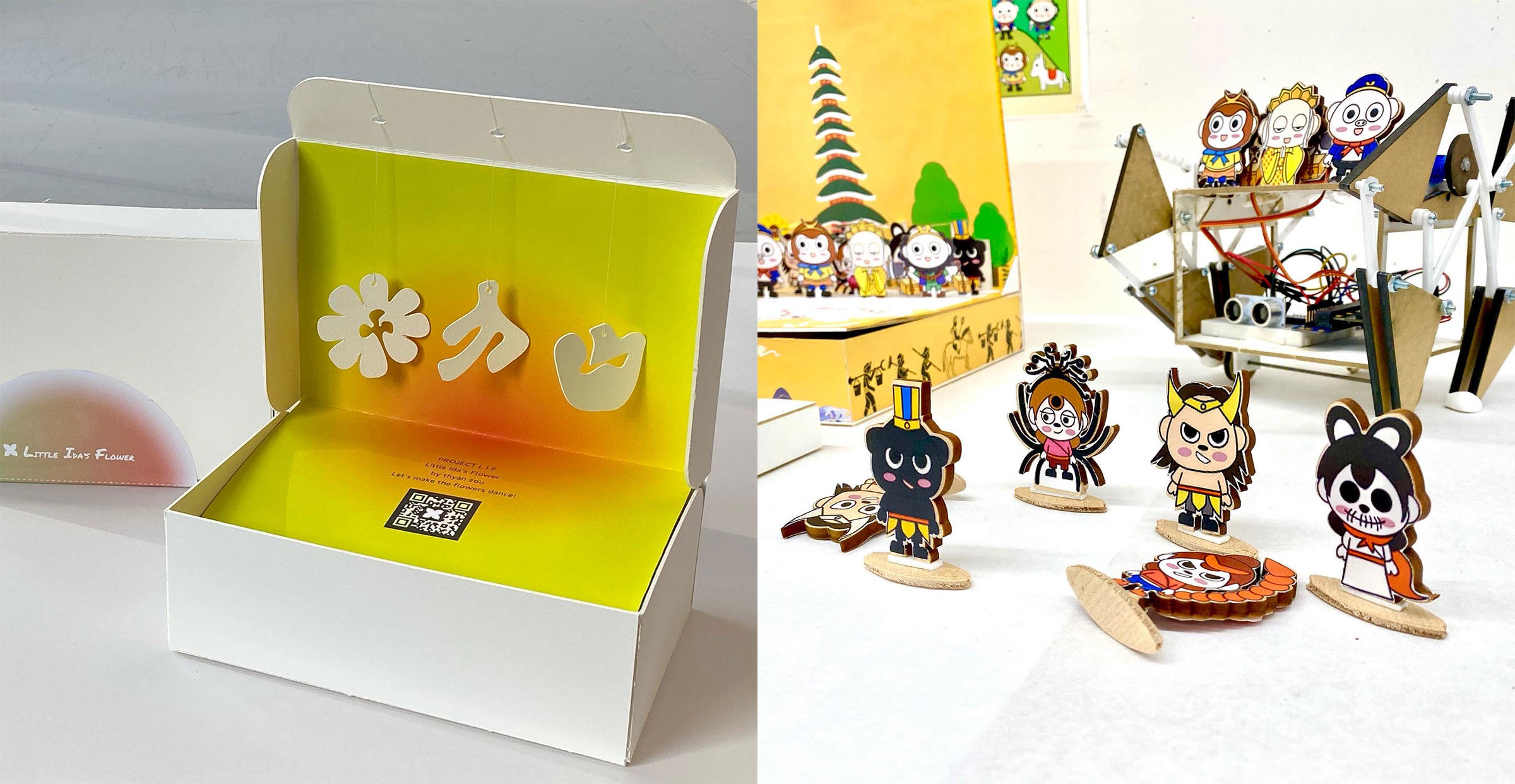 The fall industrial design studio, UX/UI-Robot in a Box, was led by Professor of Industrial Design Deb Johnson, BID '86, with designer and alumnus Steve Turbek, BID '95, joining as a guest instructor. The students focused on enhancing and expanding on an ultra low-cost robotics kit called Robot in a Box created by the nonprofit organization NYC FIRST which is dedicated to expanding access to STEM and robotics. The kit was developed during the pandemic to connect any child with experiential learning and bring the maker space experience into the home. NYC FIRST was an active part of the class, offering instruction, feedback, and technical support ahead of the culminating usability test with a group of middle school students at NYC FIRST's STEM Center at Cornell Tech on Roosevelt Island.
"This was a unique educational experience for the designers," Johnson said. "They were
able to observe the kids as they played with the product, revealing key insights about where it worked and where it failed. They connected so easily with each other and the kids loved being the expert. After the session the designers worked together on a report of learning outcomes and how they might change their designs to improve them. They'd never done anything like this before and it totally expanded their notion of the design process."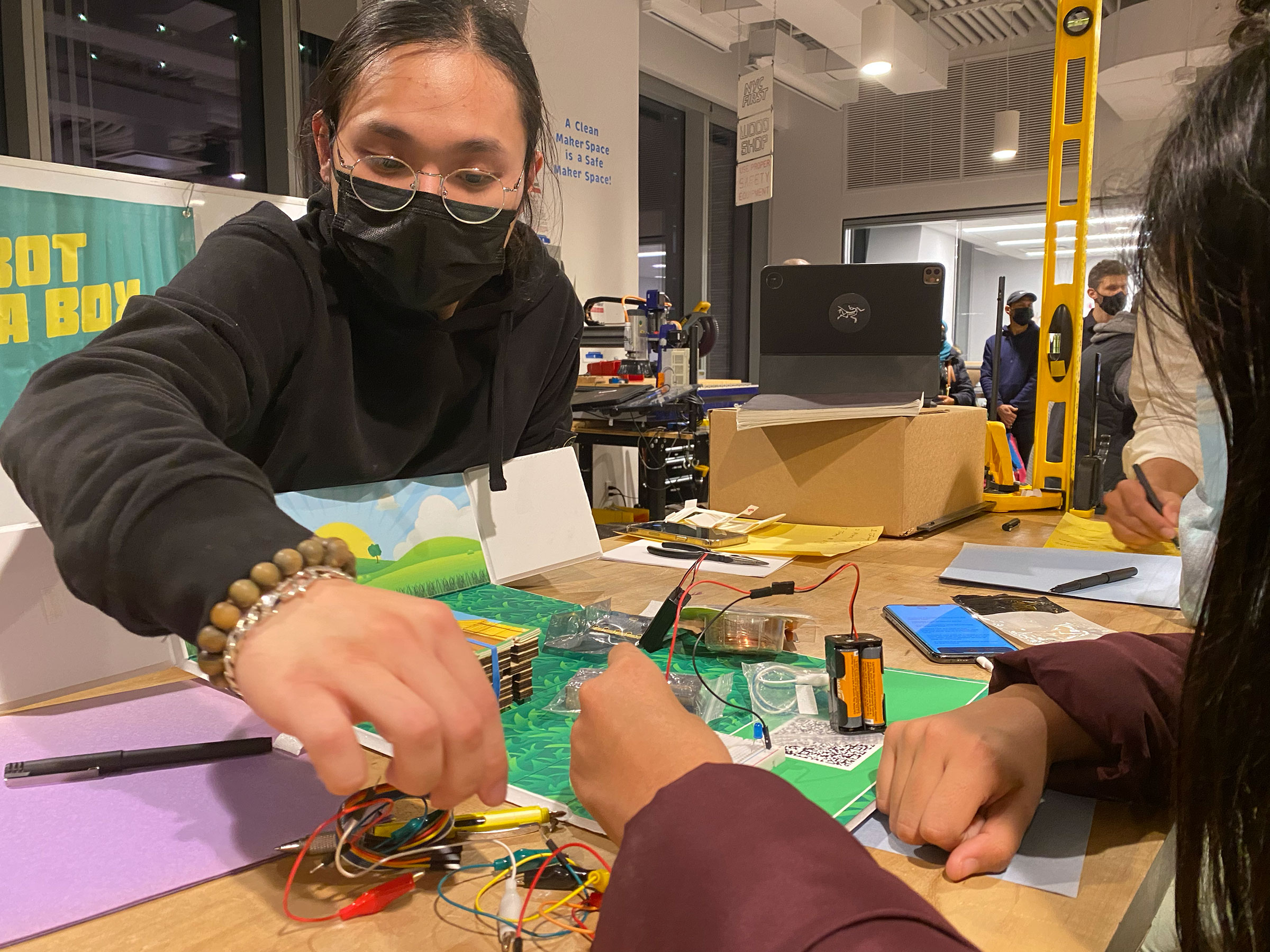 As Johnson noted, working with NYC FIRST and the middle school students was "a way for the design students to jump into STEM learning themselves." On the first day of the class, each student built a Robot in a Box with a cereal box, some wheels, a motor, and electronic parts. From that hands-on activity, they created their own projects that involved a range of learning including coding, electronics, circuitry, sensors, and digital cutting.
"This class was very ambitious," Turbek said. "The students learned electronics, did physical design, did packaging and user experience design, wrote instructions, and ran usability tests. Somehow, we managed to fit it all into one project. I loved seeing the creativity and the collaborative environment."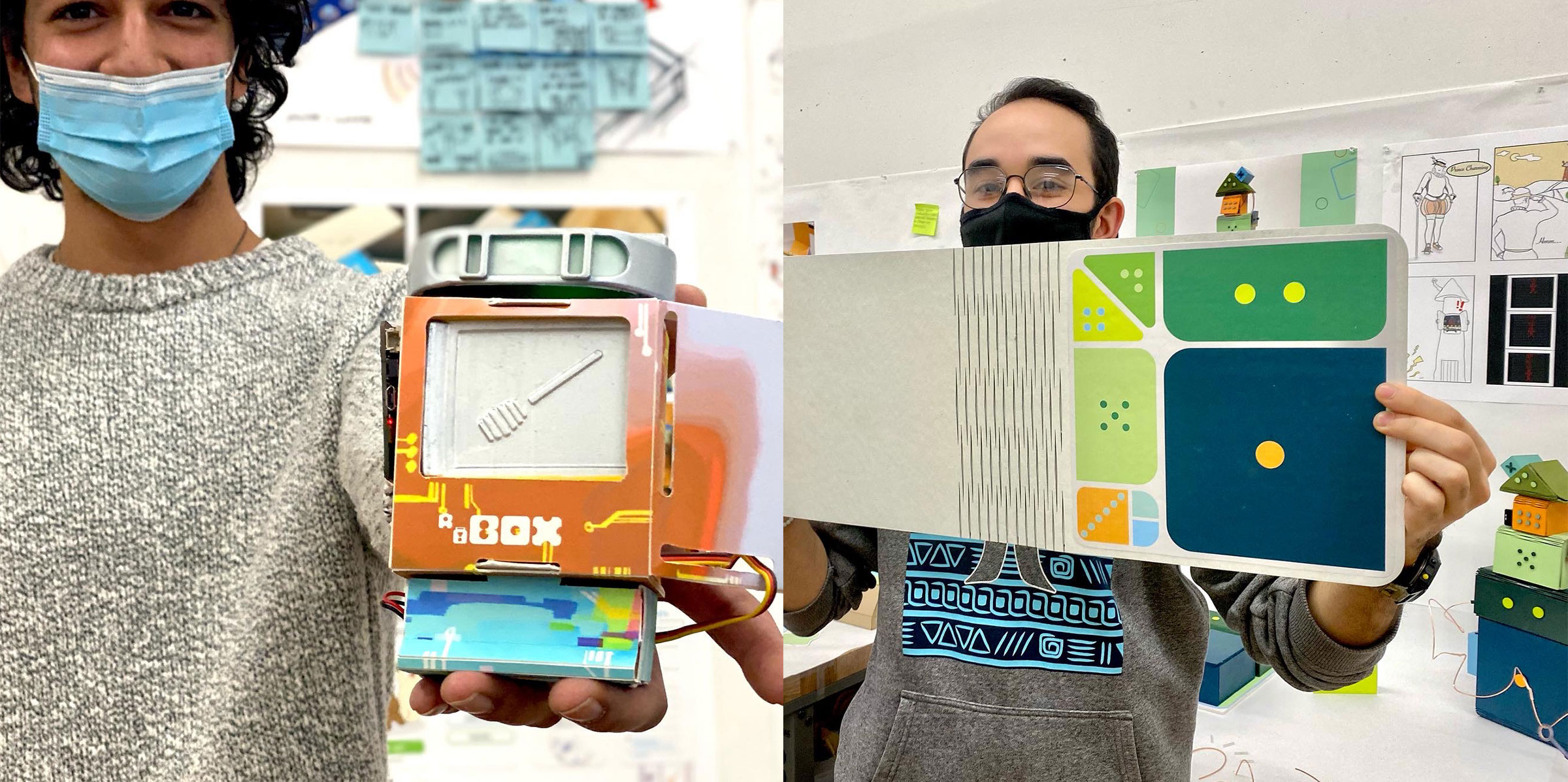 The projects designed by the Pratt students were intended to be self-guided so everything from the packaging to the components had to be interesting and easy to explore. The students created mobile apps to share step-by-step directions to further offer a dynamic education experience. The storytelling aspect offered an entryway into technology for young people who may never have picked up the micro:bit programmable circuit board that each project incorporated.
"We have seen how incorporating hands-on experiences when working with technology increases the engagement and retention of students," said Francesca Rodriguez Sawaya, senior program manager at NYC FIRST. "There's a big difference between learning through a screen and having a full set of materials ready for them to turn their ideas into reality."
Many of the STEM robot kits on the market can be pricey and often center on robotic cars which aren't necessarily of interest to all kids. Adding a narrative, whether it's a search for honey treasure inspired by "Goldilocks and the Three Bears" as created by Mihir Keskar, BID '22, or a game by Liam Raissian, BID '22, where players meet three challenges to get Rapunzel to let down her hair, provides more gateways for more young people into robotics.
"Each student started with a favorite fairytale and found a moment in the story that served as
inspiration for an activity," Johnson said. "Some stuck with the fairytale moment, others questioned the fairytale's message, and some just left it behind. It was really a device to give them some initial direction."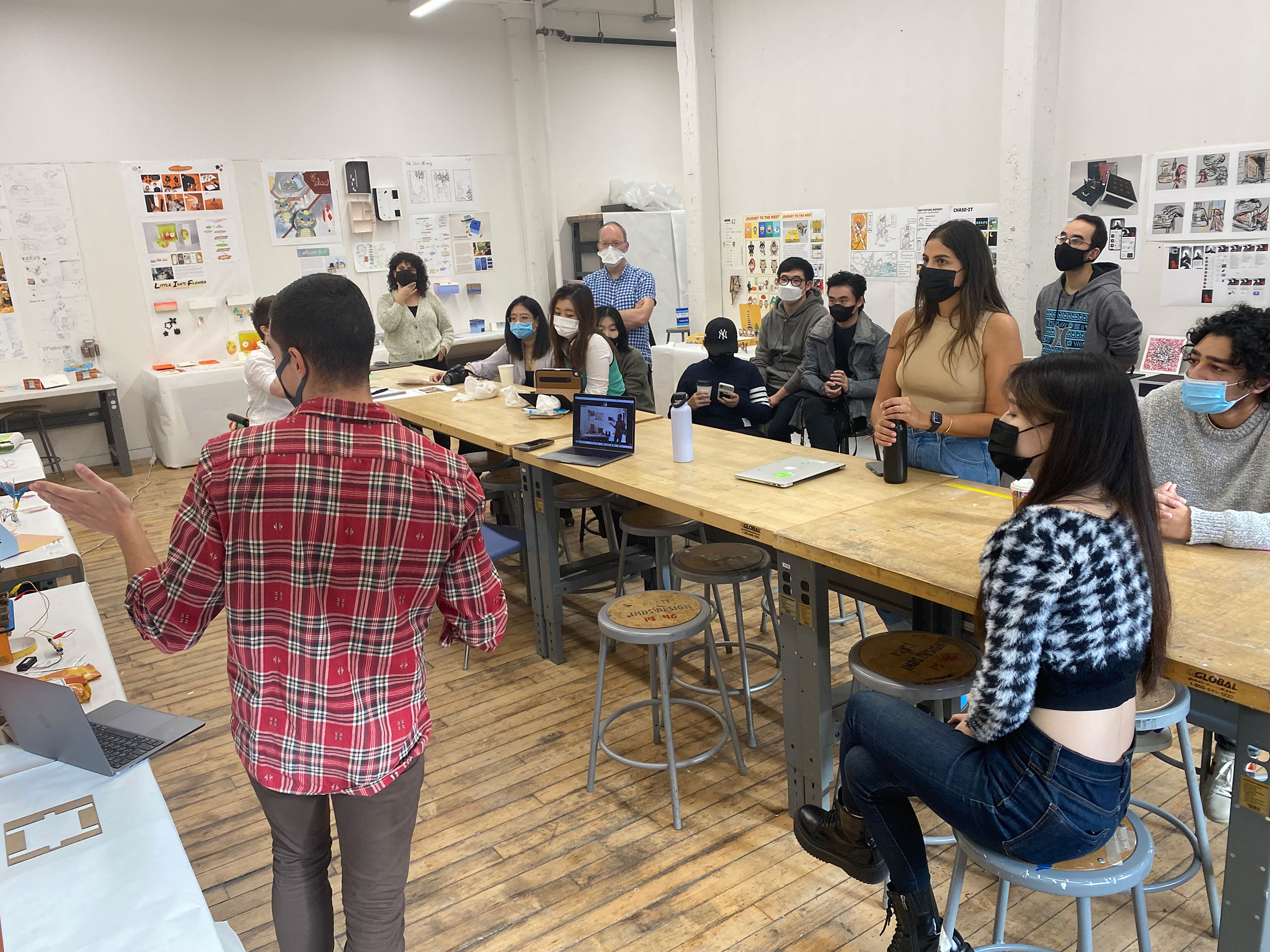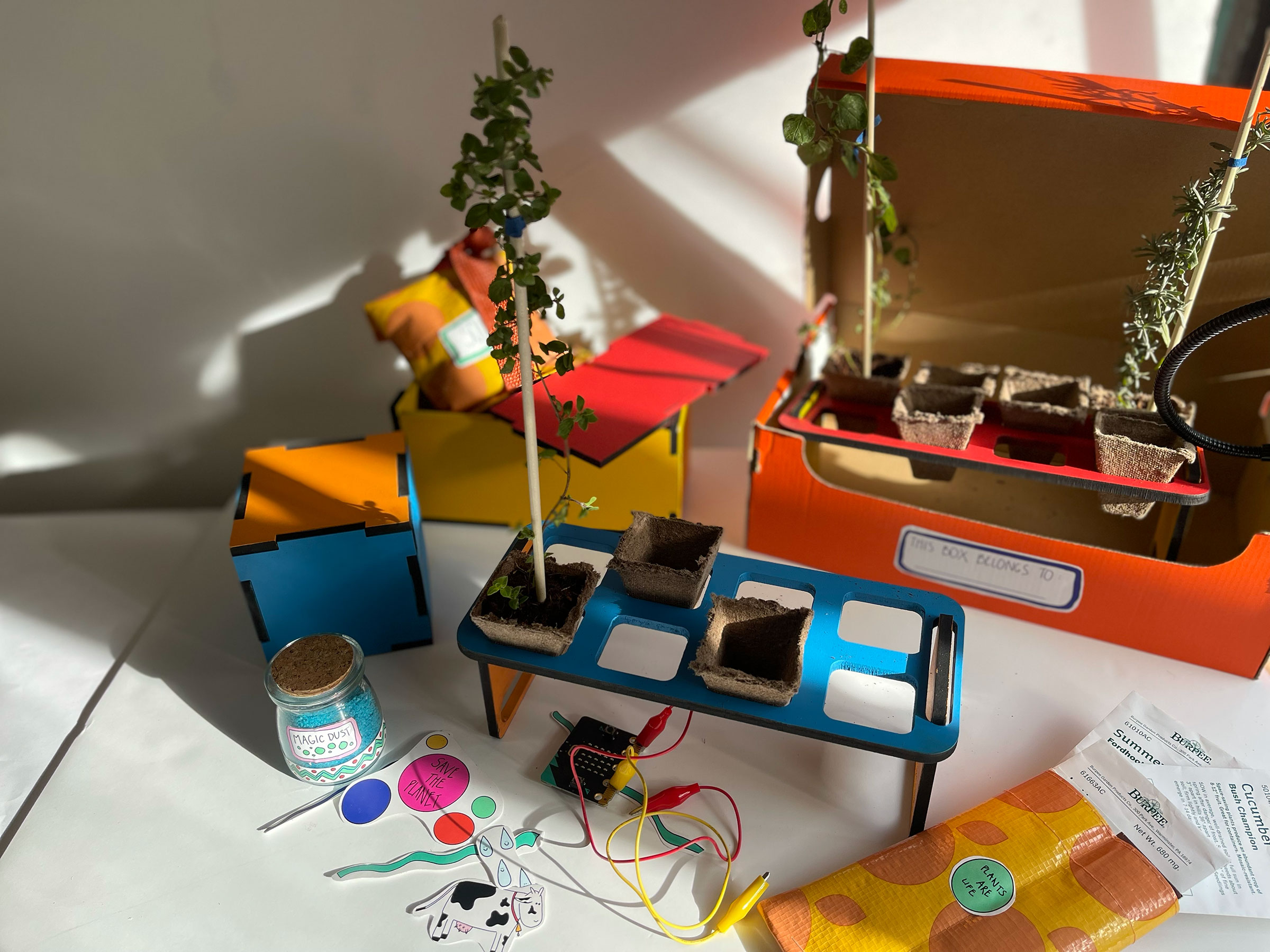 Alejandro Espina, BID '24, used sensors for a project where students can compete to grow beans to different heights by optimizing their moisture levels, sun exposure, and temperature. Using the tale of "Jack and the Beanstalk" as a jumping-off point, he shifted the characters to the Wayuu people of Venezuela for a story that encourages a stronger connection to nature.
"As a kid, I never had the chance to see people like me in cartoons or movies so I decided that could be an interesting approach to change the narrative so that other children could feel identified with the story," Espina said. "Being able to have hands-on experiences with technology gave us students a better understanding of the importance of teaching younger people that it is possible to create working computerized machines. It helps to respect the process in which technology is created."
Learning from each other—from the Pratt students in the studio to their work with the middle school students—was central to the class so the insights into how to play with technology were enhanced by lessons in listening, communicating, and finding common ground through stories. Johnson in partnership with NYC FIRST is offering the studio again this semester and inviting students to work either on teams or individually.
"We are very excited about taking all the learnings from last semester and considering them
in our future Robot in a Box iterations," Rodriguez Sawaya said. "The students' projects
provided us with a lot of inspiration to continue improving the Robot in a Box's learning
experience."