Pratt Institute Digital Arts alumna Jane Wu ('10) was recently awarded second place in the 'Student Films' category at Association Internationale du Film d'Animation (ASIFA) East Animation Festival, the largest animation festival in New York City. Wu's winning animation, "Book Girl and Cabinet Girl" was completed as a Pratt senior project.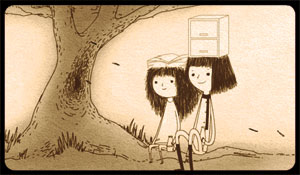 The 40th annual ASIFA-East Animation Festival presents outstanding works from independent and commercial animators. Wu's winning piece, hand-drawn and set to the piano music of Yann Tiersen, explores friendship through the school-girl characters "Book Girl" and "Cabinet Girl." The video can be viewed here: http://vimeo.com/11060839.
Brooklyn-native Wu specializes in hand-drawn animation, motion graphics, and stop-motion animation. While earning her bachelor's degree in arts at Pratt Institute, Wu founded the Pratt Comic Club and 'HATCH' comic anthology. She also worked as both editor and contributor to 'Static Fish' comic anthologies during her time at Pratt. Wu has previously provided animation work for NYC TV and PBS Kids. She currently works as a freelancer.
Association Internationale du Film d'Animation (ASIFA) was formed in 1960 by an international group of animators to coordinate and increase worldwide visibility of animated film. ASIFA's membership includes animation professionals and fans from more than 50 countries. ASIFA sponsors animation festivals in Annecy, Ottawa, and Hiroshima. This year, ASIFA-East judged submissions in the categories of Student Films, Commissioned Works, Independent Films, and Educational/Music Videos/Experimental Films. Winners were selected by ASIFA-East members.