The Digital Preservation Outreach and Education Network (DPOE-N) hosted its first in-person workshop with UPR Caribbean Digital and the University of Puerto Rico (UPR), Río Piedras, in San Juan on March 8-10 to help students, educators, and practitioners across fields better understand how to effectively engage in the digital preservation of information. The workshop was part of a new initiative by the DPOE-N, with funding from The Mellon Foundation, to support Spanish-speaking communities in the United States.
The amount of information that's created online is exponentially growing and strategies for storing, backing up, and otherwise maintaining this information are often underfunded. The DPOE-N helps libraries, archives, and museums (LAMs) develop the capacity to collect, preserve, and provide access to important materials amid technological change, staff turnover, and budget cuts, along with more dramatic disruptions like war and natural disasters. Originally housed at the Library of Congress, the DPOE-N moved to the Pratt Institute School of Information and the Moving Image Archiving and Preservation Program (MIAP) at NYU Tisch School of the Arts in 2018, where it has become more of a decentralized network disseminating how-to guides, best practices, and workshops. Relevant materials are being produced in Spanish as part of the new initiative, addressing a need that was initially identified by Juana Suárez, NYU MIAP director and associate arts professor in the Department of Cinema Studies.
The free workshop in Puerto Rico focused on the preservation of digital materials from cultural heritage sites, rare collections, and community archives, a particularly urgent undertaking as climate change worsens and communities continue to recover from the devastating impact that Hurricane Maria had on infrastructure such as the electrical grid. Around 30 people from a range of organizations and skill levels attended, with some seeking knowledge about the digital preservation of natural history and marine biology, and others looking to improve archiving methods at small museums.
Joel Blanco, adjunct professor at the Manuel Castillo Negrete National School of Conservation, Restoration and Museography (ENCRyM), led the workshop and guided attendees through what it takes to develop digital preservation plans that are unique to an organization or project.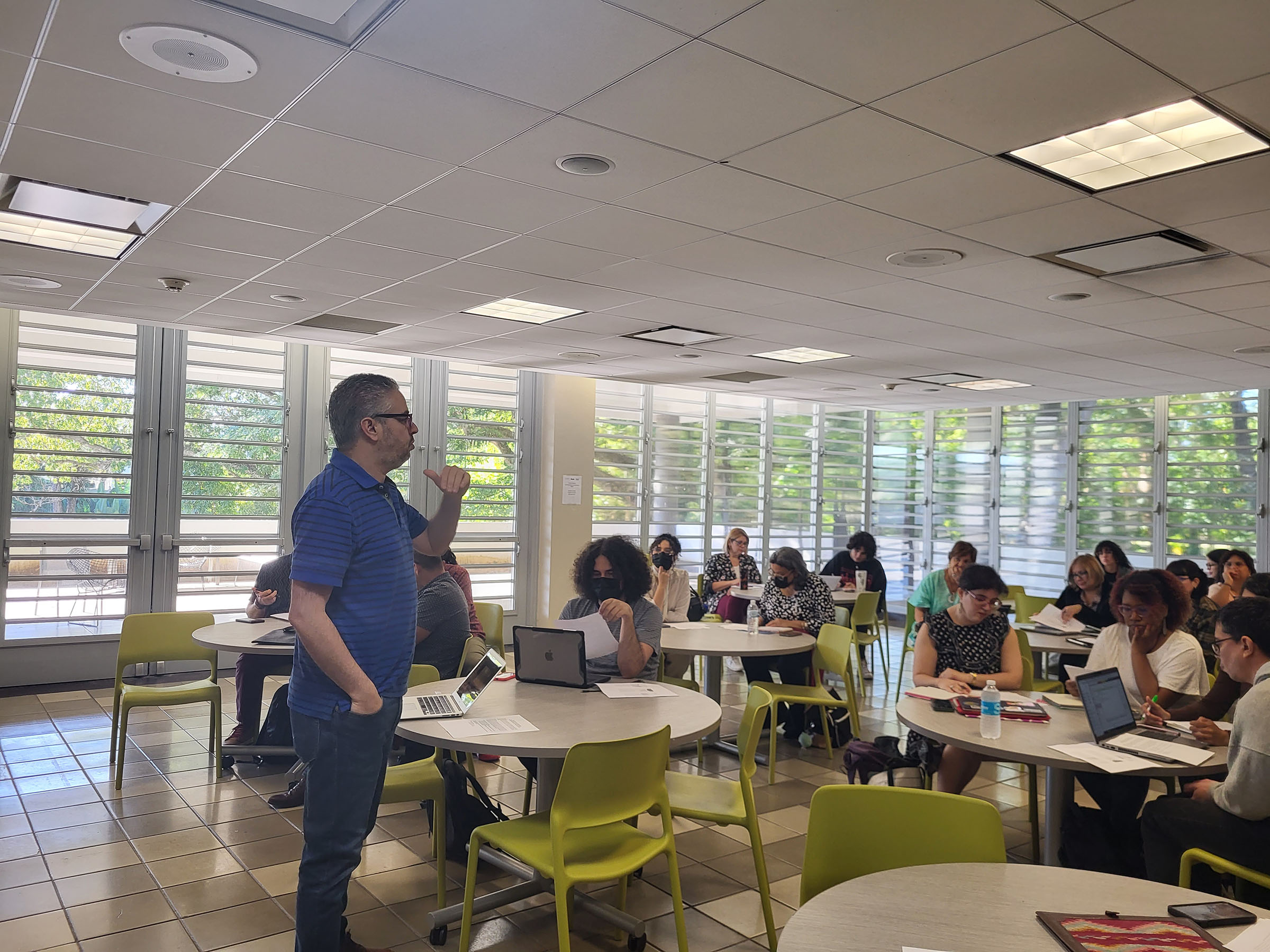 "The workshop really focused on providing a framework for introductory digital preservation concepts, but it had an interactive component that allowed attendees to share their own issues, discuss the realities of doing digital preservation in Puerto Rico, and create connections and networks," said Natalie Baur, the program director of the DPOE-N, who planned the workshop with UPR colleagues Nadjah Ríos Villarini, Mila Aponte González, and Mirerza González Vélez, and logistical support from UPR students Adriana Morales Díaz and Alana Lucena Rivera.
"We need to be intentional about what we're working to save," Baur said. "We need to be as inclusive as possible when asking what gets saved and who has decision-making power. We need to make sure that each community is able to advocate for themselves and get the resources to do the work so they're not erased electronically."
Networking and collaboration are essential elements of digital preservation because they create informed champions within and across organizations that can better advocate for the funding necessary for preservation technology and dedicated staff.
Ríos Villarini said that the workshop allowed people from different parts of the island to learn more about concepts like metadata and checksum and to "create different networks of mutual support."
"We are interested in having these opportunities to really engage with communities and to listen," Ríos Villarini said. "Our interest is in creating an atmosphere to have a dialogue where we can listen, establish a common ground, and, from there, work collaboratively."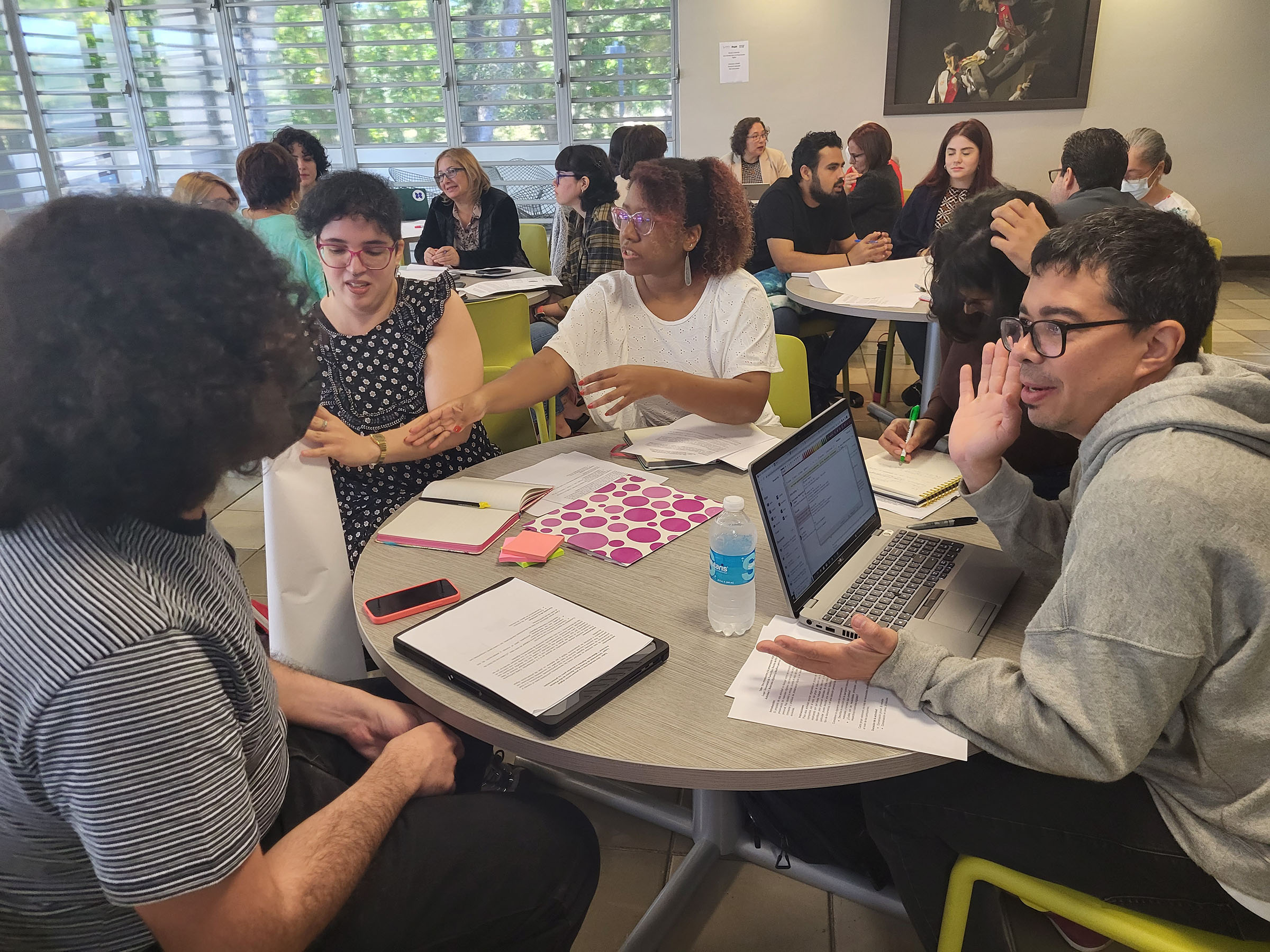 Baur, Ríos Villarini, and colleagues will now conduct a review of the workshop based on feedback and then collaborate on a follow-up session. In the meantime, people interested in digital preservation can follow the DPOE-N's calendar of events to attend virtual programs that aim to share new norms, refine procedures, and democratize the field.