Jennifer Minniti, an experienced designer, educator, and curator, has been named chair of Pratt Institute's Fashion Design Department. Minniti, who has taught in the Fashion Design Department at California College of the Arts (CCA) since 1997 and has served as an associate chair and associate dean at CCA, will begin her appointment August 1, 2011. An expert in sustainable fashion design, she recently helped launch an eco-friendly collection titled Clothespin by Gale Parker. Minniti has worked extensively in ethnographic textiles, which reference the cultural context in which they were created, through curatorial experience at the DeYoung Museum in San Francisco.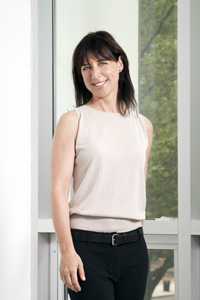 "Professor Minniti has an impressive history as a designer, curator, scholar, and academic administrator and I am pleased that she will be bringing this wealth of experience to Pratt," said Pratt School of Art and Design Dean Concetta M. Stewart. "I look forward to working with Professor Minniti and the rest of the fashion faculty to build on the department's recent successes and to maximize its position as one of the leading fashion design programs in the country," she added.

Minniti has taught graduate and undergraduate classes in fashion history as well as contemporary fashion theory and design. As Associate Dean of Instruction at CCA, she developed and implemented a curricular matrix involving design, fine arts, visual criticism, and interdisciplinary studies. She also helped to develop a multidisciplinary theory class that examined the fashion system in the United States and its global influence on art, architecture, design aesthetics, and the economy. Other recent teaching appointments have included visiting professorships in fashion at CEDIM University in Monterrey, Mexico and at the School of the Art Institute of Chicago.

Minniti's industry experience includes creating a collaborative collection with artists and designers under her Minniti*McMurtie label, working for Donna Karan in Manhattan, and working on the launch of Clothespin by Gale Parker. In addition to her curatorial work in ethnographic textiles and modern fashion at the DeYoung Museum, Minniti has served as a curatorial consultant to the Wattis Institute, also in San Francisco.

As chair, Minniti will be responsible for leading Pratt's Fashion Design Department, which is part of the Institute's School of Art and Design and includes a bachelor of fine arts in fashion design degree program. One of the most prestigious colleges for art, design, and architecture in the world, Pratt is home to the first fashion design program in the United States. The program prepares students to design apparel for various markets by emphasizing both the technical and creative skills.

Minniti received a master's degree in costume studies from New York University and a bachelor's degree in fashion design from Philadelphia University. She is currently a resident of San Francisco.
Photo Credit: Harol Baez