WHAT: Pratt Institute's Department of Fine Arts will present over 80 outstanding works in jewelry design to the public as part of the Senior Jewelry Thesis Exhibition. Information on the eight participating artists from Pratt's undergraduate jewelry design program will be available on site. Student thesis projects were inspired by the architecture of bridges and their function for travel; mythology and fantasy; various aspects of human emotion; the fragile, elegant qualities of elephants; vintage medical supplies; and Native American Hunter-Warrior culture. Each student has used a unique combination of different media, including manipulated metals with found objects and uncommon stones; porcupine quills and metal; plastics and recycled medical devices; ceramics, hair, and silver; and taxidermy eyes and metals to fully realize their thesis project.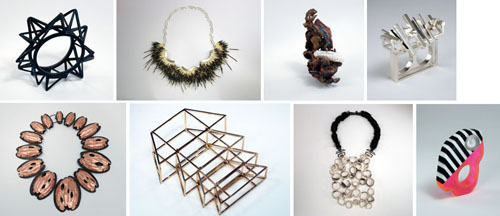 WHEN: Tuesday, April 3 – Thursday, April 12, 2012
Opening reception: Monday, April 2, from 5 to 8 PM
Gallery hours: Monday – Friday 9 AM to 5 PM and Saturday 12 to 5 PM
Professional Critique and Awards: Thursday, April 12 from 10 AM to 2 PM (The gallery will be closed to the public during these hours.)

WHERE: The Rubelle and Norman Schafler Gallery located on Pratt's Brooklyn campus at 200 Willoughby Avenue.

https://www.pratt.edu/about_pratt/visit_pratt/maps_and_directions/directions/

WHY: The Senior Jewelry Thesis Exhibition is an annual opportunity for the public to view firsthand the extraordinary talent of the jewelry design students in Pratt's undergraduate Fine Arts department, the curriculum of which embraces all aspects of design, creativity, fabrication, and social responsibility in jewelry and metalsmithing.
Clockwise from left: bracelet by Katelyn Riley, porcupine necklace by Katherine Morris, pendent by Alessandro Morosani, ring by Yon Son Choe, ring by Alyssa Aizenstat, necklace by Theresa Lee, brooch component by Taylor Hermes, and neck piece by Stefanie Sheehan. Photos: Courtesy of David Butler.

MEDIA CONTACT:

Amy Aronoff at 718-636-3554 or aarono29@pratt.edu

ON-SITE MEDIA CONTACT:

Amy Aronoff at 716.698.5919