Pratt Institute Department of Fine Arts recently announced lectures by 10 renowned artists as part of the 2011-2012 Visiting Artists Lecture Series, from 12:45 p.m. to 1:45 p.m., Tuesdays, in the Engineering Building, Room 307, on Pratt's Brooklyn Campus. Alice Aycock, Erik Benson, LaToya Ruby Frazier, Theaster Gates, Oliver Lutz, Josephine Meckseper, Shana Moulton, and Alejandro Almanza Pereda will speak to the Pratt community about their influences, artwork, and careers. The lectures are free and open to the public.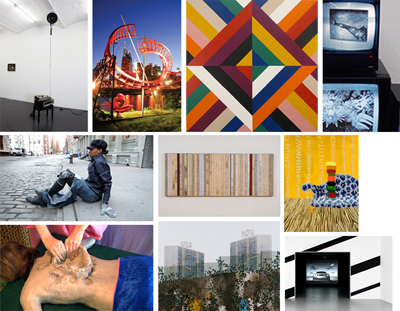 The Pratt Visiting Artists Lecture Series is an annual year-long series organized by the Department of Fine Arts in the School of Art and Design at Pratt Institute to welcome nationally and internationally recognized fine artists to share their experiences with the Pratt community. Please see below for this year's full line-up, followed by more information on each of these acclaimed artists:
October 18, 2011 – Oliver Lutz
November 8, 2011 – Shana Moulton
November 15, 2011 – Josephine Meckseper
January 31, 2012 – Alice Aycock
February 7, 2012 – LaToya Ruby Frazier
March 6, 2012 – Alejandro Almanza Pereda
April 3, 2012 – Theaster Gates
April 17, 2012 – Erik Benson
Oliver Lutz on October 18, 2011
Oliver Lutz's work explores conditions surrounding the individual including methods by which s/he is understood and defined through media and technology. His projects – which often involve installation, painting, video, performance, drawing and notation – raise questions about culturally conditioned rituals, myths, social interaction, and the viewer's customary relationship to looking at art, to deconstruct and reconfigure normal codes of viewer, subject, and representation.
His work has been exhibited internationally at the Tate Modern (London), S.M.A.K. Museum of Contemporary Art (Gent, Belgium), Wurttembergischer Kunstverein (Stuttgart, Germany), MARTa Museum (Herford, Germany), FILTER projectraum (Hamburg, Germany), i8 (Reykjavík, Iceland), and throughout the United States, at Artpace (San Antonio, TX), SFMOMA (San Francisco), Walker Art Center (Minneapolis), Yerba Buena Center for the Arts (San Francisco), Broad Art Center (Los Angeles), and in New York at The Kitchen, Apex Art, and Scaramouche Gallery.
He studied at the National Academy of Film and Television in Prague while completing his B.F.A. in Painting and Multi-media at Cornell University in 1996. He received his Masters of Science in Visual Studies from MIT's Department of Architecture in 2006 and was the recipient of the IV International Painting Prize Diputación de Castellón in 2007. He has been a resident artist at The Banff Centre (Alberta, Canada) and Fogo Island Arts Corporation (Newfoundland, Canada) and a faculty lecturer at Cornell University and Massachusetts Institute of Technology. Oliver Lutz is represented in New York by Scaramouche Gallery. For more information, visit www.oliverlutz.com.
Shana Moulton on November 8, 2011
Shana Moulton (b. 1976, Oakhurst, California) lives and works in Brooklyn, N.Y. She earned a B.F.A. from University of California, Berkeley (1999), an M.F.A. from Carnegie Mellon University (2004) and attended the Skowhegan School of Painting and Sculpture (2004) and De Ateliers, Amsterdam (2006). She has been an artist-in-residence at the Lower Manhattan Cultural Council (2011) and Harvestworks, New York (2008), and has received grants and fellowships from Harvestworks (2010), The Foundation for Contemporary Arts (2009), and the Experimental Television Center (2009). Moulton has given visiting artist lectures at Columbia University; University of Colorado, Boulder; University of Colorado, Colorado Springs; Tyler School of Art; Bard College; Maryland Institute College of Art; University of California, Berkeley; University of California, Davis; and the School of Visual Arts.
Moulton has exhibited and performed at venues such as the New Museum, Wexner Center for the Arts, Migros Museum, MoMA P.S.1 Contemporary Art Center, The Kitchen, Performa 2009, Electronic Arts Intermix, the Andy Warhol Museum, Art in General, Participant Inc, the Museum of Contemporary Art Banjaluka, Museo Nacional Centro de Arte Reina Sofía, Latvian Centre for Contemporary Art, Aurora Picture Show, PDX Film Festival, New York Underground Film Festival, Impakt Festival, Rencontres Internationales, European Media Art Festival, Internationale Kurzfilmtage, Chicago Underground Film Festival, Migrating Forms, and Socrates Sculpture Park. Her work has been reviewed in The Village Voice, Artforum, The Brooklyn Rail, The New York Times, artnet, Frieze magazine, and Flash Art. For more on Shana Moulton, visit www.shanamoulton.info.
Josephine Meckseper on November 15, 2011
Meckseper received her M.F.A. from the California Institute of Arts (1992). Her works have been included in international biennials such as "Prospect. 1 New Orleans" (2008); the Second Moscow Biennial of Contemporary Art (2007); Biennial of Contemporary Art of Seville (2006); Whitney Biennial: "Day for Night" (2006); and Biennale d'Art Contemporain de Lyon: "Experiencing Duration" (2005). Her work was exhibited in "Resistance Is" at the Whitney Museum of American Art in New York (2007); "Media Burn" at the Tate Modern, and USA Today at the Royal Academy of Arts in London (both in 2006). She has also had solo exhibitions at Gesellschaft für Aktuelle Kunst, Bremen (2008); the Migros Museum für Gegenwartskunst, Zürich; Ausstellungshalle zeitgenössische Kunst, Münster; the Blaffer Gallery/Art Museum of the University of Houston, (2009) and a retrospective at the Kunstmuseum Stuttgart (2007). Her work was featured at The Museum of Modern Art in "New Photography" (2008), "Contemplating the Void" at the Guggenheim Museum, New York (2010), and was recently on view at the 2010 Whitney Biennial. Her work is included in the Sharjah Biennial 10, "Plot for a Biennial" (2011).
Alice Aycock on January 31, 2012
Alice Aycock's work began in public land pieces that involved reshaping the earth in semi-permanent ways. She has since moved on to creating outdoor installations and sculptures for both private and public sites. She received her bachelor of arts degree from Douglass University and her master of arts degree from Hunter College. Aycock has created sculptures for colleges, airports, recreation centers, and other facilities around the country. Her work can be found in the collections of The Museum of Modern Art, Whitney Museum of American Art, the Brooklyn Museum, Louis Vuitton Foundation, Los Angeles County Museum of Art, and The National Gallery in London. She has exhibited at the Venice Biennial, Documenta VI and VIII in Kassel, Germany, and the Whitney Biennial in New York. She received the Americans for the Arts Public Art Award in 2008 for Ghost Ballet for the East Bank Machineworks. She has taught at numerous colleges and universities including Yale University from 1988 until 1992, and has taught at SVA since 1991. For more on Alice Aycock, visit www.aaycock.com.
LaToya Ruby Frazier on February 7, 2012
Frazier's work in photography and video has employed such themes as the body and landscape, familial and communal history, private and public space, and human complexity. Frazier's nine-year artistic collaboration with her family has been featured by The New York Times, The New Yorker, Artforum, Art in America, The Wall Street Journal, The Huffington Post, and The Village Voice. Her work has been exhibited in New York City at P.S.1 MoMA's "Greater New York," the New Museum of Contemporary Art's "Younger Than Jesus" and at the Bronx Museum of the Arts and Higher Pictures Gallery. Frazier's work will be featured in the 2011 International Incheon Women Artists' Biennial in Korea. Frazier is currently a featured artist on the new Art 21 online documentary series New York Close Up.
LaToya Ruby Frazier received a bachelor of fine arts degree in applied media arts from Edinboro University of Pennsylvania and a master of fine arts degree in art photography from Syracuse University. She has been an artist in residence at the Lower Manhattan Cultural Council, Art Omi, The Center for Photography at Woodstock, Skowhegan School of Painting and Sculpture and the Whitney Museum of American Art Independent Study Program. For more on LaToya Ruby Frazier, visit www.latoyarubyfrazier.com.
Alejandro Almanza Pereda on March 6, 2012
Alejandro Almanza Pereda's work with multi-media sculptures often focuses on the physical limits and structure of recognizable objects. Almanza has exhibited at numerous shows internationally, and most recently held solo shows at the College of Wooster Art Museum in Ohio and the Chert Gallery in Berlin. In 2011, he was an artist in residence at the Bemis Center for Contemporary Arts in Omaha and received a Skowhegan School of Painting and Sculpture Summer Residency in 2004. Almanza received the Harpo Foundation Art Grant in 2009. His work has been published in The Younger than Jesus Artist Directory (Phaidon Press, 2009). He received his bachelor of fine arts degree at the University of Texas in El Paso. For more on Alejandro Almanza Pereda, visit www.alejandroalmanzapereda.com.
Theaster Gates on April 3, 2012
Theaster Gates is an artist, musician, cultural planner, and Director of Arts and Public Life at the University of Chicago. In his performances, installations, and urban interventions, Gates seeks to transform spaces, institutions, traditions, and perceptions. His training as an urban planner and sculptor, and subsequent time spent in Japan studying clay, has provided him an awareness of the poetics of production and systems of organizing. Gates is committed to the restoration of poor black neighborhoods and has converted abandoned buildings into cultural spaces.
A recent Loeb Fellow at the Harvard Graduate School of Design, Gates has received awards from The Joyce Foundation and Graham Foundation. In 2010, he performed and exhibited at the Whitney Biennial and the Armory Show in New York; the Milwaukee Art Museum; and the Pulitzer Foundation for the Arts and the Contemporary Arts Museum in Houston. For more on Theaster Gates, visit theastergates.com.
Erik Benson on April 17, 2012
Erik Benson's paintings are informed by fragments of urban landscape and culture that are found in the everyday. He is particularly attracted to imagery that is ubiquitous within an urban architectonic setting, in which elements of plasticity and temporality are depicted in a suspended state of in-betweenness. Benson previously exhibited at Roebling Hall in New York and is now represented by Edward Tyler Nahem Fine Art in New York. He graduated from the Rhode Island School of Design in 2001 and was more recently awarded the 2011 Sam and Adele Golden Foundation for the Arts Fellowship Award and a residency at Bemis Center for Contemporary Arts. For more on Erik Benson, visit www.etnahem.com/artists/erik-benson.
VALS is coordinated by graduate students Sabrina Barrios and DeShawn Lamar Dumas under the supervision of Professor Dominique Nahas in the Department of Fine Arts. The 2011-2012 series is made possible with the support of the Robert Lehman Foundation. For more information on VALS, visit vals.pratt.edu.
Visitors can enter Pratt Institute's campus on DeKalb Avenue or on Willoughby Avenue between Hall Street and Classon Avenue. The closest subway stop is the Clinton-Washington station on the G line. For directions to campus or parking information, visit www.pratt.edu/directions.
Past 2011-12 Pratt Visiting Artist Lectures: Stephen Westfall on September 27, 2011
Since the mid-1970s, Stephen Westfall has been a unique and persistent presence in the global art community. Westfall is a self described"somewhat Poppish, post-minimalist geometric painter" heavily influenced by architecture and the use of color on an grand scale. He has been in over 90 exhibitions-32 of which were solo shows-and is included in nine public collections around the world. A native of Schenectady, N.Y., Westfall received both his bachelor and master of fine art degrees from the University of California in Santa Barbara. He currently resides in New York City.
Westfall has received numerous awards and fellowships, including a 2002 Academy Award in Painting from the American Academy of Arts and Letters. Westfall is on the faculty at the Mason Gross School of the Arts, Rutgers University and the Milton Avery Graduate School of the Arts, Bard University. In addition to receiving a fellowship at the American Academy in Rome, Westfall has received a Guggenheim Fellowship, a Nancy Graves Foundation Grant and an Award from the American Academy of Arts and Letters. Westfall also moonlights as a critic his writings have appeared in many revered publications such as The Village Voice, Vogue, and Art in America. For more on Westfall, visit www.lennonweinberg.com/artists/westfall/westfall_unique/westfall_1.html.
Jennifer Wynne Reeves on October 11, 2011
The work of Jennifer Wynne Reeves presents viewers with a savvy, satirical world. Her robust paintings combine abstraction and representation with a graceful awkwardness, deliberately echoing the discomfort of first-time encounters, and the wobbling efforts of first steps. Through her use of language, Reeves creates humorous and biting dialogues, monologues that are highly intriguing and thought-provoking. Reeves has been involved in over 40 exhibitions all over the world, most recently in "Second Coming: Backstage at the Dildo Ballet," at Ramis Barquet Gallery, NYC. A recipient of the Adelaide Carroll Johnson Award, Reeves is also an accomplished writer and has produced many statement pieces over the course of her artistic career including writing reviews for NY Arts Magazine and Indie reviews on Facebook.
Reeves received her training in the arts at Principia College in Illinois and Vermont Studio School. She currently works in New York City and the Catskills. For more on Jennifer Wynne Reeves, visit jenniferreeves.com.
Top Row (L to R): Alejandro Almanza Pereda, Death by Metal, piano stool, Hi-Fi stereo, tape player, ashtray, cables, speaker, cleaver, 2009; Alice Aycock, Ghost Ballet for East Bank Machineworks, installation view, Nashville, Tennessee, 2007; Stephen Westfall, Karma, 48 x 48 inches, oil and alkyd on canvas, 2011; Oliver Lutz, The Mediated Subject, installation detail, Leg and Star-nosed Mole, 2010. Photo Credits: Courtesy of the artist; Courtesy of Lennon, Weinberg, Inc.; Courtesy of the artist.
Middle Row (L to R): LaToya Ruby Frazier, Production still from the series New York Close Up. © Art21, Inc. 2011; Theaster Gates, Civil Tapestries, 48″ x 123″ x 4″, Decommissioned Hoses and wood, 2011; Jennifer Wynne Reeves, Abstraction on the Sofa, acryla gouache on paper, 11″ x 8 1/2″, 2003. Photo Credits: Courtesy of Art21, Inc.; Courtesy of Kavi Gupta Gallery; Courtesy of the artist.
Bottom Row (L to R): Shana Moulton, video still from Whispering Pines Series; Erik Benson, Overgrowth (Black Flowers), acrylic on canvas, 60″ x 80″, 2011; Josephine Meckseper, installation view, Arndt & Partner, Berlin, 2008. Photo Credits: Courtesy of the artist; Courtesy of Edward Tyler Nahem Fine Art; Courtesy of the artist, New York, and ARNDT, Berlin.