Pratt Institute's Department of Digital Arts will present lectures by six artists as part of its spring 2012 lecture series, Wednesdays from 12:45 PM to 1:45 PM in Myrtle Hall, Lecture Room 4E-3, on Pratt's Brooklyn campus. Roman Verostko (M.F.A. '61), Alex McLeod, Magda Sawon, William Powhida, Don Hertzfeldt, and Cesar Kuriyama (B.F.A. '04) will give lectures to the Pratt community about their involvement and careers in the digital arts. This lecture series is free and open to the public; however, seating is limited.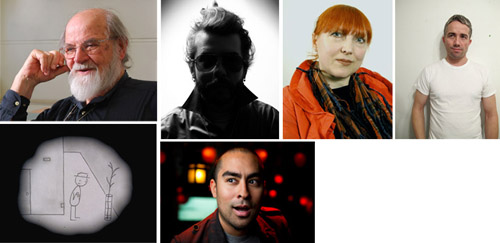 The Department of Digital Arts Lecture Series is a seasonal series organized by the Department of Digital Arts in the School of Art and Design at Pratt Institute. The series features critics, artists, and curators of digital art. The guests include both emerging talent and established pioneers in the fields of digital animation, motion arts, interactive artwork, and digital imaging. Please see below for this semester's full line-up, followed by more information on each of these acclaimed artists and writers:

February 22, 2012 – Roman Verostko (M.F.A. '61)
March 7, 2012 – Alex McLeod
March 21, 2012 – Magda Sawon and William Powhida
March 28, 2012 – Don Hertzfeldt
April 4, 2012 – Cesar Kuriyama (B.F.A. '04)
Roman Verostko on February 22, 2012, 12:45 PM, Myrtle Hall 4E-3
Artist, historian, and Pratt alumnus Roman Verostko (M.F.A. '61) is renowned for his richly colored algorithmic pen and brush drawings. Primarily a painter for the first 30 years of his career, he exhibited his first fully algorist work, The Magic Hand of Chance, in 1982. By 1987, he had created the world's first software to create "brushed" paintings. Today, his studio includes a network of computers and pen plotters driven by his own original software. Verostko has been honored with many awards, including the 2009 SIGGRAPH Distinguished Artist Award for Lifetime Achievement. For more information on Verostko, please visit www.verostko.com.

Alex McLeod on March 7, 2012, 12:45 PM, Myrtle Hall 4E-3
Internationally acclaimed artist Alex McLeod constructs hyper-realistic 3-D environments filled with crystalline mountains, fiery lakes, and rotund clouds, all rendered in a sickly sweet candy-colored palette. Recalling the wide-open vistas of Romantic landscape painting while at the same time staging otherworldly dystopias, McLeod's CGI prints act as hybrid spaces that imply an almost infinite recombination of the past and present, the real and virtual. For more information on McLeod, please visit www.alxclub.com.

Magda Sawon and William Powhida on March 21, 2012, 12:45 PM, Myrtle Hall 4E-3
Magda Sawon and William Powhida will give a presentation about art's relation to new/old media, social engagement, and the bipolar nature of the art world.

Sawon is co-owner and co-director of Postmasters Gallery in New York City, a pioneering gallery showing new media art, beginning with the now-seminal exhibition "Can You Digit?" in 1996. Sawon also works as an independent curator, lecturer, and consultant. Her most recent project was a large-scale exhibition of new media works titled "The Future is Not What it Used to Be" for the Centre for Contemporary Art in Warsaw, Poland.

Powhida is a controversial artist whose work often satirizes the art world and its reflection of society. He also draws projects based on memory, such as his large scale drawing of everyone he has ever met. In The Village Voice's "The Best NYC Art Shows of 2011," Christian Viveros-Faune said of Powhida: "Love him or hate him (either way, he's on everyone's mind), Powhida has cornered the market on sidesplitting snark–especially the hand-biting kind… But if you believe his work just deals in tales from the art crypt, think again. It's about the deep-throating of money–everywhere, by everyone, all the time, with venal gusto." For more information on Powhida, please visit williampowhida.com/wordpress.

Don Hertzfeldt on March 28, 2012, 12:45 PM, Myrtle Hall 4E-3
Don Hertzfeldt is the creator of many short animated films including the Academy-Award nominated films Rejected and Everything Will Be OK. His work commonly features hand-drawn stick figures in stories of black humor, surrealism, and tragicomedy. Before the age of 30, Hertzfeldt's films were the subject of several career retrospectives. At age 33, he was the youngest filmmaker to receive the San Francisco International Film Festival's "Persistence of Vision" Lifetime Achievement Award for his unique contributions to film and animation. Some additional honors include a Short Film Palme D'or nomination at the 1999 Cannes Film Festival (Billy's Balloon), a 2007 Sundance Film Festival Jury Award for Short Filmmaking (Everything will be OK), and Best Picture and Best Screenplay awards at the 2009 Fargo Film Festival (I Am So Proud of You). For more information on Hertzfeldt, please visit bitterfilms.com.

Cesar Kuriyama on April 4, 2012, 12:45 PM, Myrtle Hall 4E-3
Pratt Digital Arts Alumnus Cesar Kuriyama (B.F.A. '04) is a director, producer, and animator who has worked for clients such as Hershey's, BMW, Verizon, Gillette, and the National Football League. Kuriyama, who will speak at TED2012's Full Spectrum conference, is currently working on a project where he selects one second of video from every day of his life, and edits them together into a montage that both records his life and forces him to revaluate how he approaches each day. For more information on Kuriyama, please visit www.cesarkuriyama.com.

Myrtle Hall is located at 536 Myrtle Avenue between Grand Avenue and Steuben Street; the entrance to the building is located off 215 Willoughby Avenue. The closest subway stop is the Clinton-Washington station on the G line. For directions to campus or parking information, please visit www.pratt.edu/directions.
Clockwise from left: Roman Verostko, Alex McLeod, Magda Sawon, William Powhida, Cesar Kuriyama at the TED Full Spectrum Auditions, May 24, 2011, New York; and a still from It's such a beautiful day by Don Hertzfeldt. Photos (clockwise from left): Courtesy of Roman Verostko, Matt Barnes, Magda Sawon, William Powhida, James Duncan Davidson, and Don Hertzfeldt.
MEDIA CONTACT:
Amy Aronoff at 718-636-3554 or aarono29@pratt.edu