Pratt Institute's Department of Digital Arts will present lectures by five artists and writers as part of its fall 2011 lecture series, Wednesdays from 12:45 PM to 1:45 PM in Myrtle Hall, Lecture Room 4E-3, 4th floor, on Pratt's Brooklyn Campus. Takehito Etani, Paddy Johnson, Man Bartlett, Tali Hinkis and Kyle Lapidus of LoVid, and Paul Miller (aka DJ Spooky) will give lectures to the Pratt community about their involvement and careers in the digital arts. This lecture series is free and open to the public; however, seating is limited.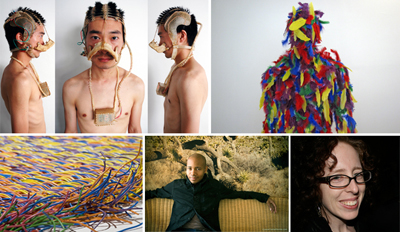 The Department of Digital Arts Lecture Series is a seasonal series organized by the Department of Digital Arts in the School of Art and Design at Pratt Institute. The series features critics, artists, and curators of digital art. The guests include both emerging talent and established pioneers in the fields of digital animation, motion arts, interactive artwork, and digital imaging. Please see below for this semester's full line-up, followed by more information on each of these acclaimed artists and writers:
September 28, 2011 – Takehito Etani – "Transmutation of Life"
October 12, 2011 – Paddy Johnson – "Reviewing New Media"
November 2, 2011 – Man Bartlett – "Hashtag Space"
November 9, 2011 – LoVid (Tali Hinkis and Kyle Lapidus) – "Wirefull Living, Synchro Schedule"
November 16, 2011 – Paul Miller (aka DJ Spooky) – "Sound Unbound"
Takehito Etani on September 28, 2011
Takehito Etani creates work in a wide range of media, such as wearable technology, installations, sculpture, performance, video, and modified photographs. His work often deals with the body and its relationships to technology; mundane reality is where Etani looks for the possibility for self-transmutation. His work has been shown internationally, including at the International Symposium of Electronic Art in 2006, and featured in various publications dealing with art and technology. Etani received his bachelor of fine art's degree from Pratt Institute and his master of fine art's degree from Carnegie Mellon University. In 2006, he attended the Skowhegan School of Painting and Sculpture. For more information on Etani, visit http://www.takehitoetani.com/ .
Paddy Johnson on October 12, 2011
Paddy Johnson is the founding editor of the blog Art Fag City and a regular columnist for The L Magazine. Her writing has been featured in New York Magazine, Time Out New York, and The Daily Beast. She regularly lectures on art and the Internet at universities around the country. In 2008, she became the first blogger to receive a grant from The Creative Capital Foundation. In 2010, she was nominated for a Rob Pruitt Art Award at The Guggenheim and her blog Art Fag City won best Art Blog at The Village Voice Web awards.For more information on Johnson, visit http://www.artfagcity.com/.
Man Bartlett on November 2, 2011
Man Bartlett is an interdisciplinary artist who creates durational performances that incorporate social media in venues, galleries, and institutions including a Best Buy store; Port Authority Bus Terminal; PPOW Gallery, New York; Winkleman Gallery, New York; Freies Museum Berlin; and the Whitney Museum of American Art. His performances are often an absurd convergence of his theater training and experience, years of corporate Internet marketing jobs, and his interest in esoteric modes of physical and non-physical exchange. Barrtlett graduated with a bachelor of arts degree in theater studies from Emerson College in 2003, and currently lives and works in Brooklyn. For more information on Bartlett, visit http://manbartlett.com/ .
LoVid (Tali Hinkis and Kyle Lapidus) on November 9, 2011
LoVid is an interdisciplinary artist duo composed of Tali Hinkis and Kyle Lapidus. Using a multi-directional approach to combine opposing elements, LoVid's work includes live video installations, sculptures, digital prints, performances, and video recordings. Using this array of media, LoVid seeks to explore the ways in which the human body and mind observe, process, and respond to natural and technological environments.The duo has performed and exhibited at the Graham Foundation for Advanced Studies in the Fine Arts; International Film Festival Rotterdam; Institute of Contemporary Arts, London; Netherlands Media Art Institute; Science Gallery, Trinity College Dublin; Real Art Ways, Connecticut; Urbis, UK; and The Museum of Modern Art, MoMA PS1, The Jewish Museum, New Museum, The Kitchen, and Mixed Greens Gallery, all in New York City. For more information on LoVid, visit http://www.lovid.org/.
Paul Miller (aka DJ Spooky) on November 16, 2011
Paul Miller (aka DJ Spooky) is a conceptual artist, writer, and musician who lives and works in NYC. His award-winning first book Rhythm Science (MIT Press, 2005) was followed by Sound Unbound (MIT Press, 2008) and The Book of Ice (Mark Batty Publisher, 2011). Miller's work has been exhibited at museums and biennials throughout the world. He has performed in a wide variety of venues including the Tate Modern, London; The Guggenheim Museum, New York; and the Herod Atticus Theater at the Acropolis; and has collaborated with a wide variety of artists from Chuck D to Yoko Ono. The iPhone application he developed with Music Soft Arts has been downloaded several million times. Miller is also a graduate of Bowdoin College. For more information on Miller, visit http://www.djspooky.com/.
Myrtle Hall is located at 536 Myrtle Avenue between Grand Avenue and Steuben Street; the entrance to the building is located off 215 Willoughby Avenue. The closest subway stop is the Clinton-Washington station on the G line.For directions to campus or parking information, visit www.pratt.edu/directions.
Clockwise from left: Masticator by Takehito Etani, #24hKith by Man Bartlett, "NetWork, 2010" by LoVid, Paul Miller (aka DJ Spooky), and Paddy Johnson. Photos (clockwise from left): Takehito Etani, Man Bartlett, Real Art Ways, Tamar Levine, and Jon Rafman.
MEDIA CONTACT:
Amy Aronoff at 718.636.3554 or aarono29@pratt.edu