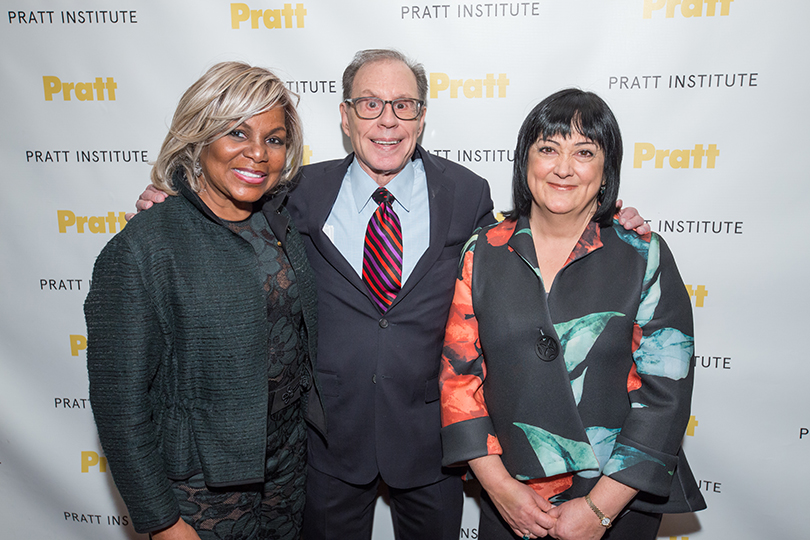 Pratt Institute's Legends 2017 gala was held at the Mandarin Oriental on November 16, celebrating icons of art and design whose works have helped shape the cultural landscape. The event honored art collector and educator Corice Canton Arman, photographer and alumnus George Kalinsky, and alumna and CEO and Design Director of Mottahedeh & Company Wendy Kvalheim for their contributions to the world of art and design. The annual benefit provides vital funds for merit and need-based scholarships that help the nearly 70 percent of Pratt students who receive financial aid to pursue their educational and creative ambitions. More than 330 guests attended the festive gala—including Pratt Institute President-elect Frances Bronet, who officially takes office on January 2, 2018.
Pratt Board of Trustees Chair Bruce Gitlin welcomed guests and introduced President-elect Bronet to the stage. "It's hard not to feel like a star in this extraordinary constellation of Pratt students, faculty, honorees, and supporters. It's amazing," Bronet commenced. "And what else would it be? After all this is Pratt Institute."
Interim President Kirk E. Pillow followed Bronet to announce senior film/video student and Charles Pratt Memorial Scholarship recipient, Casiano Hamer. In his speech, Hamer explained how when he arrived at Pratt, he and his friends bonded over the fact that they fought tooth and nail to be there. "The opportunity Pratt has given me, the door you opened, reassures me of where I am going and what I am capable of," Hamer said. "I will make it my life's mission to help those who may not have that opportunity, as it has already influenced the films that I create."
For the second year, the evening included a live auction hosted by Andrea Fiuczynski, Executive Vice President and Chairman of the Americas at Sotheby's, with items donated by past Legends honorees and friends of Pratt: a sterling silver and gold Mobile Link necklace by David Yurman; a collaged lithograph, Wrapped Automobile (Project for 1950 Studebaker Champion Series 9 G Coupe), by Christo; and a framed and laminated Cibachrome photo, Sulfur, by David Byrne. Audience members also participated in call-to-action, a round of live scholarship donations at the auction's close.
Arts journalist Patrick Pacheco presented the 2017 Legend Award to art collector and educator Corice Canton Arman. She and her late husband Arman made it their mission to bring access to art to others. "I know just how profoundly the experience of art can change the direction of a person's life," Canton Arman stated. "I learned that from him."
Earl "The Pearl" Monroe, NBA Hall of Famer, presented the 2017 Legend Award to George Kalinsky, a Pratt Institute alumnus, who was honored for his incredible photography career. He reflected on his role as the official photographer of Madison Square Garden for more than 50 years. "Every day is like my first day 50 years ago, the same goosebumps, the same awe as I look up at my 100-feet-tall photos displayed on billboards in Times Square and at museums such as The New-York Historical Society Museum and Madison Square Garden," he shared. "And I have the same feeling, I am really lucky."
Sculptor and Pratt Institute Professor Emeritus John Pai presented the 2017 Legend Award to Wendy Kvalheim, a Pratt Institute alumna who was honored for her outstanding work as the CEO and design director of Mottahedeh & Company. In her acceptance speech, Kvalheim spoke about honoring the past and she offered advice. "See with your eyes and not through the eyes of others," she started. "Express your own point of view, but be pragmatic. We learn from everything, whether or not others see the connections. Strive to be just in your dealings and worthy of people's trust."
Each honoree was presented with a hand-blown glass Legend Award designed by industrial design student Audrey Krumenacker, BID '18, who had the help of her award design mentor Alvaro Uribe and glassware company, Simon Pearce. Watch a short video about her design process.
Image: Corice Canton Arman, George Kalinsky, and Wendy Kvalheim (photo: Keith Macdonald)