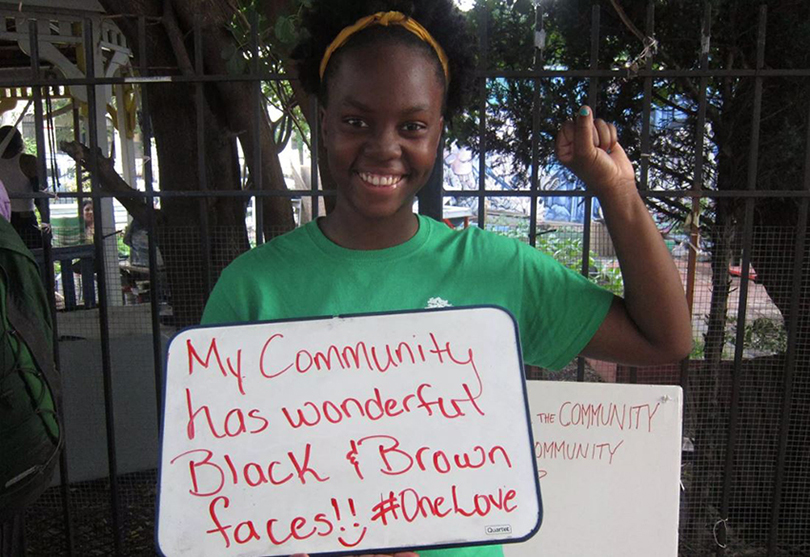 Bridging the expertise of Pratt students and faculty with communities beyond the gates begins with strong partnerships. For six years, the Taconic Fellowship, a program of the Pratt Center for Community Development, has supported projects driven by faculty, students, and staff working together with a variety of community organizations in New York City. Prattfolio looks at some recent Taconic Fellowship projects that have made an impact on Pratt's neighboring communities.
What happens when residents take the helm in imagining the future of the place where they live? When an opportunity to launch a community school arose for the Brooklyn neighborhood of Bushwick, Caitlin Cahill, Associate Professor of Social Science and Cultural Studies, working with young people, organizers, and other community-based researchers, asked: How might we center the perspectives of students in planning their own school? How might we engage community members in the process and allow a conversation spanning disciplines, backgrounds, and generations to unfold? In partnership with Make the Road New York's Youth Power Project and the Bushwick Action Research Collective, Cahill helped unite Pratt students and youth activists in using participatory research methods that can help communities examine, understand, and shape their worlds.
The participatory social research central to Cahill's work—predominantly involving young people and communities around concerns such as gentrification, immigration, and policing—emphasizes cooperation and collective action. "It's a humble praxis of working with communities and realizing we're not the experts, but really centering the wisdom of the communities," she says. "Doing community-based research for the students at Pratt is about connecting to where we live, where we go to school, where we play. From a design perspective, from a research perspective, from a planning perspective, thinking, what do we need to know to be able to do what we do in a way that's attuned?"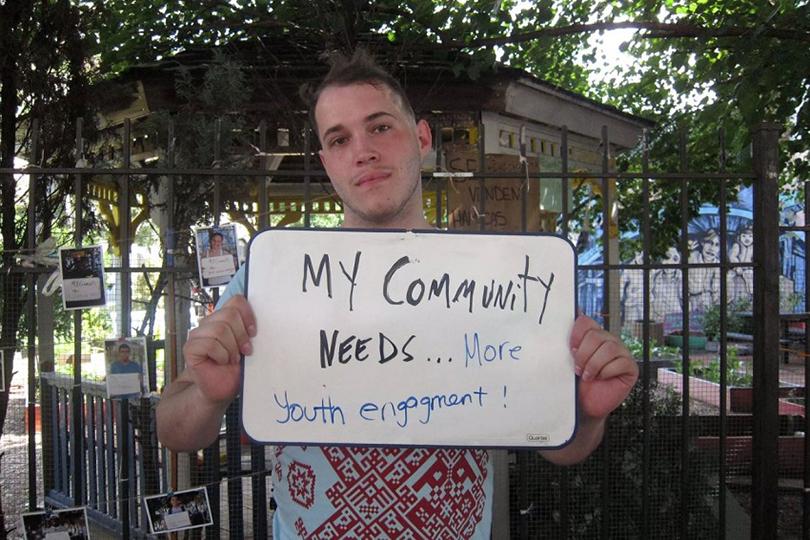 Cahill's research had connected her with Make the Road New York, an organization that advocates for Latinx and working-class communities in the city, specifically their Youth Power Project that brings together young people growing up in Brooklyn. After Make the Road was selected by the Mayor's Office to sponsor a community school—a site for learning as well as for local residents to access services and congregate—in Bushwick, Cahill initiated a Taconic Fellowship-supported interdisciplinary project that would engage young activists from the Youth Power Project as research collaborators and involve Pratt students in progressing their work.
The project group coalesced as the Bushwick Action Research Collective (BARC), also including some of Cahill's colleagues from the Public Science Project, a research center focused on participatory action research based at the City University of New York. BARC's research started around questions of discipline in schools, deriving from the Youth Power Project's work around issues of policing, but shifted—following the young people's lead—to imagining a school culture that would support their success.
BARC also sought to learn about the community's concerns and desires while educating residents about how a community school could respond to their needs, with a body of research that could support continued action. As part of the BARC project, youth activist-researchers held focus groups with fellow young people, interviewed neighbors, documented the environment of their neighborhood, and came up with creative ways to communicate their findings in public spaces in their community, through what the Public Science Project calls "sidewalk science." Documentation of their community-based research can be found on their website (bushwickactionresearch.org), which includes videos, a digital "photo wall," and a bilingual (English-Spanish) fact sheet.
The work of Pratt students—including Candice Chantalou, BA Critical and Visual Studies '16, who transcribed the video interviews that were collected as part of the research, and Tania Lili Santamaria, MS Communications Design '15, who was instrumental in developing the BARC logo and bilingual website—was guided by the youth researchers as much as it supported their efforts. "Tania Lili's logo was a huge deal for us," Cahill says, describing the design featuring a colorful, architecturally diverse streetscape with birds taking flight above it. "It feels relevant. It feels responsive to the aesthetics of the young people and the community."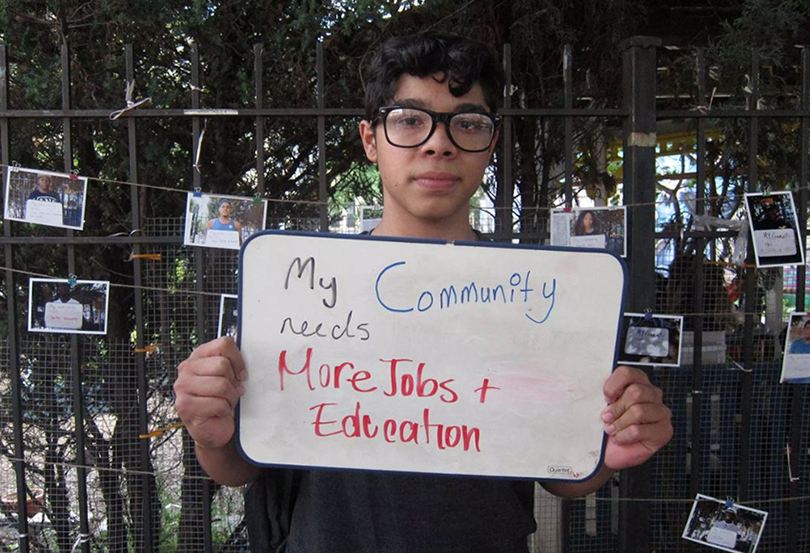 As BARC's project entered a new phase that focused on young people's concerns around gentrification, Pratt students in graduate planning and undergraduate architecture also came on to lead workshops with the young people and help develop educational materials that could support their organizing efforts. A second Taconic Fellowship supported an archiving initiative—driven by Cynthia Tobar, faculty in the School of Information, and Christopher Neville, faculty in the Graduate Center for Planning and the Environment—which is still in development. Several Pratt students have been involved, as well, including Sofia Pardillo, BFA Interactive Arts '19, who trained youth activists in video interviewing and website development.
"Each project keeps on building and developing in different ways," says Cahill. "That was a huge contribution of the Taconic Fellowship. It has supported the sustainability of the partnership with the Youth Power Project organizers at Make the Road, and the relationship has now been going on for years."
For Cahill, the experience that results from that partnership has the potential to leave a lasting effect on her students as well, regardless of the fields they pursue: "It brings a new learning to life, and it brings more accountability and responsibility in terms of the kind of work students are doing," she says. "It's important for cultural producers, designers, and scholars to consider different ways of being in the world and different ways in which their work can be made meaningful."
About the Taconic Fellowship
Funded by an endowment from the Taconic Foundation, the Taconic Fellowship is emblematic of Pratt Center's mission to promote a just, equitable, and sustainable city for all New Yorkers. In the 55 years since its founding, Pratt Center has advanced meaningful community participation in public decision-making and has tirelessly offered technical assistance and policy research in support of affordable housing, environmental sustainability, and equitable economic opportunity. Its three fellowship programs (the Graduate Planning, Made in NYC, and Taconic fellowships) offer financial support to Pratt faculty, students, and staff who seek to engage in community-building work in partnership with community organizations across New York City.
Taconic Fellows partner with community organizations and work with them to shape projects that address local needs. Pratt Center staff members provide administrative support and project oversight to ensure that each Taconic project is implemented in a way that best leverages the creativity, talent, and skills of the Pratt community. Since 2014, 40 Taconic Fellowships have been awarded, engaging 127 fellows from 18 departments in projects with 37 partner organizations throughout the city.
Images from BARC Sidewalk Science, courtesy of Bushwick Action Research Collective.