Pratt Institute Graduate Communications Design student Woojin Lee recently won four Creativity International Awards as part of the 2010 Creativity International Awards' 40th Print and Packaging Competition. Lee was recognized with a platinum award in the "Corporate Identity Program Campaign" for her Trash/Treasure designs; a gold award in "Menus and Wine Lists"; a gold award in "Interior Book Design"; and a silver award in "Poster Campaign."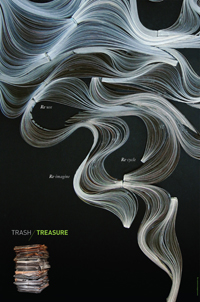 Lee's platinum award-winning Trash/Treasure project received an honorable mention in the "What is Sustainability? Pratt Students Respond" out of 50 projects shown at The Rubelle and Norman Schafler Gallery in February 2010. Lee's project focuses on the secondary life of a daily object through the lens of the corporate organization Trash/Treasure, which raises public awareness about recycling and using objects; it supports waste reduction by inviting artists to create new treasured objects out of recycled materials.
Lee earned a B.F.A. in craft from Kookmin University in Seoul, South Korea, and has since been working at a fashion company and design firm as a product designer, graphic designer, and art director in both print and Web. Lee, who will graduate in May 2011, is currently enrolled in Pratt's Graduate Department of Communications Design chaired by Associate Professor Jeff Bellantoni.

This year, Creativity International received over 1,000 entries in more than 90 categories from 31 countries, 27 U.S. states, and four Canadian Provinces. Entries were reviewed by a panel of advertising and design professionals including Marcie Carson, principal and creative director of graphic design agency IE Design + Communications; René Galindo, founding member of Quórum, the Mexican Designers Council; and Bridgid McCarren, art director of HOW magazine.
Established in 1970, Creativity International Awards is one of the longest running independent advertising and graphic design competitions in the world. Each year, the top designs, advertisements, commercials, and websites are selected for inclusion in the 400-page Creativity Awards Annual and for reproduction online.
Lee grew up in Seoul, South Korea, and has lived in New York for the past four years.