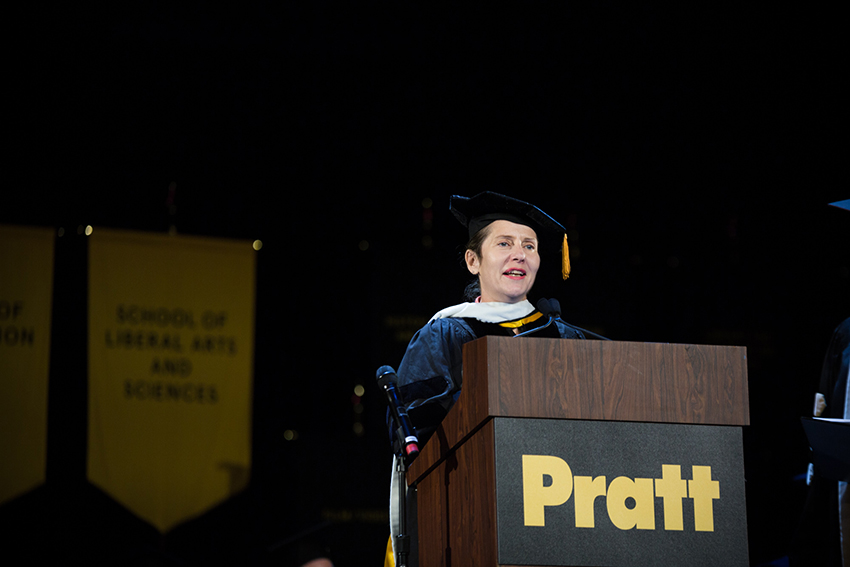 The Museum of Modern Art's (MoMA) Senior Curator of Architecture and Design Paola Antonelli praised architects, artists, and designers as the R and D (research and development) of society and urged students to "inspire the whole world" at Pratt Institute's 128th Commencement on May 17. The event was held at Manhattan's iconic Radio City Music Hall, where more than 1,000 undergraduate and graduate students crossed the stage in their caps and gowns to receive their degrees and become the Institute's newest alumni.
Antonelli, who received an honorary Doctor of Humane Letters degree at the ceremony, was the keynote speaker. In her speech, she remarked on the perils of short-term thinking in powerful arenas of our society, mentioning the influential industrial, financial, and political sectors and giving the financial crisis of 2008 as an example.
She advised students to take the long view in their work instead, explaining that sustainable progress will come from artists, designers, and architects, who "know that the world lasts longer, that pyramids built on the sweat and the blood of people millennia ago are still standing," and who in the future "will help people and politicians remember where truth and where balance lies within our humanity."
Prior to Antonelli's speech, an honorary Doctor of Fine Arts degree was awarded to renowned photographer LaToya Ruby Frazier, who encouraged students to "realize that art is a spiritual gift, and we must use our powers and talent to uplift the poor and weakest."
An honorary Doctor of Fine Arts degree was also awarded to pioneering television producer Gary Smith, who received the degree in absentia. Pratt Institute Trustee Emeritus Bruce M. Newman spoke on Smith's behalf and introduced a short video with highlighted clips from the legendary producer's shows.
In a special addition to the program, Pratt Institute Board of Trustees Chair Bruce Gitlin stepped to the podium to present an honorary degree to a surprise recipient: Pratt Institute President Thomas F. Schutte, Ph.D., who received an honorary Doctor of Humane Letters degree in recognition of his visionary leadership and transformational impact on Pratt Institute, Brooklyn, and the New York City arts and design community.
"I am . . . stunned by this honorary degree. I have given so many of them at RISD [Rhode Island School of Design] and Pratt for honored guests, and to get one myself is quite an honor. Thank you, thank you," said Dr. Schutte, who received a standing ovation from the audience. Dr. Schutte is stepping down as President following the end of the 2016-2017 academic year after more than two decades of leadership, and will be named President Emeritus on July 1, 2017.
Graduation speakers also included Professor of Fashion Design Adrienne Jones, who was named Distinguished Teacher (2017-18) and was honored with a medal designed by Andreas Haji-Georgi (B.I.D. '17), and elected student speakers David Cutler (B.F.A. Communications Design '17) and Maria Gabriela Gonzalez Rausell (M.S. Urban Placemaking and Management '17).