A special online celebration for Pratt Institute's class of 2020 launched on Saturday, May 30. Honoring more than 1,300 graduating students, the dynamic website was created to celebrate and acknowledge the tremendous achievements of the graduating class and provide an experience that seeks to capture the spirit of their time at Pratt. The site can now be explored at any time by graduates and their friends and families. Features include video remarks from honorary degree recipient Neil Gaiman, Pratt President Frances Bronet, Pratt Board of Trustees Chair Bruce Gitlin, and other speakers; a section recognizing each graduating student; and a "Stories from the Class of 2020" area with memories and messages shared via social media.
This website is not a virtual Commencement, nor is it meant to replace an in-person ceremony. Instead, it offers something new that reflects on the graduates' time at Pratt and commemorates their accomplishments.
In her welcoming remarks, delivered by video, President Bronet acknowledges that this was a spring semester unlike any other, and the students, faculty, and staff met its challenges with compassion and resilience. Recognizing that students had to quickly adapt, she extolls the graduating class's outstanding academic success in this time of perseverance and emphasizes the role they'll play in shaping what is to come.
"As COVID-19 redefines many parts of our lives and the landscape of uncertain futures, your background, your insight, and your curiosity will shape our new world," Bronet says. "Now, more than ever, our engagement and accountability for the impact of our actions on environmental, social, and cultural systems are being called upon. And we all know that you know how to do it. You see how design strategies connecting global health, poverty, inclusive communities, and climate change are a continuum. And your designs will lead us post-COVID, post-2020."
Honoree degree recipient and speaker Neil Gaiman, the renowned author and graphic novelist, also recognizes in his recorded address that the students are graduating in unprecedented circumstances. Yet they have an opportunity to engage in innovation and adaptation.
"Think like a science fiction writer as you stare at the waiting future," he says. "The old rules are breaking and over, the world we've been in for almost a hundred years, a world of easy plane travel and restaurants feels like it's coming to an end. So it's your turn: imagine the world you want to inhabit, imagine the world you want to graduate into. The world you want to work in, to play in, to live in and, eventually, to die in. What if you could make it a better place?"
He adds that no matter their disciplines, the most important part of their college experience is that they have learned how to think of new solutions, and now is the time to implement those ideas. "Having imagined it, you must do everything you can to make that world a real place," he says. "Make your own rules. You're going to need wisdom, you're going to need kindness, you're going to need luck. And you're going to need, most of all, to be willing for the world to change, and then to change it for the better."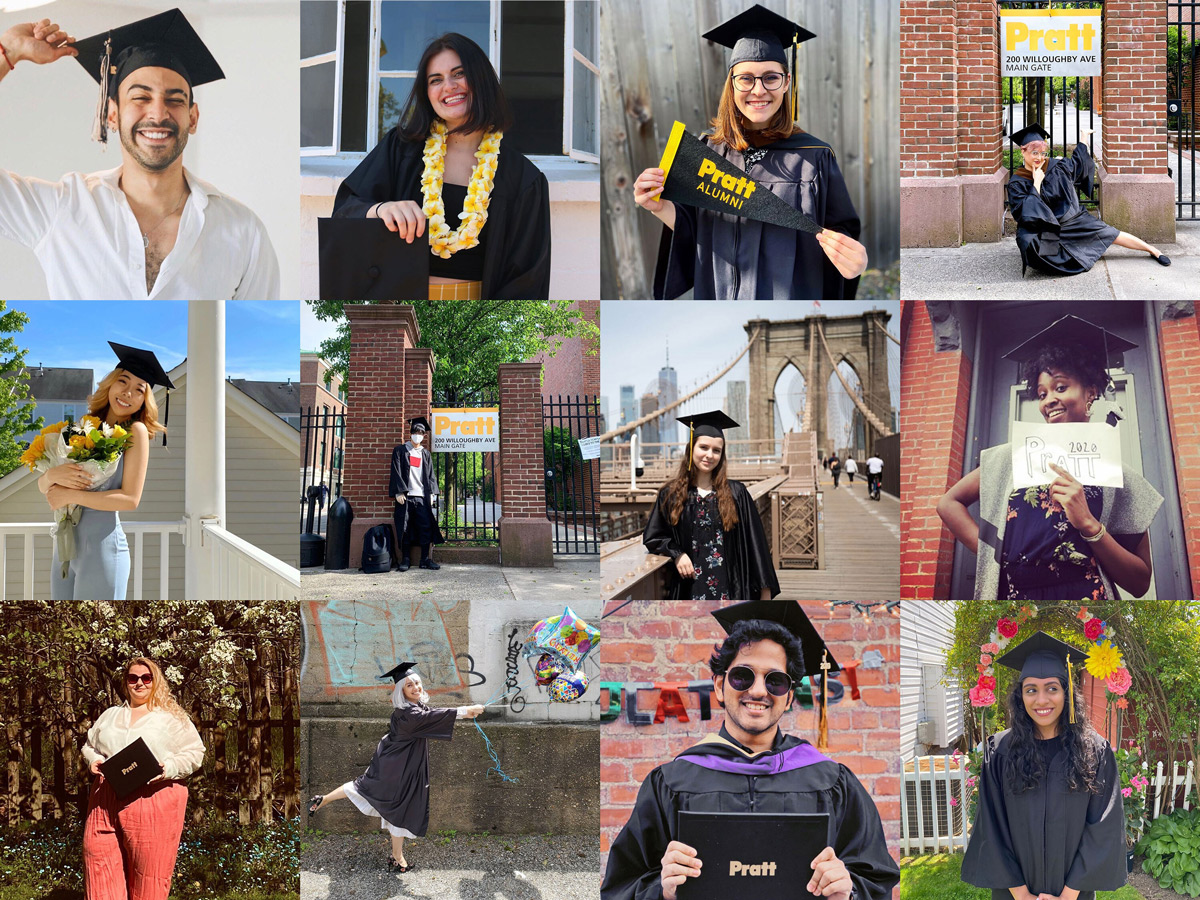 Graduates celebrate on Instagram (from left to right from top): @tahaaziz10, @alexbethjuarez, @katerimaecreative, @nom.monster, @cypark301_, @aveneno__, @vikstrs, @tynedd, @katie_eliza_mills_, @cantfightthefro, @mohitshukla.design, & @mariamshakesit. See and share more on #PrattGrad2020/#PrattInstitute
The celebration site's speakers also include Claire Donato, adjunct associate professor of creative writing, who was named Distinguished Teacher (2020-21), as well as elected student speakers Axel Jenson, BFA Photography '20, and Zoë Priest, MFA Communications Design '20. Shijun (Yvette) Gong, BArch '20, and Aaron Cohen, BFA Photography '20, deliver a stirring performance of the "Pratt Alma Mater" in a recorded performance.
Along with a section honoring each of them on the site, graduating students have been participating in a social media initiative to share their memories with #PrattGrad2020 on Instagram. Graduates can continue to contribute photos, ephemera, artwork, notes, and other moments and messages through the hashtag to have them featured in the "Stories from the Class of 2020" area. A dedicated story filter on Instagram and specially designed class of 2020 animated stickers for social sharing on Giphy further expand the Celebration beyond the site. Graduates will also receive a physical "Graduation Pack" with printed publications and commemorative items.
An acknowledgment of the 50th anniversary of Pratt's class of 1970 is also included in the online presentation. The class of 1970 is the only graduating Pratt class not to have had a Commencement ceremony, as it was canceled in the aftermath of the shootings at Kent State University.
The Celebration can now be accessed online at any time as a commemoration of this moment and the incredible spirit of the Class of 2020 as they join the ranks of Pratt's alumni.