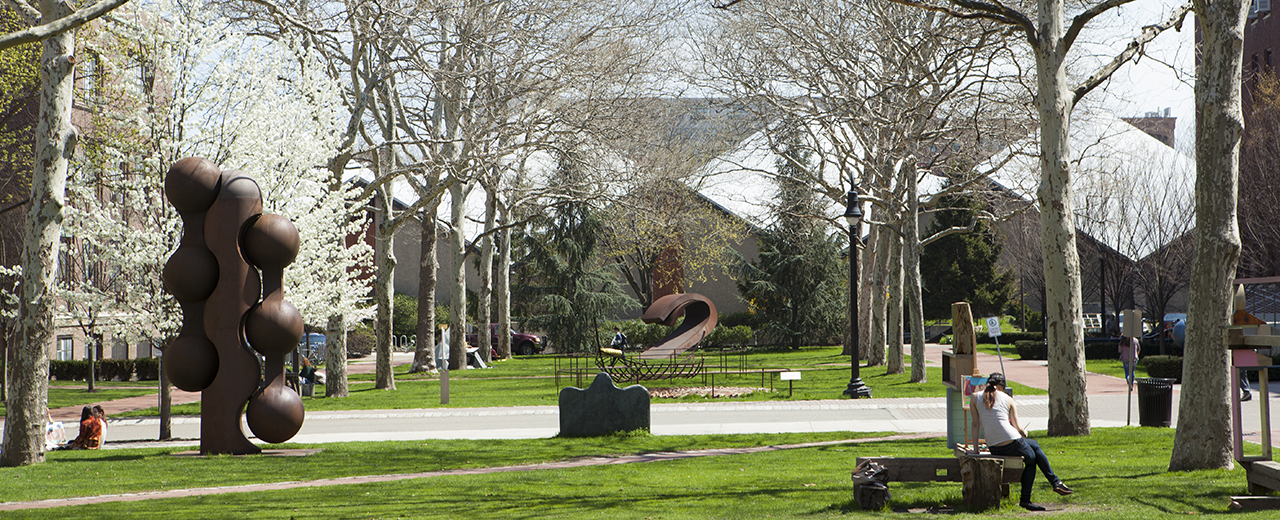 The process to develop Pratt Institute's next Strategic Plan and establish a framework and priorities for the Institute's continued growth and success is underway. The Strategic Planning Steering Committee and pillar subcommittees were established in 2018, and open strategic planning sessions for faculty, staff, and students took place in the fall. A draft plan will soon be shared with the Pratt community for review and feedback.
Below, three strategic planning committee members take an up-close, personal look at this important process and share thoughts on their experiences to date: Macarena (Maca) Gomez-Barris, Chair of Social Science and Cultural Studies (and Global Education Committee co-chair); Donna Heiland, Vice Provost for Academic Affairs (and Academic Excellence Committee co-chair); and Genevieve (GiGi) Nieson, BID '20 (Strategic Planning Steering Committee member).

The Pratt community is home to many creative thinkers who are used to setting questions, developing solutions, and working not only independently, but often in collaboration with others. How have these creative skillsets contributed to the strategic planning process so far?
Donna Heiland (DH): It's no exaggeration to say that these and related skillsets have shaped every aspect of the process so far. Everyone who I've talked to in the course of the planning process has done wonderful work in generating questions about who we want to be, and ideas for how we'll get there, tacking back and forth between their own ideas and those of the group. The iterative aspects of the work have been marvelous—so generative, and a real pleasure too.
Maca Gomez-Barris (MGB): There is a cross-disciplinary approach to the strategic planning process that is extremely collaborative. At every meeting, forum, or set of interviews we have conducted, we have been able to generate relevant and problem-solving ideas from a number of critical viewpoints. For instance, on the Global Education Committee we have a range of disciplines represented. Each of us has reached out to a dozen or more constituencies that include Pratt staff, faculty, and students. Even as there is not one agreed upon definition for what this is or could be, our debates, interviews, and data collection have generated diverse yet pointed results about how to capaciously imagine global education in the era of international finance and cultural exchange. Our collaborative meetings, then, offer us a space to collect our diverse findings from across the Institute.
GiGi Nieson (GN): We students are just at the tip of the iceberg with honing these skills, so during the planning sessions, the students really just came together and spoke as one. Students are eager to aid within the strategic planning process on a greater scale, and their insight about their experiences with learning at Pratt are valuable to the planning process.

GiGi, what has it been like to be a student involved in the strategic planning process?
GN: My role within the Strategic Planning Steering Committee has really broadened my definition of what a university is. It is so much more than just a place where students attend and come to learn. It is also a research incubator, a cultural stronghold, and in many ways, a safe haven. Sometimes the administration and faculty are unaware of the underlying problems faced by students, and students don't understand or take the time to acknowledge the services that Pratt provides for them. I'm trying to piece together the puzzle, the different channels of Pratt's far-reaching maze, to create a more cohesive whole.

What has surprised you about the strategic planning process to date?
MGB: What has surprised me is the degree to which there is a forward-moving and innovative cross-disciplinary understanding of what Pratt can be over the next period. Across fields and interest groups there is a sense that because of Pratt's size, location, expertise, and theory/practice-driven mission, we have the capacity to become an even more central leader in the future.
GN: Students in general are happy and thankful that they are here and want to know the ins and outs of how Pratt functions. But we are really busy, and don't necessarily think about broad future-oriented goals, especially when it comes to the future of Pratt. Students should know that Pratt is a place they can rely on after they graduate. Even though students are mainly thinking about what is happening here and now, they want to have a voice in Pratt's future. There just hasn't been a real outlet for them to voice their opinions or have the space to think of Pratt in this way before.
DH: Perhaps not surprising but certainly gratifying has been the substantial community engagement in the large community meetings—the town halls in October, and the Senate and staff meetings in December. The energy in those rooms was palpable and the feedback was incredibly thoughtful and useful. Speaking from my perspective on the Academic Excellence Pillar Committee, I'll say that the December meetings led us to further develop and re-think the sequencing of the goals and initiatives that we're developing, and that was a wonderful outcome. I think that the community's vision and voices are shaping the process through and through.

All three of you have been involved in helping facilitate strategic planning sessions with the Pratt community. What has that experience been like, and what has struck you about the community's involvement and participation in general?
MGB: It has been really fun to get to know my colleagues across Pratt Institute. This is a place with wonderful expertise and accomplished faculty, staff, and students. Personally, I have enjoyed how the process has been run in a democratic and inclusive manner. And, I have appreciated what I perceive to be a real investment in our place of work and study. It's been truly eye opening to better understand Pratt's history, mission, and how to contribute to its very hopeful future.
GN: Students want to partake in Pratt's future, and these strategic planning sessions provided one outlet for that. This has been the largest amount of student input in Pratt's Strategic Plan ever, which I think speaks to Pratt's mission to further inclusion and transparency within the institution.
DH: The depth of the community's investment, the time and energy they've put into the process, and the good thinking that we've benefited from throughout, have all been remarkable. People's ideas are ambitious but also essential and achievable. It's exciting to be doing this, and a huge privilege—we're collectively setting an agenda for Pratt's future. And of course, that's just the beginning. Next we'll have to implement all of our plans, and I can already hear the community gearing up for that!
Learn more about the strategic planning process.