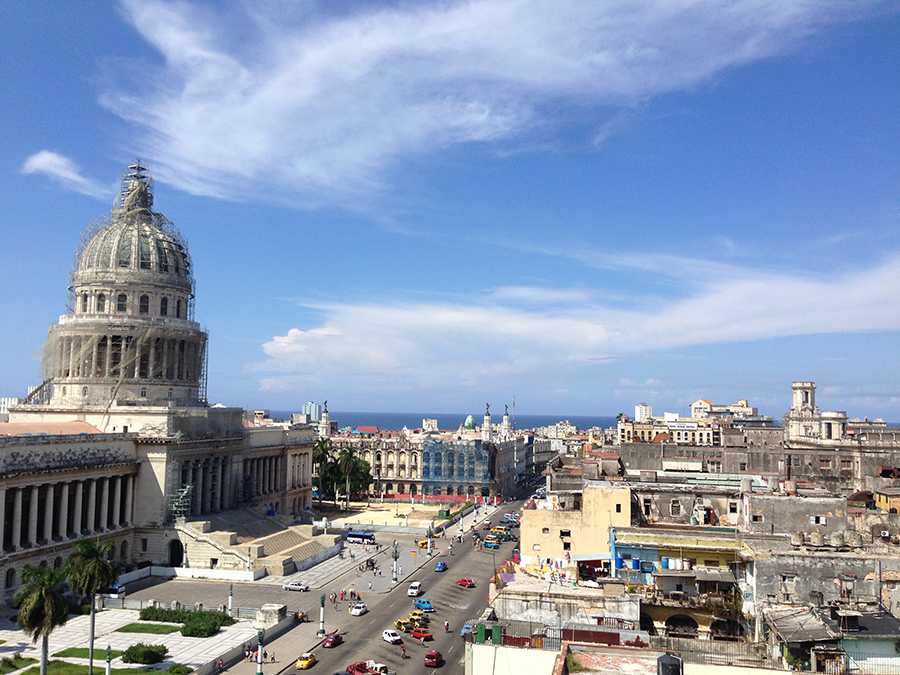 Recent changes in United States policy toward Cuba are opening up new potential for educational exchange and travel between the two countries. Pratt Institute is offering new opportunities for Pratt students, faculty, and alumni to visit Cuba to explore its rich history and culture firsthand, as well as to share and exchange knowledge with Cuban academics and professionals. A number of Cuba-related initiatives at Pratt have been underway recently, and currently include an upcoming alumni trip as well as course offerings in the School of Architecture, School of Art, and School of Design.
"With its rich art, architecture, and culture, Cuba has so much to inspire Pratt students, faculty, and alumni," said Pratt Institute President Thomas F. Schutte. "Cuba has been sealed for more than 50 years, and we are thrilled by the unprecedented opportunities now available for students and faculty in Pratt and Cuba to collaborate and exchange knowledge through a diverse array of art and design programs. This is a pivotal moment in history, and we are excited by the new linkages and creative work developing from this unique access."
President Schutte and his wife, Tess Schutte, will join a group of Pratt alumni and friends for the Institute's first-ever travel program, a weeklong trip to Cuba starting February 12. Led by Interim Director of Individual Giving and Alumni Relations Grace Greenwich, trip participants will meet with members of Cuba's arts community, who will share their work as well as their perspective on the country's changing relationship with the United States and how it is impacting Cuba's creative professionals and industries. During the trip, Schutte will sign an agreement between Pratt Institute and Cuba's Universidad de las Artes (ISA) that will encourage cooperation between the two institutions and promote the exchange of information and materials as well as the joint development of academic courses and a study abroad program.
The city of Havana is preparing for major changes and the challenge of how to modernize its housing and infrastructure while preserving its unique historic and social character. In 2014, Pratt professors from the School of Architecture's Programs for Sustainable Planning and Development (PSPD) initiated a dialogue with leading Cuban planners, architects, and preservationists. Last fall, Cuban urbanism leaders visited Pratt and Harvard to meet with Pratt professors and students. This spring, the PSPD is running two courses involving three groups going to Havana—one focusing on the preservation of modernist architecture, another on the reuse of Havana's harbor, and the third on economic development strategies at the community level. The PSPD initiatives are being led by Ron Shiffman, the founder of the Pratt Center, and David Burney, the founder and head of Pratt's new Urban Placemaking and Management program.
Last fall, Pratt hosted several Cuban graphic artists who traveled from Cuba and visited with students on the Brooklyn campus. Pratt and Associate Degrees Department Chair Susan Young presented an exhibition of artists' work at Manhattan's Front Space Art Gallery, marking the first time that current works of Cuban poster artists were featured in the United States.
Over the upcoming spring break, a group of 12 film/video and photography students in the School of Art will travel to Havana for a week to tour the city, meet with photographers and visual filmmakers, and work on a visual project with students from the the ISA's Facultad Arte de los Medios de Communication Audiovisual (School of the Art of Audiovisual Media Communication) that will be exhibited at Pratt and in Havana. The trip is part of a course on Cuban film and photography from the 1960s to the present titled Cuba through the Lens. Taught by Film/Video Department Chair Jorge Oliver and Photography Department Assistant Chair Tori Purcell, the course will examine the impact of the Cuban Revolution on the country's social and cultural development.
In the School of Design, a group of 12 undergraduate and graduate industrial design students will travel to Cuba this spring as part of a course created by Industrial Design Chair Constantin Boym titled Designing with Limited Resources. Associate Professor of Industrial Design Ignacio Urbina Polo will lead the students to explore alternative design processes in an environment where there are minimal resources and means of production, and the course will offer an unprecedented opportunity for creative dialogue with students at Havana's Higher Institute of Design (ISDI).