In celebration of The Black Alumni of Pratt's 30th anniversary, Pratt's news page will feature several stories through this milestone year highlighting BAP's history, leadership, programs, and work with students and alumni. The first story in this series chronicled three decades of success advancing academic and professional opportunity. This second article looks at BAP's scholarships through the stories of five alumni.
Since its founding in 1990 to promote a diverse student body, The Black Alumni of Pratt (BAP) has supported Pratt Institute students across disciplines with an ever-growing community network as well as full and partial scholarships and stipends. Pratt.edu caught up with a few of the BAP Scholars on what this support has meant to them, both for their time as students and as the experience continues to shape their lives today. Here is what they shared:
Melissa de Jesus-Akuete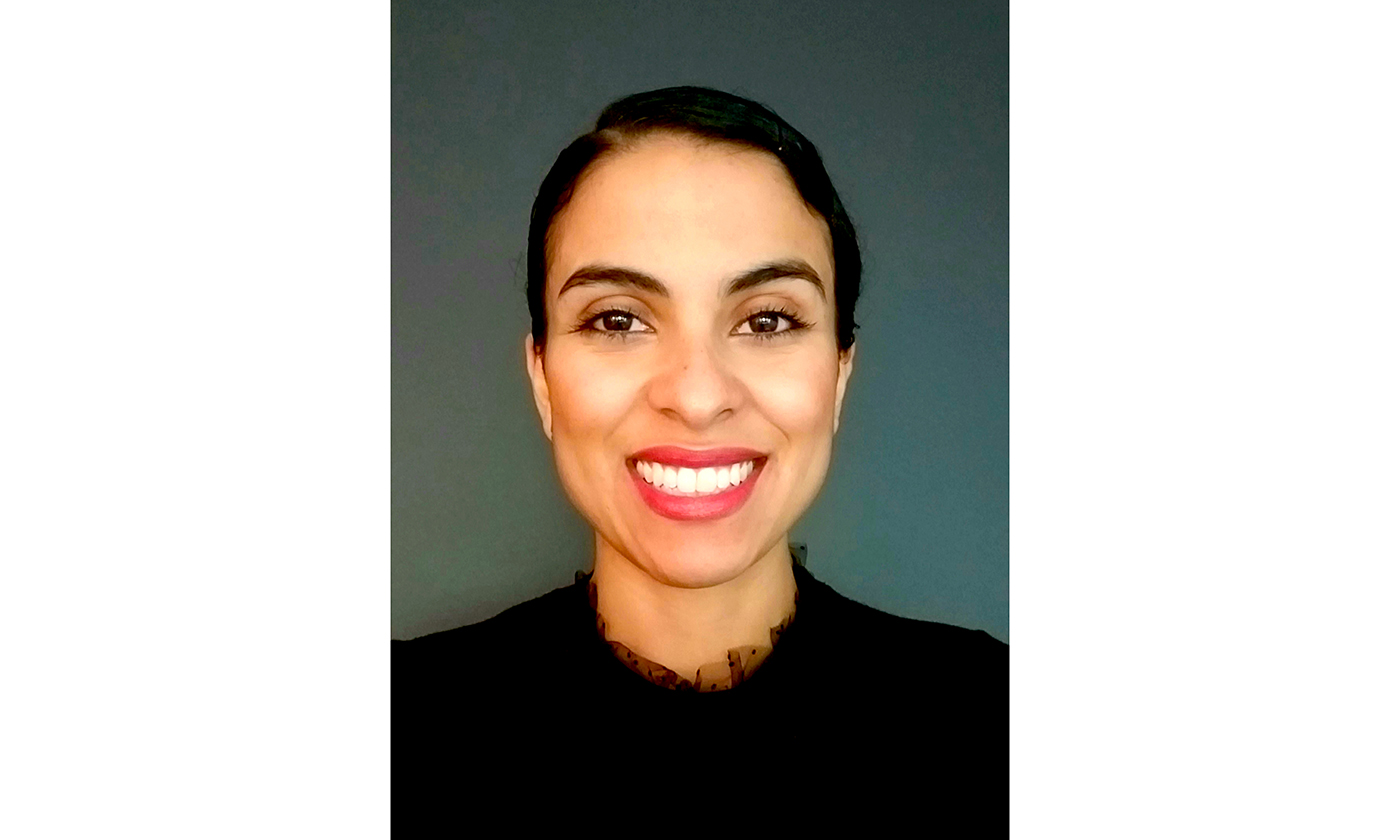 Melissa de Jesus-Akuete, BFA '16; MS '17 Art and Design Education, has centered her career on engaging youth in education and self-expression through the arts, including as an art educator at the Groton School preparatory boarding school in Groton, Massachusetts. She's also the co-director of the Christopher Brodigan Art Gallery at the Groton School and a member of the Curriculum Review Group and the Diversity and Inclusion Committee responsible for programming social justice initiatives related to school culture and class curriculum.
She recalled that she got connected with BAP through meeting Events Manager Denise Wiggins who, after hearing about her Dominican background, invited her to be involved, leading to her being the student speaker for the BAP Gala in 2015.
"BAP supported me throughout my Pratt career, both financially and professionally," she said. "In the fall of 2014, a week before the start of classes, I received an unexpected call from BAP informing me that I had been awarded a $10,000 scholarship to return to school. Without BAP's consistent help and the scholarships I received, I would not have been able to graduate from Pratt, pursue my career in education, or secure the job that I have today. I learned to be persistent and to keep pushing forward no matter the headwinds."
She now brings that experience into her own classrooms and draws on the confidence and perseverance she gained from being part of BAP. "As a BAP Scholar, I learned about the importance of giving back to those who most need it, and so as an educator, I strive to be a voice for and support the most marginalized students who come from communities like mine," she said. "I look to create welcoming spaces and to teach socially conscious lessons focused on improving students' agency, voice, empathy, and resilience, all necessary skill sets for navigating life's challenges."
Tionna J. Reeves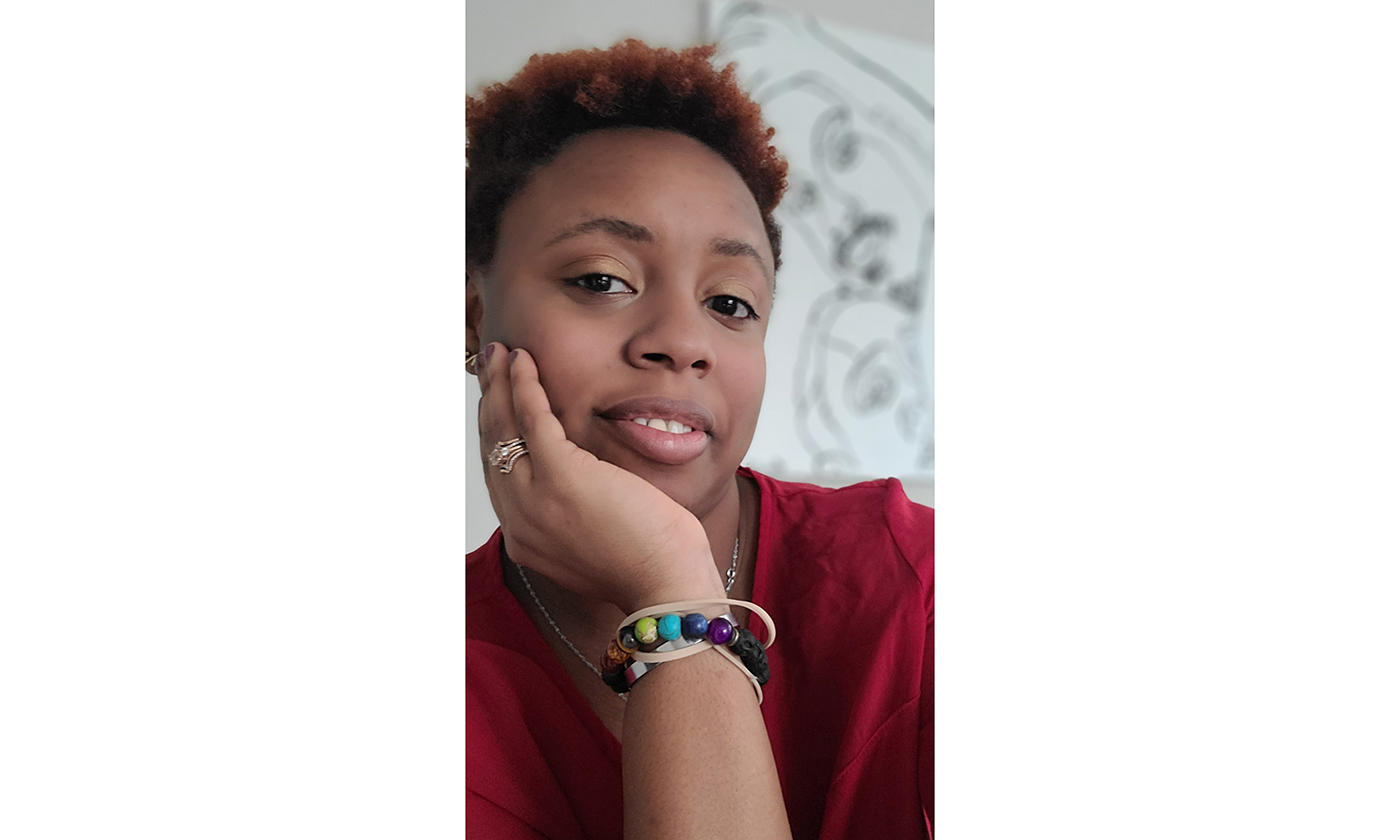 Since graduating last spring, Tionna J. Reeves, BFA Painting '20, has been busy working in retail while engaged in art projects such as an installation at Rhizome, a book of projects with fellow Pratt alumnus and painter Leroy Campbell, and other commissions. She studied at Pratt Munson Williams-Proctor as well as at Pratt Institute in Brooklyn and has a practice focused on social realism through oil paintings, drawings, and installations all aimed at sparking conversation. She got involved in BAP through the advice of a professor after she told them that she was considering taking a semester off.
"I became a scholar because I enjoyed painting and drawing and I wanted to further my education," she said. "BAP's support helped me finish school and introduced me to a bigger community within New York and outside of New York." She has continued to stay connected with that community as a Pratt alumna, including with Campbell, who saluted Reeves at the 2020 BAP Stole Ceremony.
"While at Pratt, BAP's support introduced me to students that look like me and that had a similar background as me," she said. "I stayed in contact with other BAP Scholars and have also been reaching out to my mentor, Leroy Campbell. With my experience as a BAP scholar, I have also been able to mentor some of my associates, peers, and friends."
Calyn Pickens Rich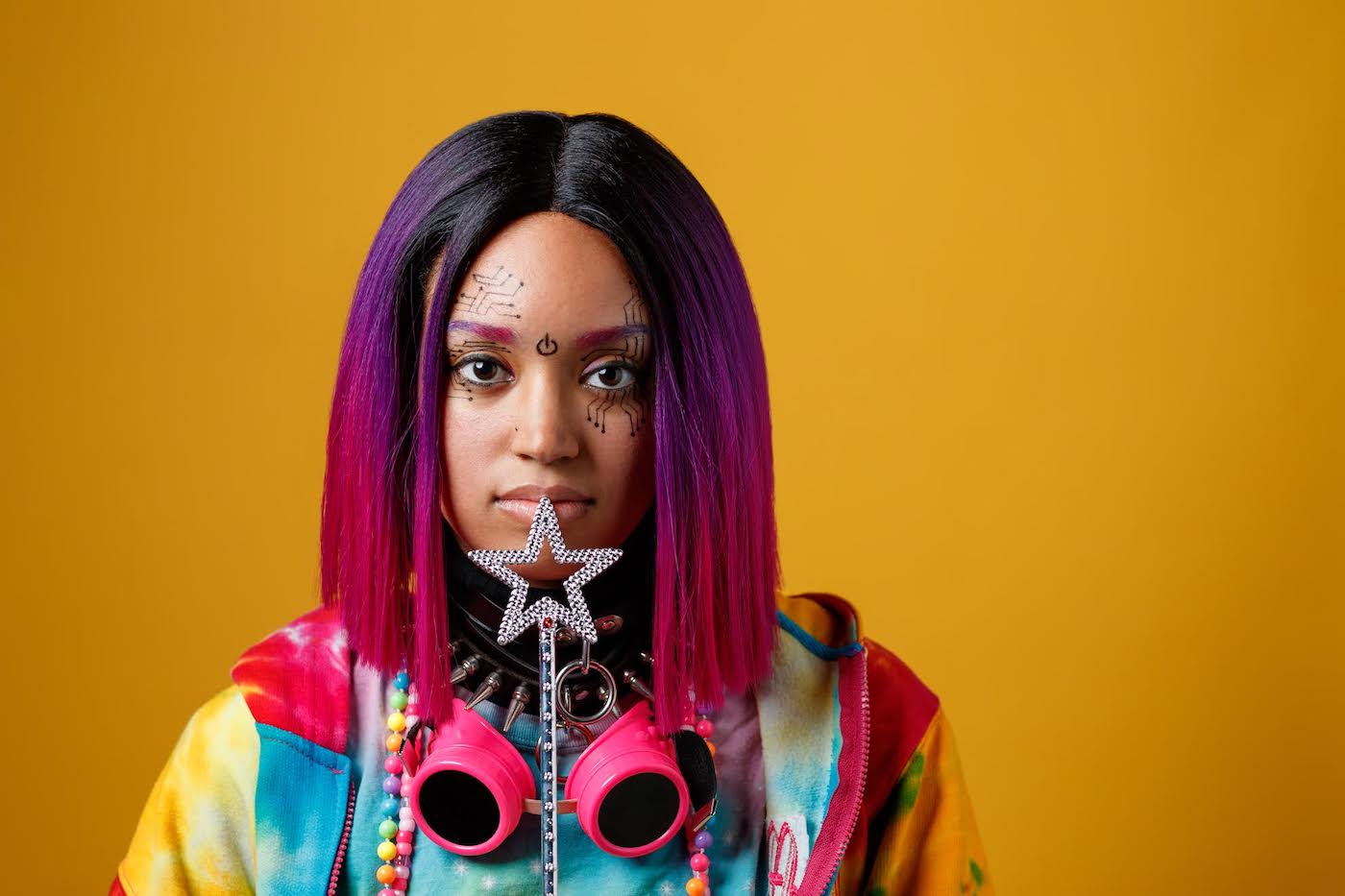 A freelance illustrator and comics artist, Calyn Pickens Rich, BA Critical & Visual Studies '20, has created dynamic work like the ongoing Dill Comics and Dining with Dana as well as her Pwatt Institute series inspired by her time as a student. She's also a research associate at Pratt's Global South Center. She said that in her third year at Pratt, when looking for options to support her education, she happened on the BAP website and found an upcoming meeting that led to her becoming a BAP Scholar.
"After receiving my scholarship from BAP, I was able to focus intensely on my thesis and classwork," she said. "I was able to focus on assignments and build a balanced schedule. I realized that year the importance of planning and taking breaks. It alleviated a lot of stress I had experienced previously and this has helped me all throughout my professional life."
Now that she has graduated, she's passing that experience down to her younger brothers who are pursuing their own creative studies at the Rhode Island School of Design and CalArts. "I try to show them how to build support systems like BAP did for me," she said. "Career-wise, BAP has connected students with a network of professionals. I recently had the honor to be on a show created and produced by a BAP alum. Those connections are so incredibly meaningful."
Rayneese Primrose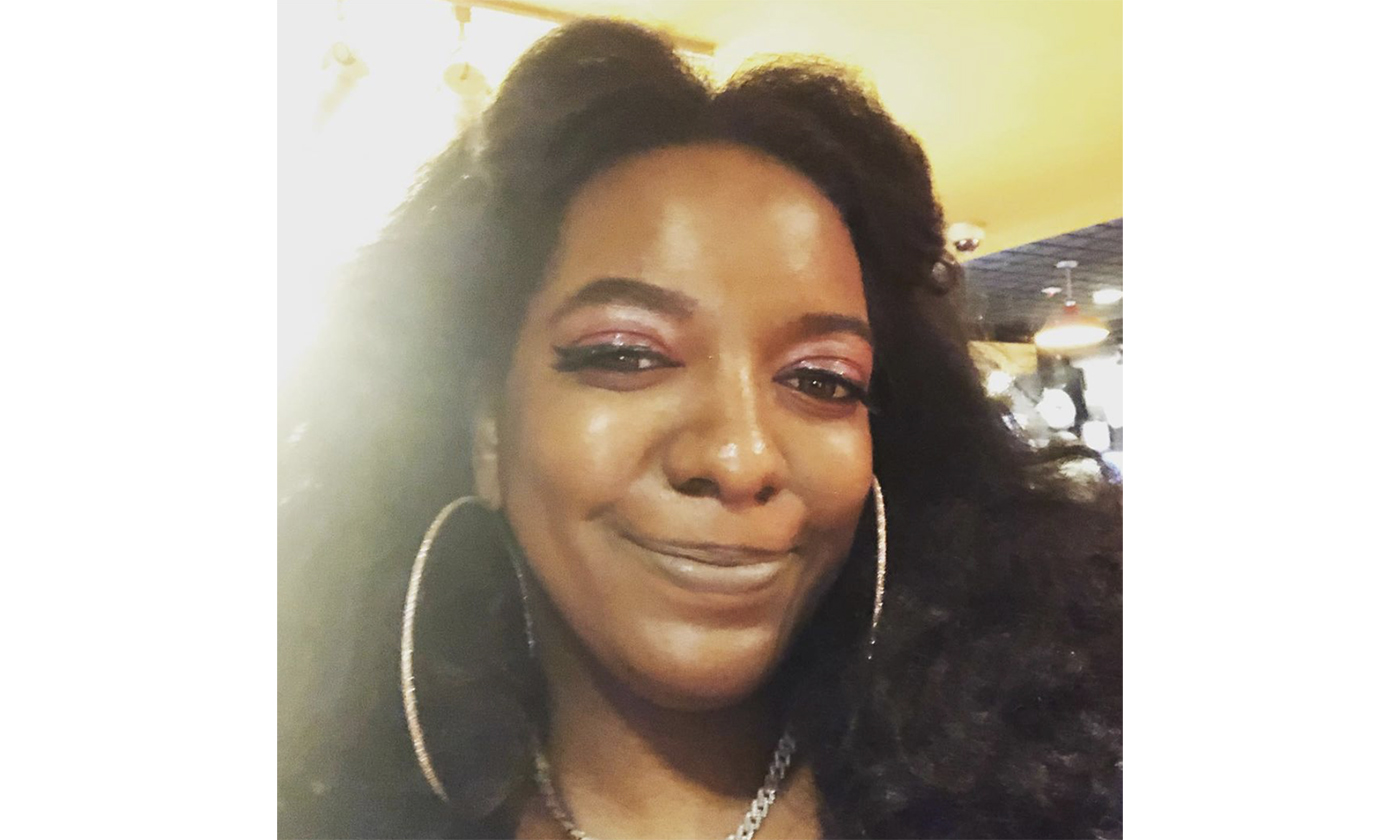 Rayneese Primrose, BFA Fashion Design '10, has employed the technical sewing and pattern drafting skills she learned at Pratt in her costume making and fabrication career in theater, film, and television. Her work has included costumes for Beyoncé's world tour, Disney on Ice productions, and Spider-Man's suit for the Broadway show Spider-Man: Turn Off the Dark. While furloughed during the pandemic from her job as a Costume Production Supervisor for the Metropolitan Opera, she has turned her attention to fine art, painting acrylic self-portraits and experimenting with digital art illustrations which led to her launching the Mosaic Pop Art shop.
She got involved with BAP during her first year at Pratt. "BAP's support meant a lot in grounding me with a familiar community of supportive and creative peers and lifelong friends, especially as an out-of-state student far from home," she said. "BAP provided a support system financially, and in the way of mentorship and community as well. It also introduced me to event planning and networking through the volunteering opportunities for the BAP galas."
It was through the recommendation of a BAP leader that she was selected by the Angel Rock Foundation to serve as a youth mentor and chaperone for a group of at-risk BIPOC youth from the Salvation Army Bushwick Community Center. This included traveling to Johannesburg, South Africa, where they volunteered in schools, clinics, and orphanages, with Primrose designing and supervising mural art on the school walls. "After this experience, I began incorporating more color and patterns into my own art, as well as drawing design inspiration from the Ankara patterns and textiles from the art and everyday community I experienced in South Africa," she said. "It changed my aesthetic and personal style in a way that has been very transformative."
Amberrose Venus-Gordon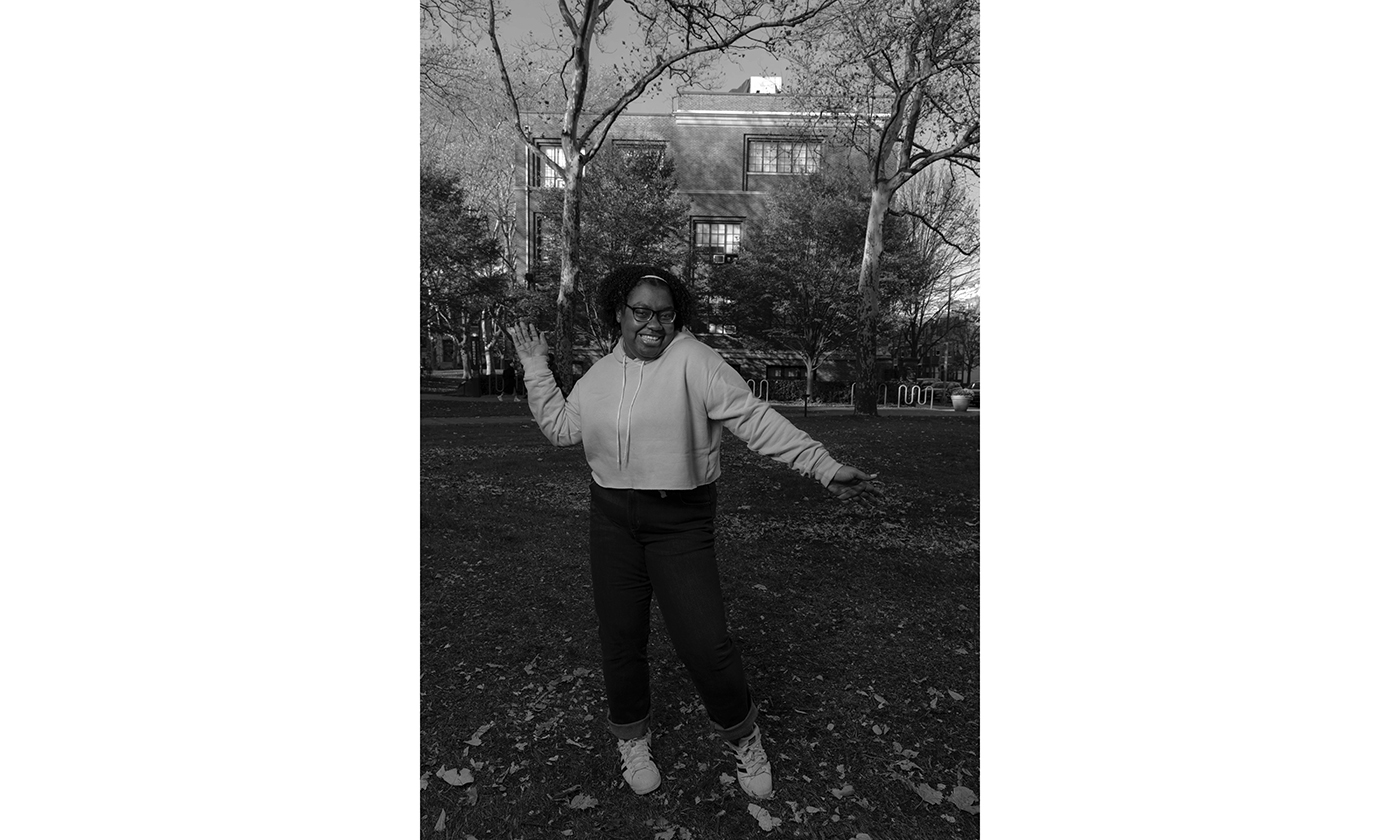 Amberrose Venus-Gordon, BFA Painting '20, was a BAP PreCollege Scholar while a high school student before enrolling at Pratt as a full-time student where she studied art history, museum, and gallery practices alongside her concentration on painting. She's particularly interested in how art can portray the youthful moments of childhood and how art experiences for children can support creativity and learning. She recently completed an internship in the Brooklyn Museum's Education Department and is currently serving as a teaching artist at P.S. 377 as well as leading a virtual art class for the Broadway of Brooklyn Performing Arts Center.
"As an elementary school student, I began to attend art classes at Pratt Institute and automatically fell in love with the environment," she said. "I knew then and there I was meant to be here. When it came time to apply to colleges in high school, Pratt was on the top of my list. A friend of mine had mentioned to me the competition that The Black Alumni of Pratt was having and I thought, why not, it couldn't hurt to enter! Thankfully, I became an awardee of the PreCollege scholarship. I couldn't wait to be back on Pratt's campus, where I was able to learn and grow with other high school students who were trying to figure out their place in the world."
As a college student, the support and community of BAP continued to be important to Venus-Gordon. "Having BAP's support meant the world to me," she said. "At times I would doubt my own capabilities and having that affirmation from BAP as a young artist only solidified the thought I am meant to continue on this journey. It reminded me to continue to believe in myself and that anything is possible."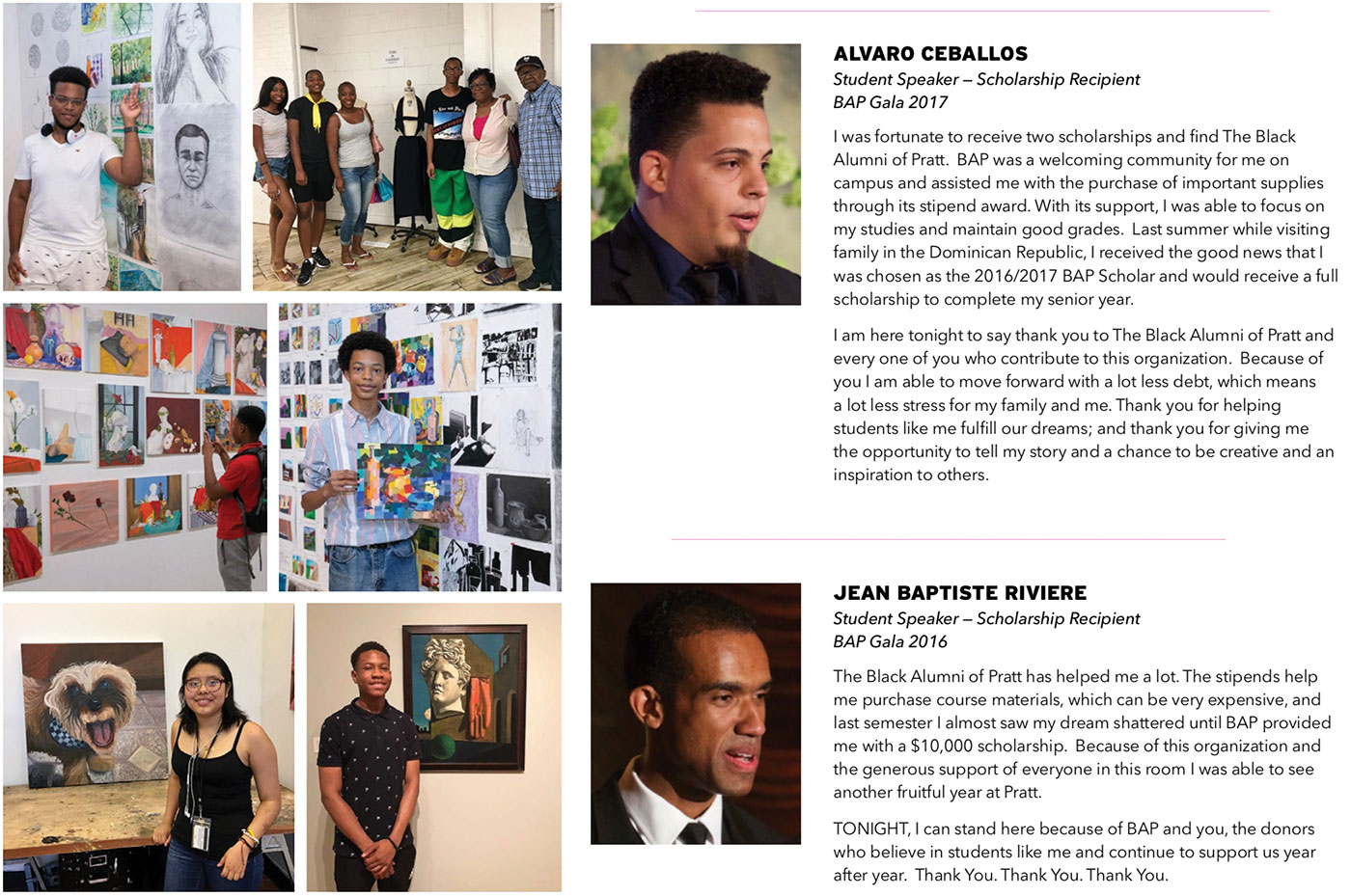 As BAP commemorates three decades, it looks ahead to the next generations of Pratt students whose creative careers will be fostered by the resources and student and alumni community that grows each year. For more on BAP's history and impact, explore the online BAP 30th Anniversary celebration archive which features materials from 1990 to 2020 chronicling its legacy of supporting Pratt's Black and Latinx students and alumni.
Visit The Black Alumni of Pratt on Pratt's website to learn more or to make a donation and read the previous story on the Pratt.edu news page for more on BAP's 30th anniversary. Spotlights celebrating BAP history, scholars, and alumni will be posted on Pratt social media throughout The Black Alumni of Pratt's 30th anniversary year. Follow BAP on Instagram, Facebook, and Twitter.