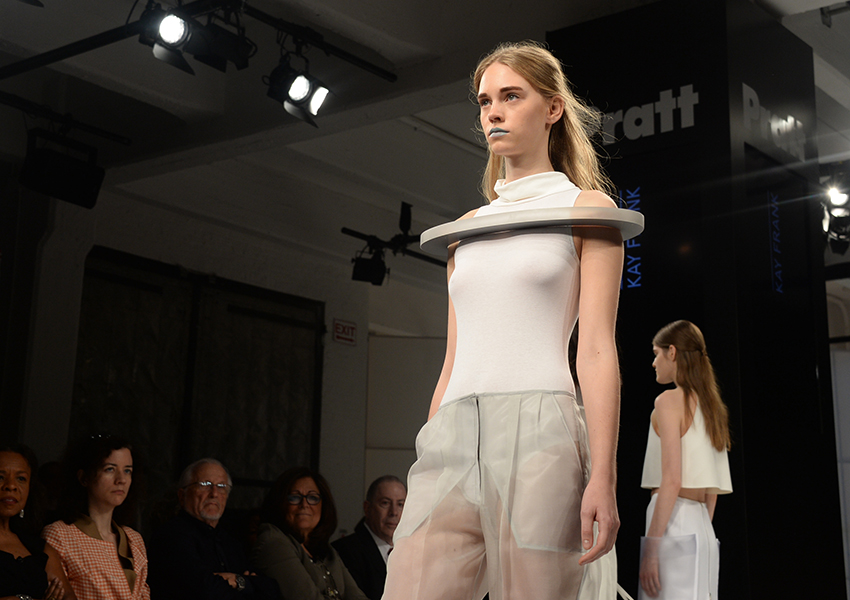 On May 7, the 2015 Pratt Institute Fashion Show + Cocktail Benefit will spotlight inventive student fashion designs from graduating seniors in its 116th annual ticketed runway show. At this year's event, Pratt will honor Francisco Costa, Women's Creative Director of Calvin Klein Collection, with the Pratt Fashion Visionary Award. The Pratt Fashion Show, titled Laboratory, will be followed by a cocktail benefit, with Mr. Costa in attendance, at Dream Meatpacking District in Manhattan.
Pratt will recognize Mr. Costa for his more than two decades of design excellence in the fashion industry. He joined Calvin Klein, Inc. in 2002 working closely with Mr. Klein and was promoted to Women's Creative Director of Calvin Klein Collection a year later, before debuting his first collection in 2004. Prior to this role, his work for other top design houses includes five years with Oscar de la Renta and a subsequent four years with Tom Ford in Gucci's design studio. Mr. Costa has received critical acclaim and wide recognition for his stunning designs, and was honored with the Council of Fashion Designers of America's Womenswear Designer of the Year awards in 2006 and again in 2008.
Each year, the Pratt Fashion Show features exemplary work by a select group of graduating Fashion Department seniors, as determined by a panel of industry experts. Under the leadership of Fashion Department Chair Jennifer Minniti, who joined Pratt in 2011, students are challenged to rethink the boundaries of fashion through a trans-disciplinary education that emphasizes inventive ideas and techniques. The title of this year's show, Laboratory, embodies student experimentation with unconventional draping, cutting, and construction techniques.
Proceeds from the 2015 Pratt Institute Fashion Show and Cocktail Benefit will benefit Pratt scholarship funds and its Department of Fashion.
Cotton Incorporated is the lead sponsor for the Pratt Institute Fashion Show + Cocktail Benefit. Funding was awarded in part through a competitive grant presented to Pratt Institute by the Importer Support Program of the Cotton Board and managed by Cotton Incorporated.
Santander Universities, a division of Santander Bank, N.A., is the platinum sponsor of the Pratt Institute Fashion Show + Cocktail Benefit. Santander Universities is a philanthropic arm of the Santander Group that is focused on advancing the needs of society as a whole through higher education.
Please purchase your tickets now as last year's event sold out and tickets are limited. Tickets are available here.
6 PM Award Presentation + Fashion Show
Center548, 548 West 22nd Street, Manhattan
7:30 PM Cocktail Benefit
Dream Meatpacking District, 355 West 16th Street, Manhattan
Image: From 2014 Pratt Institute Fashion Show (photo: Clint Spaulding/Patrick McMullen Company)