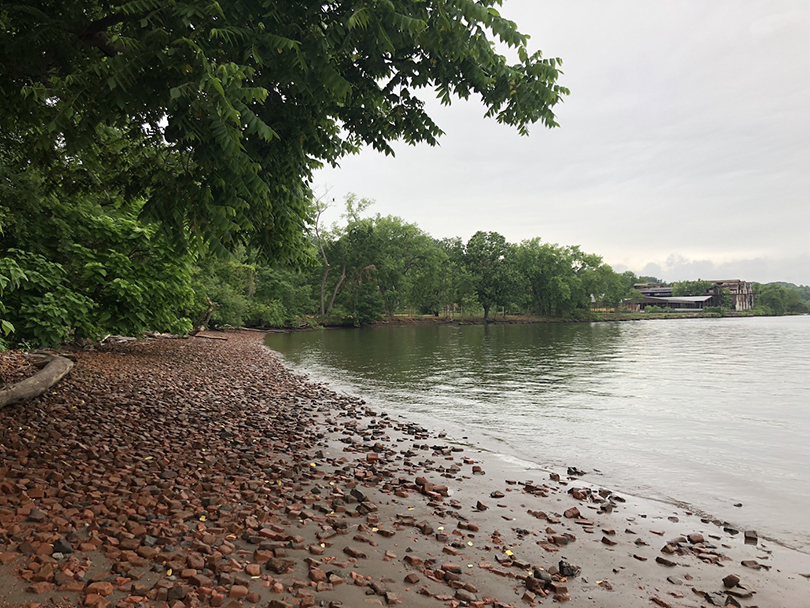 The shore of the Kingston Point Beach is a gradient of red descending into the Hudson River. Visitors who walk on its rosy ground will notice that it is strewn with eroded chunks of bricks, many stamped "Hutton." The beach, and the nearby abandoned kiln sheds of the Hutton Brick Works Company, recall that Kingston, New York, was once a busy hub for brick manufacturing, with the building materials made here supporting the rapid growth of the Hudson Valley and New York City in the late 19th century through the early decades of the 20th century.
The Hutton brickyards closed in 1980, after the demand for clay bricks had declined over the years. Kingston had another blow to its economy in 1995 when a major employer, an IBM mainframe computer facility, shuttered. The city's historic neighborhoods, lined with homes made with those distinctive bricks, began to empty. Yet Kingston, which was briefly New York's first capital in 1777 until it was torched by the British, is a place that endures, with a recent resurgence of artisanal production. Instead of brickmakers, now metalworkers, woodworkers, visual artists, and jewelers are contributing to Kingston's reinvigoration as a hub for making. It was this thriving network of artisans, as well as the rich manufacturing background of the region, that drew an interdisciplinary team of Pratt faculty and students to Kingston as a testing ground for a program that would harness these local resources and promote education. By forming relationships between artisans and the youth of Kingston, who might not have access to makerspaces, the Pratt team aimed to empower high school students to pursue creative careers.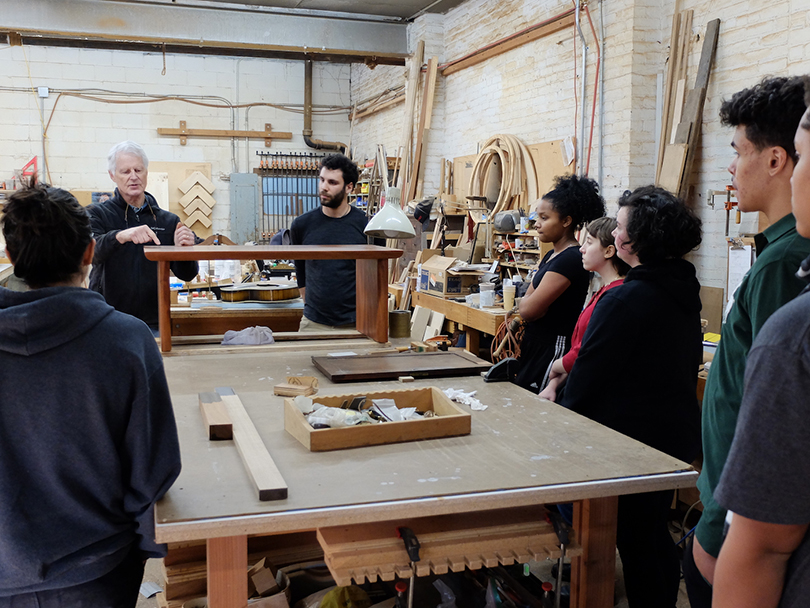 "The town of Kingston was selected because it already had a very interesting history of manufacturing, making, and natural resources—all our prerequisites for a location," said Jon Otis, Professor of Interior Design. "It also has a very solid artisan and maker community, and many start-up nonprofits. Most importantly, it was a place where we believed that we could create a teaching and learning experience with kids from Kingston High School. The city does have a diverse and somewhat segregated population, largely due to income and its unique topology."
Now called the Pratt CreativeXchange, the initiative was initially envisioned as a "Pop-Up Main Street" by Otis with Associate Provost Allison Druin and designer Carl Gustav Magnusson of MADWORKSHOP, a foundation for education projects on making and building. The idea was to have a design-centered community experience in a small town, and after researching several potential sites within about two hours driving from New York City, they were drawn to Kingston for its history, discovering the local artisan community during their research. This combination of local resources, as well as the opportunity to involve the unique pedagogical perspective of Pratt in connecting with students and educators in Kingston, helped turn the project into a platform for the exchange of ideas and design practices.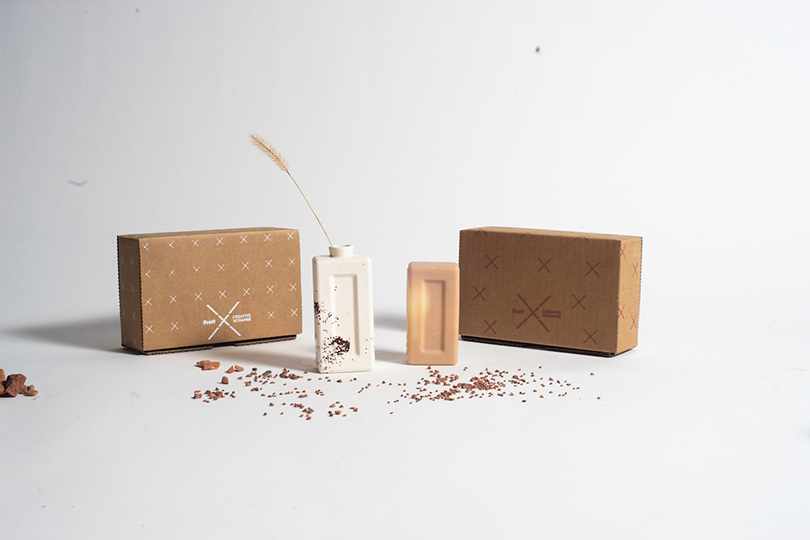 "We took this as a chance to bring in expertise across disciplines that would enhance the project, not only because it was imperative to do so, but also because we believed the interaction of ideas from diverse disciplines would improve the outcome and create more salient solutions," Otis said.
Otis is the Pratt CreativeXchange Project Coordinator, working with Luka Lucic, Associate Director of the Global South Center, Karol Murlak, Associate Professor of Industrial Design, and David Frisco, Adjunct Professor of Communications and Packaging Design. The 10 Pratt student participants, selected based on faculty recommendations, were similarly interdisciplinary, with Garrett Benisch, Niles Fromme, Alice Hixon Kirk, and Alex Thompson from Industrial Design; Katherine Levinton, Amrita Ravi, and Irene Wang from Interior Design; and Hadar Kfir, Snigdha Pamula, and Nigel Sequeira from Communications Design. Kingston area artisans, including Lisa Layman of Fox Farm Apiary and Alexis Feldheim of Kingston Ceramics Studio, brought their resources and expertise to the program.
"It was a very exciting opportunity for a number of reasons," said Katherine Levinton, MFA '19. "Firstly, it was a chance to give back to a community using our design skills—which we rarely have an opportunity to do—and secondly, it was a chance to actually build something tangible and real, while simultaneously working with other departments."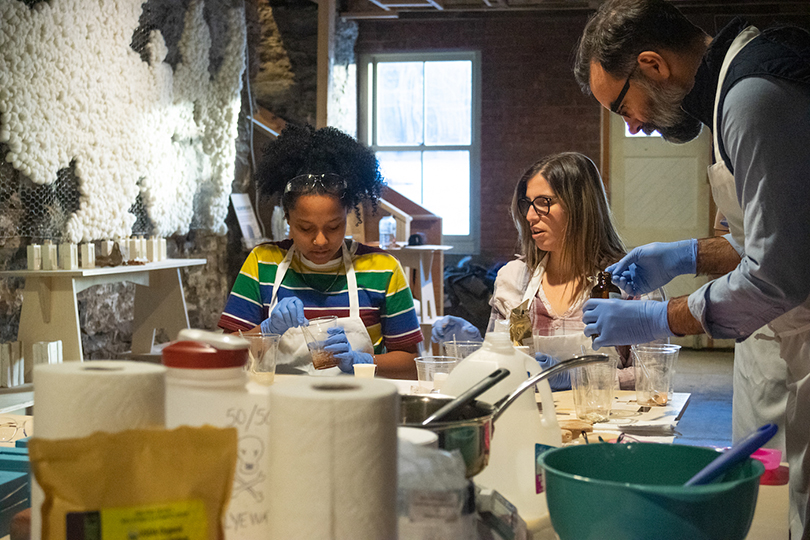 The team first conducted a summer of field research, exploring the area, delving into its history, and connecting with members of its art, education, and urban development communities. With the support of MADWORKSHOP, they found a space on the ground floor of the historic Everett and Treadwell Building, a four-story brick structure situated on a main thoroughfare of Kingston. It acted as a temporary workshop, learning, and exhibition space for local and Pratt makers to train high school students and showcase their finished work.
The apprenticeship-style internship involved over a dozen students from Kingston High School and took place over the month of February, with Pratt team members spending two days each week leading workshops on various processes. The Pratt students and faculty worked as instructors and mentors. Paying tribute to the industry that once dominated the area, the students crafted design objects such as brick-shaped soaps fabricated from ingredients supplied by a local beekeeper, and slip-cast porcelain vessels accented with crushed particles of Hutton bricks.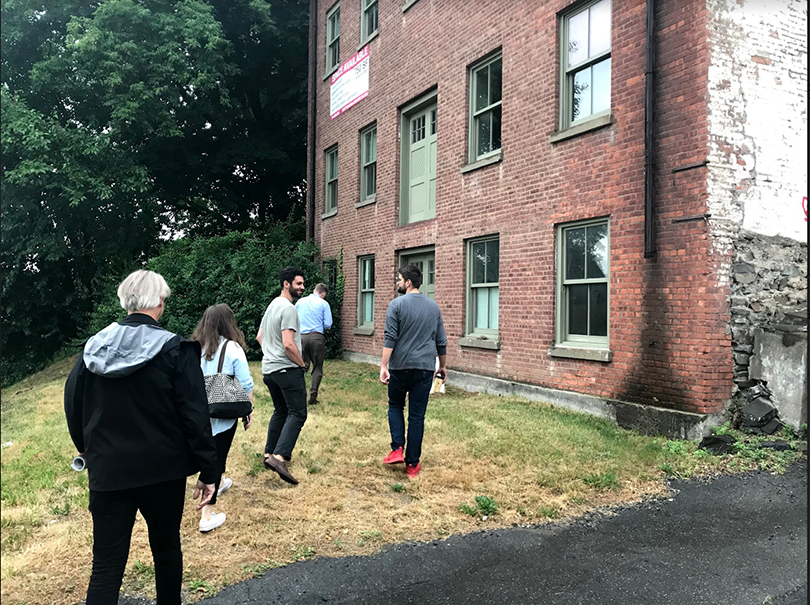 "This project was more about listening and understanding than it was about actually designing and making—though we designed and fabricated a huge amount of things for it," said Garrett Benisch, MID '19. "The internship we taught acts as a bridge between the local high school students and the local artisan makers. The products we made are produced in the same methods the artisans use with local materials sourced from the local economy. The experts we brought in all live in Kingston and see these students when they walk home from school."
The Pratt CreativeXchange is continuing to look ahead to projects that can build on the success of Kingston. This May, examples of work from the Kingston program were exhibited at the International Contemporary Furniture Fair (ICFF) in New York City's Javits Convention Center. The student-created objects, with their close ties to the heritage of the Hudson Valley, reflect the vibrancy of Kingston and its potential to foster an inclusive and sustainable future of making.
Images: Bricks on the Hudson River shore of Kingston, New York, with the remains of Hutton Brick Works Company in the distance; Kingston high school students participating in the Pratt CreativeXchange; Products created by Kingston high school students in the Pratt CreativeXchange internship; Kingston high school students participating in the Pratt CreativeXchange; Pratt faculty and students exploring Kingston. All images courtesy Pratt CreativeXchange.
(Updated: May 28, 2019)