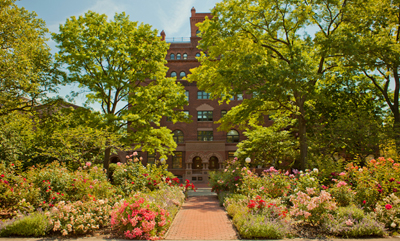 This summer, Pratt Institute's 25-acre Brooklyn campus is thriving. With a stunning mixture of historic and contemporary architecture and the largest outdoor sculpture park in New York City, the campus is befitting one of the world's foremost colleges of art, design, and architecture. In addition, the expertly-curated Pratt Rose Garden continues to bloom in front of Pratt's Main Building.

In 2011, Architectural Digest recognized Pratt as one of the top 10 college campuses nationwide with the best architecture. According to Architectural Digest, Pratt was featured for its contemporary architecture including Steven Holl's 2005 addition to Higgins Hall and its Leo J. Pantas dormitory of Skidmore, Owings & Merril design as well as for the "dozens of campus structures built between 1885 and World War II that put Pratt on the National Register of Historic Places."

The Pratt Sculpture Park, which is curated by adjunct professor David Weinrib, was recognized as one of the 10 best college and university campus art collections by Public Art Review in 2006. It features sculptures by such artists as Arman, Richard Serra, Donald Lipski, and Mark di Suvero. The exhibition is a revolving and evolving one, with most of the work remaining on campus for several years.
Since 2008, the Rose Garden has benefited from the expert advice of rosarian Anne O'Neill, who formerly curated the Cranford Rose Garden at the Brooklyn Botanic Garden. The Pratt Rose Garden's unique design is an inspiration to Pratt artists, faculty, staff, and the community.
O'Neill was asked by Pratt President Thomas F. Schutte to examine Pratt's Rose Garden, and she since volunteered to take on its replanting and removed overgrowth, pruned away spent flower stems, and added organic fertilizer, bone meal, and mulch to immediately improve the flower beds. The day-to-day care of the Rose Garden has been the duty of senior groundsman Martin Macreno and his two assistants.

Pratt Institute's Brooklyn Campus
200 Willoughby Avenue
Brooklyn, NY 11205
Public Hours: Weekly 7 AM-7 PM
Pratt Institute's Rose Garden, with Main Building in the background. Photo: Jonathan Weitz.

MEDIA CONTACT:
Amy Aronoff at 718.636.3554 or aarono29@pratt.edu