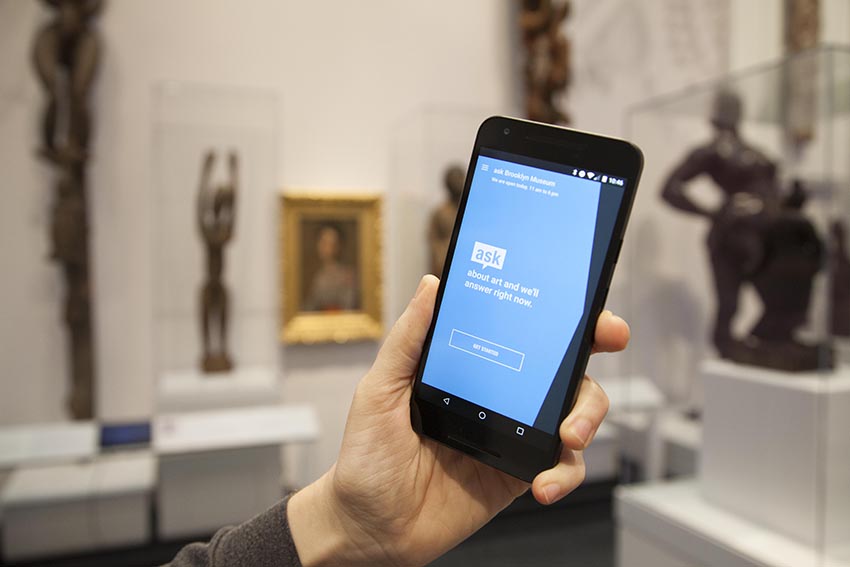 The Brooklyn Museum has won two MUSE awards from the American Alliance of Museums (AAM) for ASK Brooklyn Museum, a mobile app that allows visitors to ask questions or start a conversation about artwork on display with art historians and educators who know the Museum's collection. The app was developed by a team co-led by Sara Devine, who is visiting assistant professor in Pratt's School of Information, in her position as Manager of Audience Engagement and Interpretive Materials at the Brooklyn Museum. The annual MUSE awards, which recognize outstanding achievement in Galleries, Libraries, Archives, or Museums (GLAM) media, were presented on May 26 at the 2016 AAM Annual Meeting and MuseumExpo in Washington, DC.
The ASK Brooklyn Museum app received a Gold award in the Mobile Applications category and the Jim Blackaby Memorial Award, a special jury prize granted to an entry selected for its overall achievements as a media- or technology-focused museum program. Devine and the project team at Brooklyn Museum developed the app as part of a three-year initiative funded by Bloomberg Philanthropies called Bloomberg Connects, which aims to use technology to engage visitors and enhance the museum experience.
At Pratt, Devine teaches the Museums and Digital Culture: Theory and Practice course in the School of Information as part of the School's Master of Science in Museums and Digital Culture degree program, which was launched in fall 2015.
"I think I can speak for everyone on the team when I say we are both humbled and grateful for the recognition from the American Alliance of Museums," said Devine. "With so many possibilities for museums to use digital technology and media in new ways, this is a very exciting time to be working on digital projects in the field," she added.
Click here for more information about the MUSE Awards and ASK Brooklyn Museum. More information about Pratt's Master of Science in Museums and Digital Culture program can be found here.
Image: courtesy Brooklyn Museum