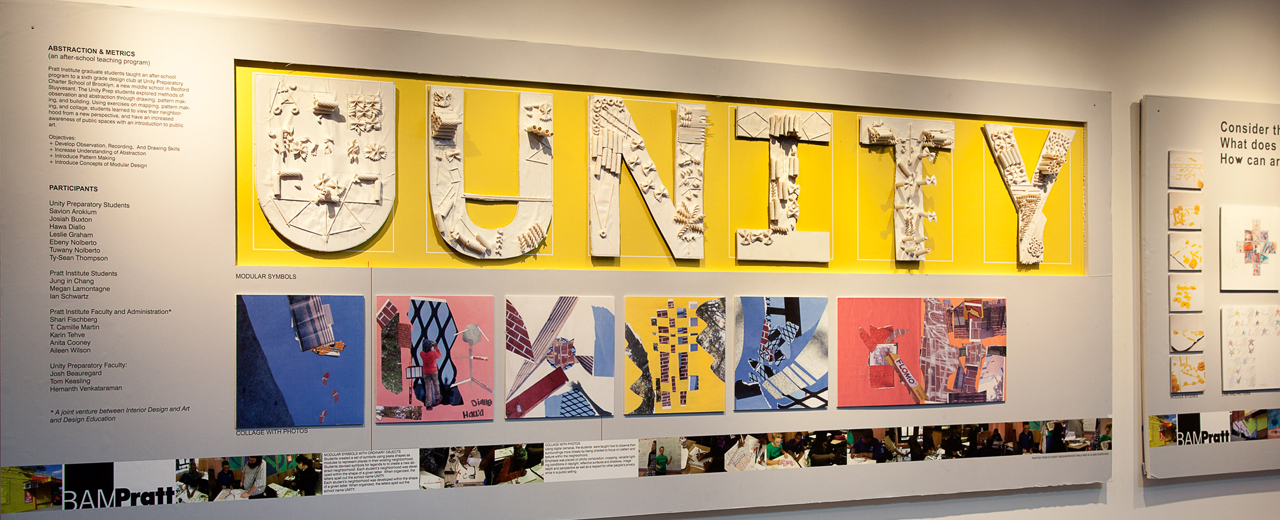 The Brooklyn Academy of Music (BAM) is currently displaying an exhibition, Abstraction and Metrics, created through a unique after-school program collaboration between Pratt Institute and Unity Prep, a new charter middle school in Bedford Stuyvesant, Brooklyn. The exhibition will run through March 3, and can be viewed at BAM Fisher, 321 Ashland Place, Brooklyn.
The after-school program began with Pratt Interior Design and Art and Design Education students designing and teaching a curriculum to Unity Prep sixth graders that concentrated on the fundamentals of a design school education, such as observation, analysis, and translation. Unity Prep students were asked to observe, collect, and reconfigure neighborhood characteristics into works of art by exploring pattern making, collage, and mapping; thereby reflecting upon and creating a commentary about their neighborhood. Abstraction and Metrics is the first installment of three related exhibitions that will run through the end of June.
More information on BAM Fisher can be found on its website.
Image: Installation shot of Abstraction and Metrics at Brooklyn Academy of Music. Image Credit: Noah Krell.