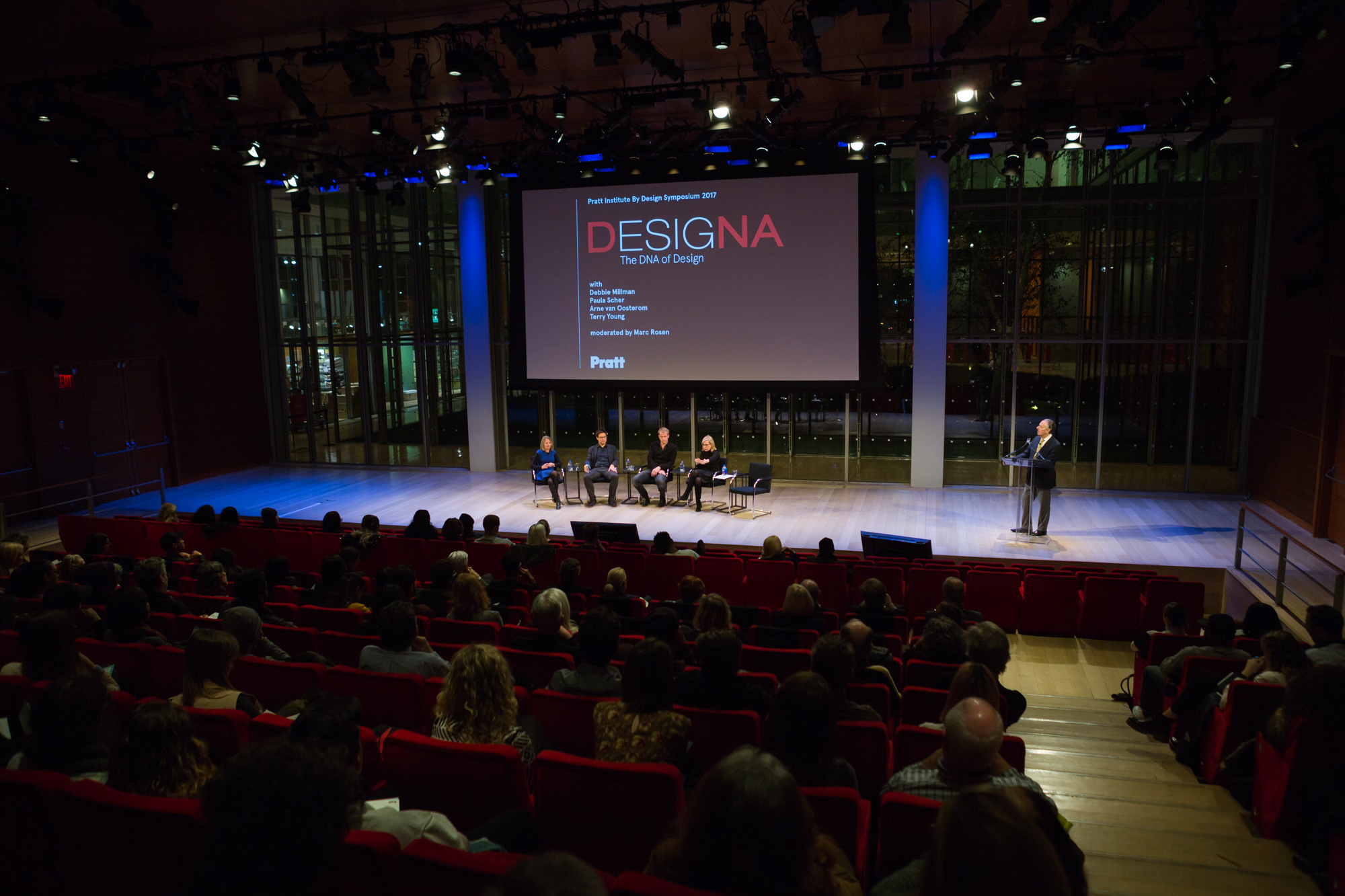 A large audience gathered at the TimesCenter in Manhattan on November 13 to attend Pratt Institute's second annual By Design Symposium, which explored "The DNA of Design." Today, appreciation for design is not just for the sophisticated few; the design gene is within all of us. The symposium brought together esteemed design experts to discuss the crossover of design as a state of mind and a state of fact from every design discipline including fashion, interiors, product, entertainment, and transportation.
Award-winning luxury and cosmetics packaging designer Marc Rosen, Pratt Institute Trustee Emeritus and Professor of Packaging Design, moderated the panel discussion. The speakers included Debbie Millman, author, educator, brand strategist, and founder of Design Matters podcast; Arne van Oosterom, founder and partner of DesignThinkers Group and DT Academy; Terry Young, innovation and brand consultant and CEO of Sparks & Honey; and Paula Scher, designer, artist, and principal at Pentagram.
Presenting examples of their work, the panelists offered insights on the ways in which design is ingrained in each of us. Millman opened with a presentation about the relationship between design and branding, posing the question, "Is branding the birthplace of design or is design the birthplace of branding?" She discussed her definition of branding as "deliberate differentiation paired with intentional, strategic positioning," noting that with the right combination of these facets, branding can create a movement. She concluded with an example that she said the audience would all recognize, the pink pussyhat, which has become a symbol of support and solidarity for women's rights and political resistance.
van Oosterom shared his recommendations for design thinking, which included "Don't Box Yourself In," "Question the Question," having "Empathy," and "Valuing Co-Creation." He spoke about having the ability to see through someone else's eyes, and suggested to the audience that design is about how we help people reach their goals, noting that individuals tend to purchase products to fulfill a need.
Young talked about how having an understanding of cultural relevance is a fundamental necessity of good design. His presentation touched on several timely topics including gender fluidity. According to Young, "50 percent of millennials believe gender exists on a continuum and that gender can change over time." This fact, he said, poses a unique situation for marketers. It is instrumental for companies to understand these "microtribes" in order to be considered a great brand.
"I've only been a designer for 45 years and I still don't know what's going on," joked Scher, who spoke of two major initiatives in New York City in which she was involved. Her presentation about her role in the campaign for the High Line in Manhattan and the reconstruction of the Rockaway Beach Boardwalk in Queens after Hurricane Sandy included key learnings and considerations such as the importance of community involvement in the branding process.
During the Q&A portion of the program, a student in the audience asked the panel what advice they would have for a recent design graduate. Millman said, "You have to work harder than anyone else, you have to get into the office before everyone and leave after, figure out what your benefit is to the company and show it." The panelists agreed, while van Oosterm also added that he never fit into "the box," and things turned out all right for him.
The event was sponsored by the Marc Rosen Education Fund with additional funding by Juliana Terian, The Terian Foundation.
Image: (L-R) Paula Scher, Terry Young, Arne van Oosterom, Debbie Millman, and Marc Rosen (at podium)